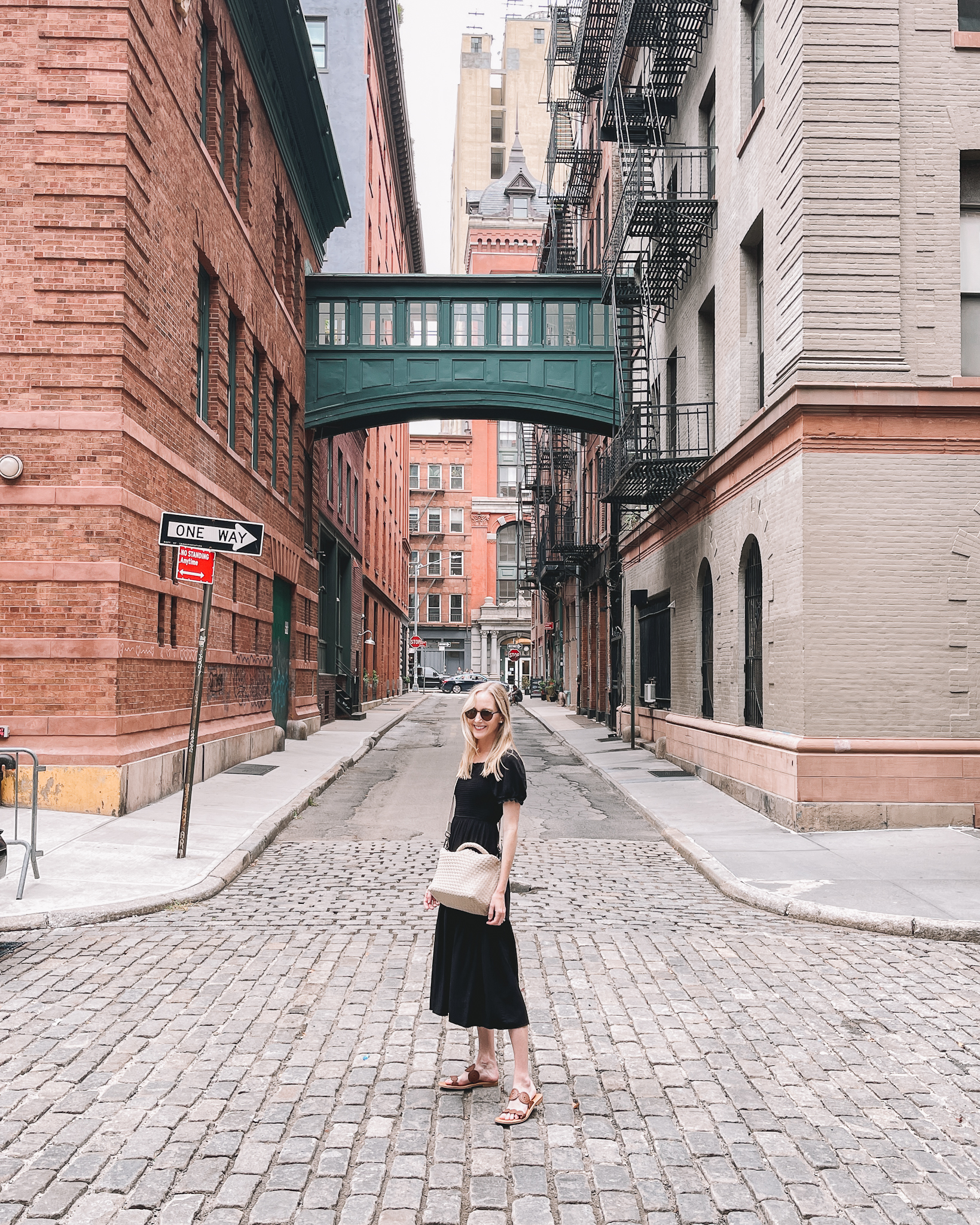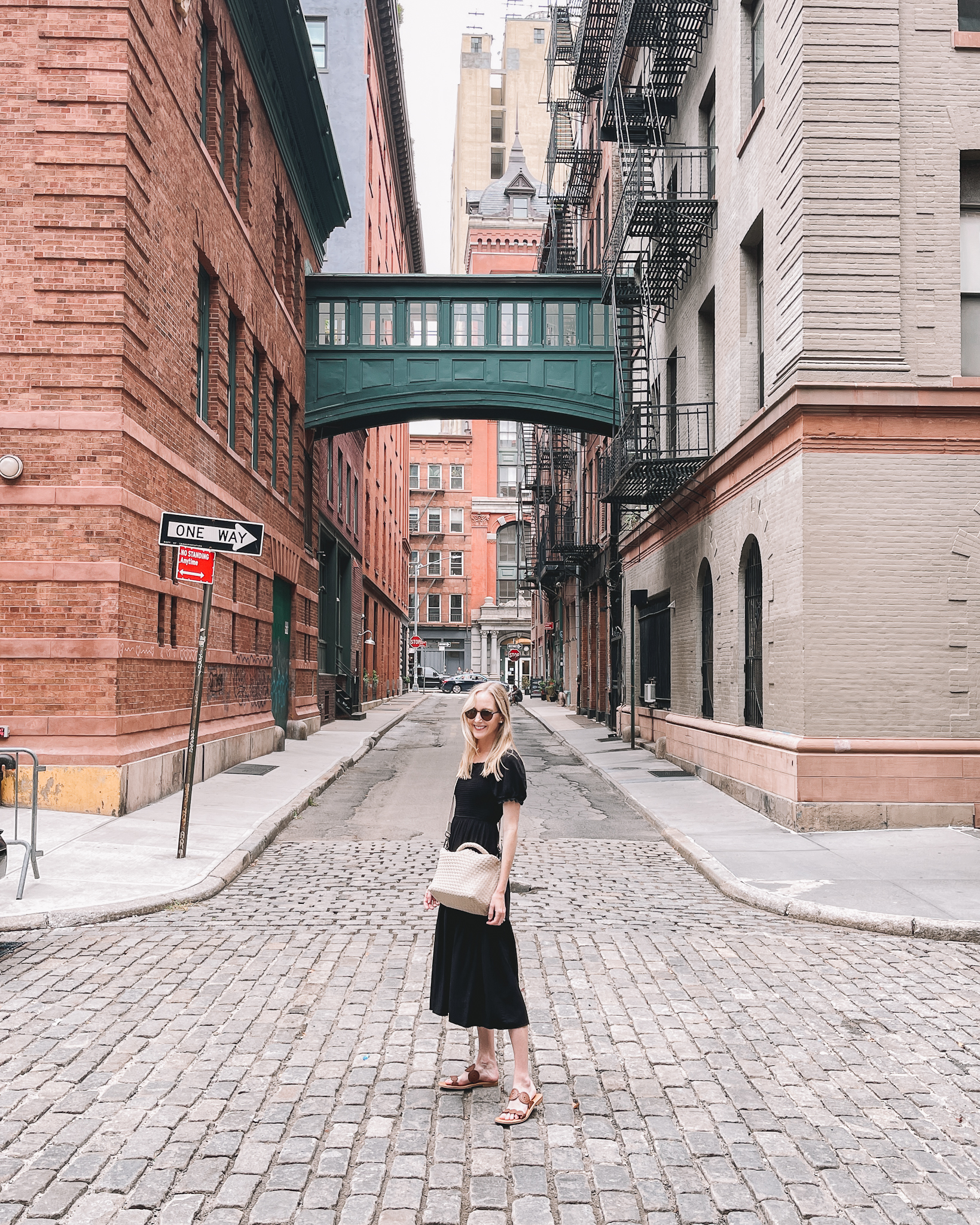 Amazon Dress (On sale!) / Sandals (On sale!) / Bag / Sunglasses
Hello! I've been a little MIA for the last few days because…
My brothers and I threw my dad a surprise retirement party at Villa Mosconi in NYC! This was months in the making, and it went so well. (Though I actually nearly threw up from the nerves day-of, haha.) Our entire family—immediate and extended—was there, and so were some of his close friends from his 35 years on Wall Street. Everyone did so much to help pull it off, and I'm just so, so grateful. I'll post photos and stories from the event soon, but Dad, I'm so proud of you. Thank you for all the sacrifices you made for our family, and always putting us first. I love you beyond measure!
The following day, my cousin Conor proposed to the love of his life, Meghan, and we celebrated them at a surprise engagement party! The cover story for Dad's party was that Conor was having an engagement party that night (though in reality it was the following day), and the cover story for Meghan's party was that she and Conor were getting dinner with Mitch and me since we were in town for Dad's party. It was pretty hysterical, and both Dad and Meghan bought the stories hook, line and sinker. Anyway, I'm so happy for the future Mr. and Mrs. Prior! They are absolutely perfect for each other, and let's be serious: the whole family is obsessed with Meghan. GUYS, PLEASE MOVE TO CHICAGO.
I traveled minimally, and I can't lie: I didn't bring enough clothing. I think my mistake was not packing a versatile skirt, like this one I own. That would have given me a lot of mix-and-match flexibility with t-shirts and tops since it was so hot! (Instead, they just stayed in my suitcase because I was sweltering in jeans in 90-degree weather.) Lesson learned! But my black, white and camel color palette definitely pulled through.
Following our trip, we spent a couple of days down at my in-laws' lake house, and it was lovely. John and Lisa watch the girls over the weekend, and Mitch and I drove down to retrieve them once we got back. It was the perfect opportunity to get some Larkin Family quality time as well as rest. I'm not sure I had ever been so tired in my life!
Emma turns SIX tomorrow! MY BABY. How did this happen?! It's going to be an emotional day. Six just seems so kid. Emma Larkin turned our whole worlds upside down in the best possible way, and Mitch and I feel so lucky to be her parents. She's morphed from an inquisitive, adorable, loving baby into a quick-witted, fun-loving, wickedly smart, and most importantly kind child. Emma, we're so proud of you and love you more than you'll ever know. Happy birthday!
We have some big birthday plans. We're hitting up the Museum of Science and Industry, painting pottery, getting our nails done, getting sushi, eating ice cream cake, and having a sleepover with four of Emma's best friends. (And Lucy and her bestie.) I love that Emma recognized by herself that she'd feel less overwhelmed and have more fun with only a few close friends instead of a zillion kids. I know it's going to be a total blast, and I can't wait!
I am ALL IN on dollhousing. Is "dollhousing" a word? Probably only in that niche, haha, but I'm loving it. It all came from Lucy's recent obsession with two Maileg bunnies that I bought years ago. So I'm in the process of dreaming up ideas for their home! I love this Maileg dollhouse and this Pottery Barn Kids dollhouse bookcase, but I've saved a ton of Amazon lookalikes that seem fantastic, too. Love kids' projects that also kind of act as home decor. ;)
What I'm reading right now: Organizing For the Rest of Us by Dana K. White. I read Dana's two other books and loved them. To be honest, I'm going to be very sad when I don't have any left!
I can't believe the girls' summer is coming to a close. My mind is blown by the fact that they start school in a couple of weeks. They don't really have a strong concept of time, and they love school. (Feel very lucky about that!) So they're not bummed at all. But it's just wild. Things went extraordinarily quickly. That said, I know summer isn't ending just because school is starting! We have so many fun weekends and weekday afternoon/nights ahead of us. At home.
On a somewhat related note, I'm getting worse and worse at traveling. Is it an age thing? I'm 37. But it's just rough. The thing is that I genuinely have a good time while I'm there. But I stress out like crazy beforehand. And I've tried every trick in the book to combat that. (Yes, including anxiety meds. Which do help! But don't solve the problem.) Blah. Hoping this is a passing thing. Or maybe it's not, and I'll recognize this in myself—much like Emma has recognized that she likes smaller celebrations—and I'll simply spend more time at home in the future. Home is pretty great, too. It's not like enjoying travel makes a good person or validates a life, you know?!
Style finds:
Amazon Finds:
One Home Project Every Day:

I organized another kitchen drawer with this wonderful thing. I think I'm done?! I love that the organizers tell me how much I can keep. In essence, whatever fits is what we can own. I pile everything up on the countertop and put our most-used things into the organizer. What doesn't fit gets donated. It's as simple as that!
I said goodbye to some footwear and got rid of my bottom-of-the-closet shoe rack. I wore a bunch of pairs of shoes out and about over the last month to determine which are the comfiest and which kind of hurt. I parted with any that were slightly painful.
We installed interior Ring cameras for when we're traveling. Peace of mind! (We do, however, put them away when we return. Don't love the idea of cameras while we're at home.)
I started decorating Mitch's office shelves. It's a big job! There are lots of shelves. But I'm slowly moving stuff we already own into them, and adding a few new things here and there.
In an attempt to get more stuff out of the garage, Mitch sold an old air compressor AND vacuum on Facebook Marketplace. Boom! It's a slow process, but the garage is becoming more and more usable with each thing that leaves. Next up is selling our double stroller, as we really don't need it anymore!
I found a pretty flameless lighter wand. I admit that this is stupid, but we light a lot of candles in our home, and I hate how the lighters look. Yes, I'm insane. But this one is nice-looking and doesn't actually have a flame! It's rechargeable, too, meaning that it'll save money long-term.
I unpacked everyone and started the laundry. I feel like we were away for the entire month of July. And as dorky as this sounds, I'm just so excited about having empty laundry bins. I'll get there!
The post 10 Things, 8/2 appeared first on Kelly in the City.