13 Genius Entertainment Center Organization Ideas
Clutter overcrowding your entertainment center? Try these 13 genius entertainment center organization ideas. We want a space that is inviting and multi-functional, but that is hard to have when your entertainment center is an eyesore!  Unfortunately, an eyesore is what we get when you add a TV, a stand, remote controls, game consoles, DVDs, and cords- endless cords!
Get rid of clutter on your TV stand. Create a space where you can focus on your favorite shows or enjoy crushing your kids at Mario Cart, rather than all that visual clutter!
Which of these genius ideas will you steal first?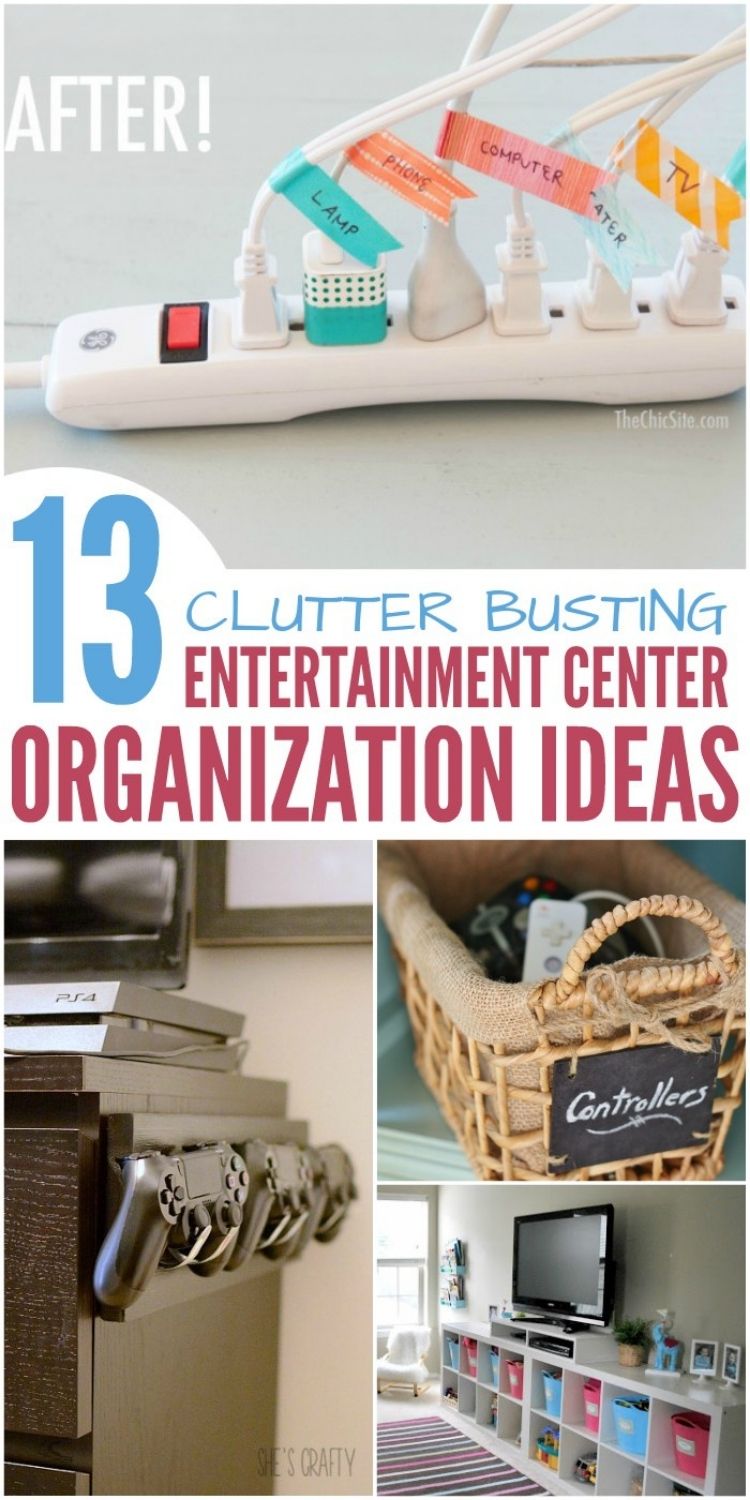 Entertainment Center Organization Ideas
1. Basket Bins
Manage the controller chaos by keeping them in a labeled basket. This is a great idea for gaming TVs where you have multiple controllers for the different game consoles. Baskets are making a comeback in the home decor world these days, and they hide unsightly things well. You can get them in all kinds of shapes, sizes, and colors. You could put fun labels on them or dress them up to match your other home decor. These work great for having around the entertainment center as a catch-all for small toys the kids leave out. If you're in a hurry to pick them up, just toss them all in the basket. Boom! You're done.
2. Love Your Labels
Speaking of labels…I don't know about you, but I can never remember which plug goes where. Seriously, I pull out the t.v. to plug or replug something, and all I see is a dusty ball of confusing cords. Try this. Use your label maker (or bread tags) to put a label on each cord to make moving your furniture and electronics so much easier. Simple and time-saving!
3. Genius Label Hack
If you don't have a label maker Washi tape cord labels are a super chic (and super cheap!) option for labeling cords. This fun office tape comes in all kinds of bold colors and designs, so that alone makes it my favorite, and organizing with it fun. If you really want to add a little creative flair, you can cut these tape labels into fun little flag shapes. Caution though, once you start labeling with this stuff, it's hard to stop. you may end up labeling every cord in the house. Organizing doesn't have to be boring after all!
4. Clutter-Busting Cord Organization Idea
This trick floored me. How had I never thought of doing this before? To keep your cords tucked back and out from underfoot using a binder clip to pick cords up off the floor and keep them along the side or back of your entertainment center. You could even run them along the backside of a desk or your entertainment center to make them virtually unnoticeable. This is a great way to keep your space streamlined and focused on your style and decor and not your cords.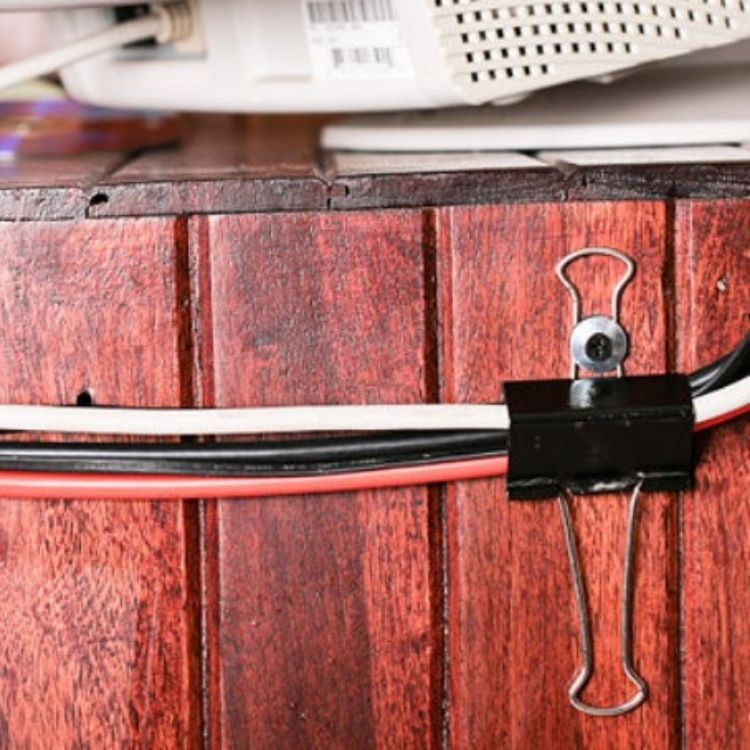 5. Dresser Entertainment Center Organization Ideas
Did you know a dresser makes an excellent entertainment center? The drawers provide plenty of hidden storage, and you can slide plastic bins right in to sort and organize the video games and console paraphernalia. Repurposing old furniture has become all the rage over the last decade, and you can find just about any way to revamp a drab old dresser. Pick up an outdated dresser at a yard sale and give it a fresh coat of paint. The refurbished piece will not only keep your media organized, but it's sure to get a few compliments along the way.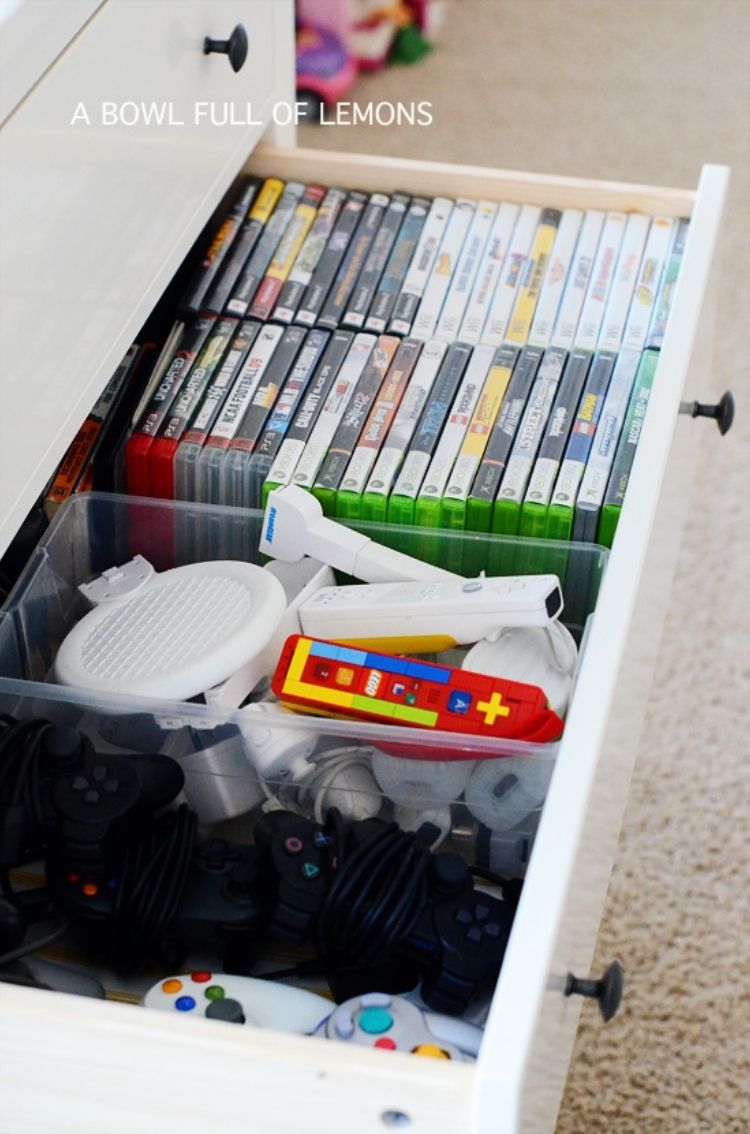 6. DVD Space Saving Solution
This hack is AWESOME! DVDs may be a thing of the past, but not for us. We still have hundreds, and I mean HUNDREDS. I want to be able to keep our movies near the t.v. but I hate how much clutter all the cases create. It seems like all I can do is stare at the rows and rows of DVDs when I look at my entertainment center. I love this idea of organizing DVDs. First, remove the jacks, and fold them in half. Slip DVD keepers inside, and your DVDs are protected and with their covers, but you can fit them all into a small basket rather than big stacks. This works great for video games as well!
7. Keep it Clear and Simple
Clear bins allow you to see what's inside while still providing a measure of organization. A very necessary organization tactic if you have kids (moms, you know what I mean). I really like this sliding style shown below. It keeps things organized and visible, but still has an open and accessible feel to it. Your kids won't have to go digging and make a huge mess on the floor trying to sort out where their stuff is (mom win!). These tips from The Container Store are genius!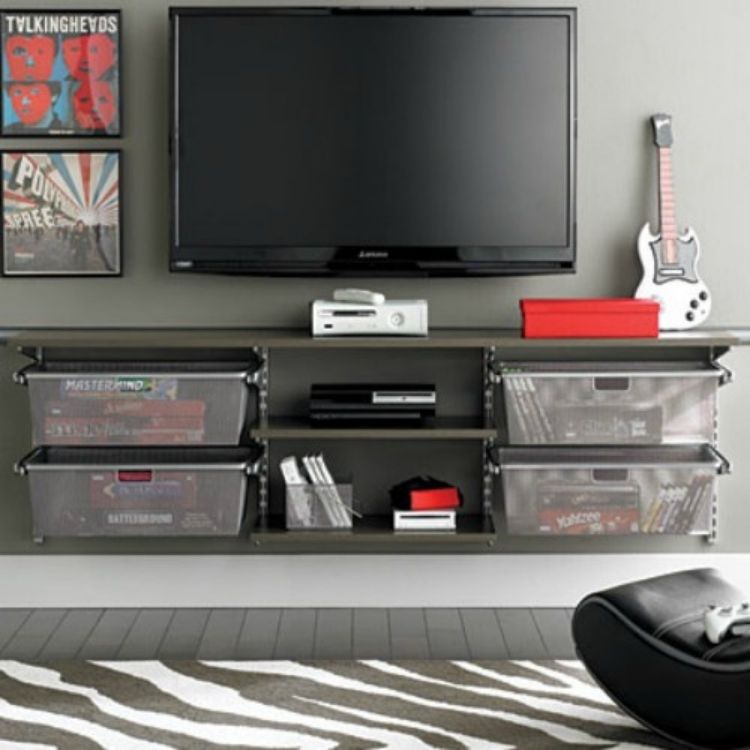 8. Clutter-Free Controller Hooks
"He who controls the remote, controls the world."  Julie Garwood
Nothing is more annoying than not being able to find the stinking remote! Time to get ahead of the game. This crafty mom used a scrap piece of wood and some hooks to create this video game controller organizer. Even better, it blends right in. You could easily add more hooks for headphones or additional controllers for everyone in the house if needed. If you want your remotes out of sight, hand this great idea inside the door of your entertainment center.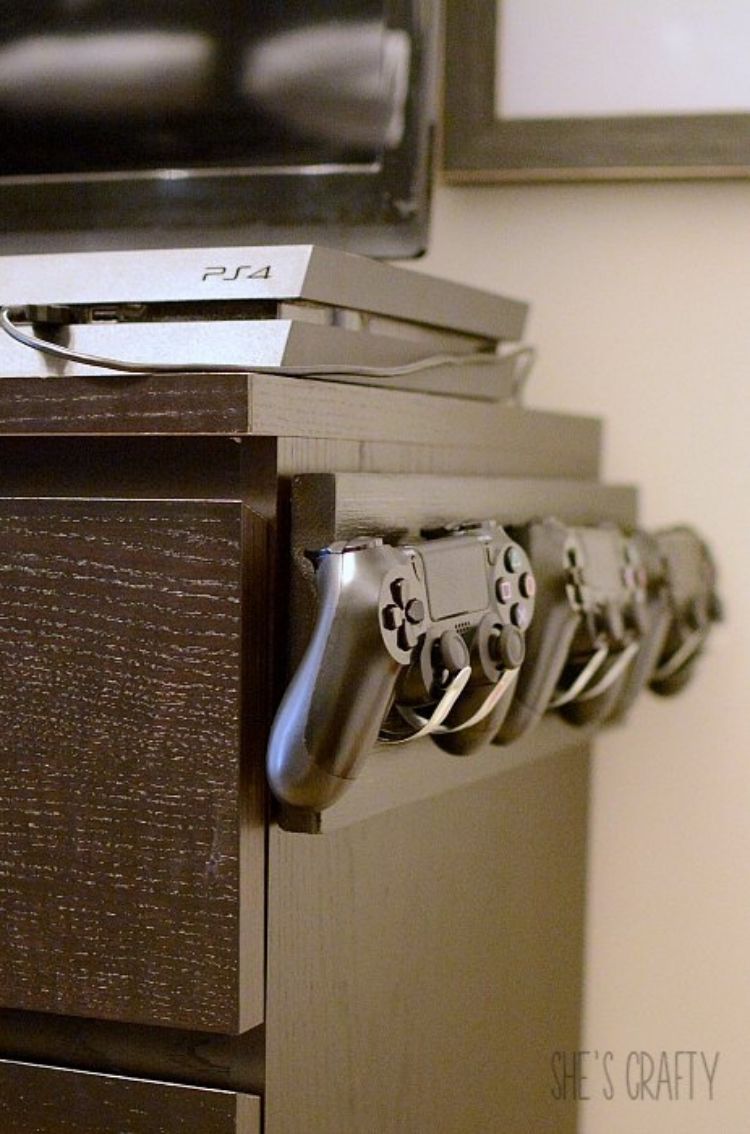 9. Genius Controller Organization Idea
For a simpler DIY remote control storage option, try velcro! This one is by far my favorite for kids. What kids don't like sticking things to the wall? Snag some velcro strips and stick one side to the back of the controller and the other to the inside of your entertainment center shelf. If you want to get super fancy, whip out that label maker and place little labels just under the velcro on the wall. No more stepping on controllers felt out on accident.
via Life Buzz
10. Organize with Box Decor
Media boxes look pretty on a shelf, and they're ideal for organizing video games and DVDs. If you snag the DVD storage hack from above, you could likely save even more space. These boxes come in many sizes and colors, which makes them great for picking out something that will complement the rest of your decor. Most of them come with label pockets already built-in in the box, all you need to do is add your stuff and style.
11. Small Box Storage Solutions
See? You can even use small storage boxes for storing remotes and headsets, games, gaming systems, and more. If you are not a fan of bold colors, or maybe they just don't suit your theme, white boxes fabulous. The color goes with everything and is much easier on the eyes than all the clutter before. Boxes come in so many different styles now, you can easily find one to match your taste. The best part is that boxes can be reused again and again anywhere in the house. So, if you decide to redecorate, you can find something somewhere to reuse them for.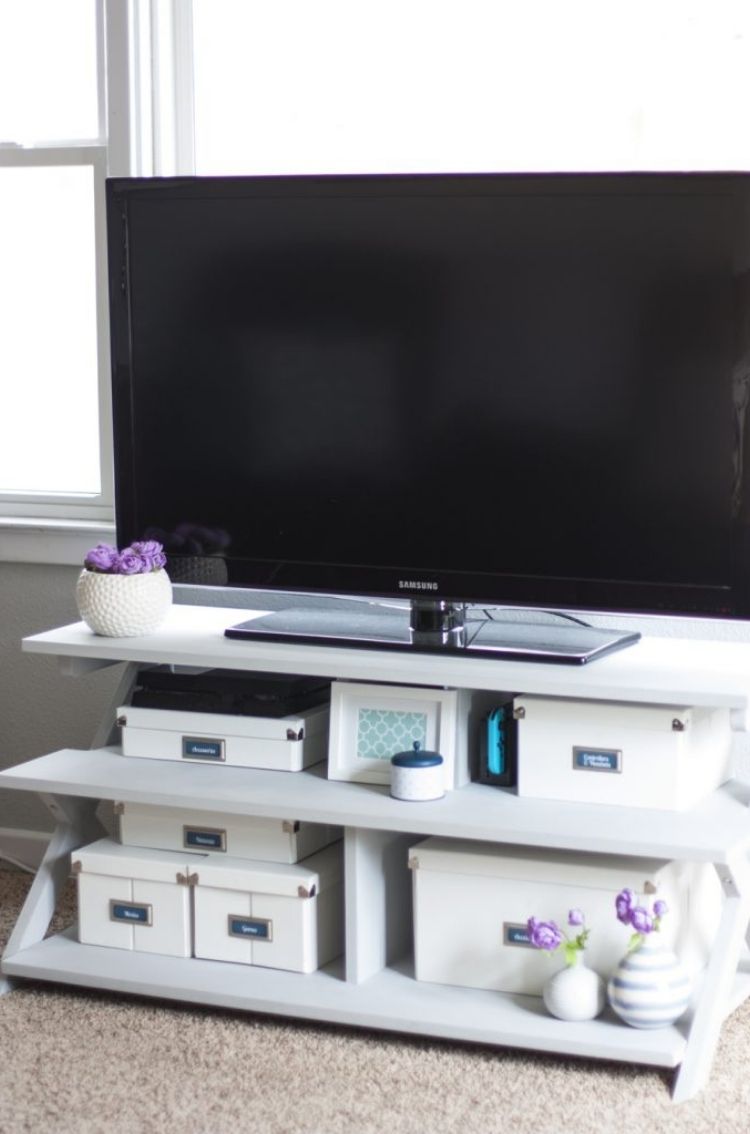 12. Cubby Entertainment Center Organization ideas
You can't go wrong with cubby storage. Nearly any room in the house can benefit from then. This TV is in the playroom, and bins and baskets are used to contain books and toys under the tv. The white cubby choice in this picture really helps brighten up the area and gives it a more clean, fresher look, and would allow you to accent with all kinds of color themes. Simple is often the best choice. I LOVE this one!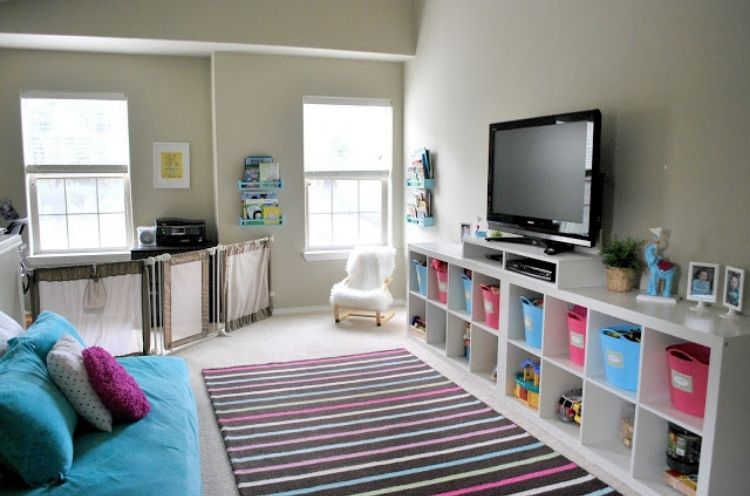 13. Consider Furniture Curtains for your Entertainment Center
Curtains around an open entertainment center can hide visual clutter. The double rod technique here is a great way to contain your curtain so it doesn't just sit there is flap freely about. It gives it a tidier and kept look instead of tacky. My favorite thing about this idea is that if you are crafty inclined, you can go to the fabric store and choose whatever color, style, theme, or pattern you want! You can easily change out the curtains throughout the year depending on the season or holiday you may be celebrating for an easy decorative idea. You can choose fluffy, flat, frilly, or fun!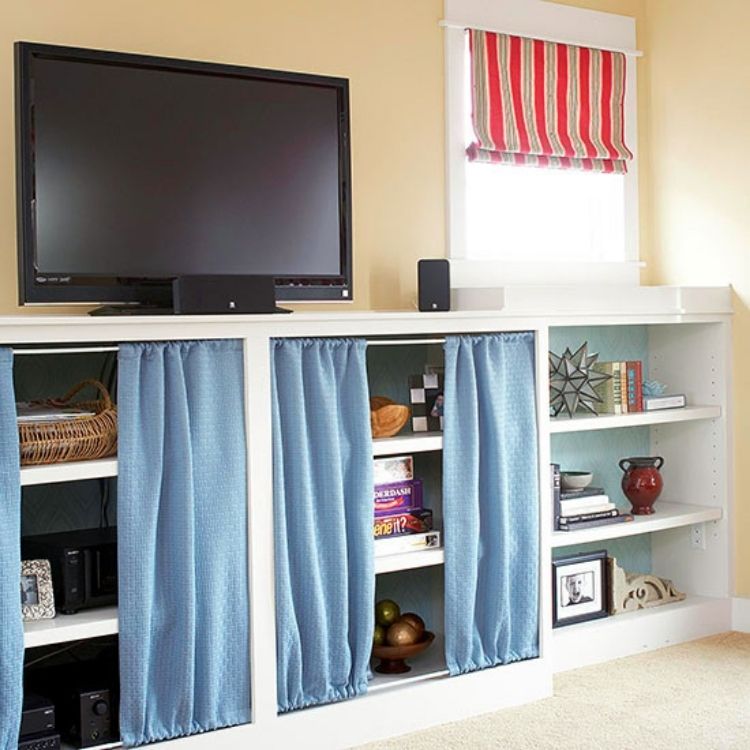 So there you have it. Some fabulous new and crafty ways to make your entertainment area less crowded, cluttered, and unsightly. After this, we know you are probably itching to get started revamping and organizing your entertainment space, we know we are. So, which of these genius ideas are you going to start with?
Done with Entertainment Center Organization Ideas?
If you're like me and once you start decluttering and organizing you tend to catch the cleaning bug, try some of these other organization ideas out around the house.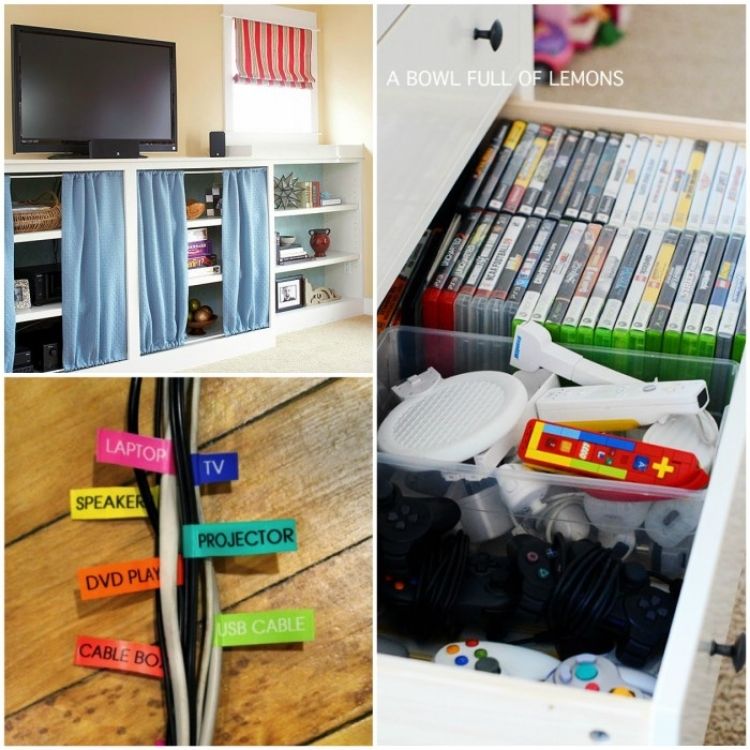 The post 13 Genius Entertainment Center Organization Ideas appeared first on DIY House Hacks - One Crazy House.