15 Brilliant Things to Do with Old Formula Canisters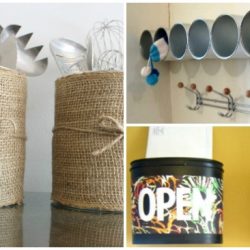 If you're formula feeding, you'll collect a ton of formula canisters during the baby's first year. If you've been throwing them out all this time, stop! We show you how to reuse formula canisters in fun and resourceful ways. Those sturdy canisters make wonderful organizational containers for craft supplies and other random things. Get ready to craft all you want and then some. Here are 15 formula canister projects to get the ideas rolling.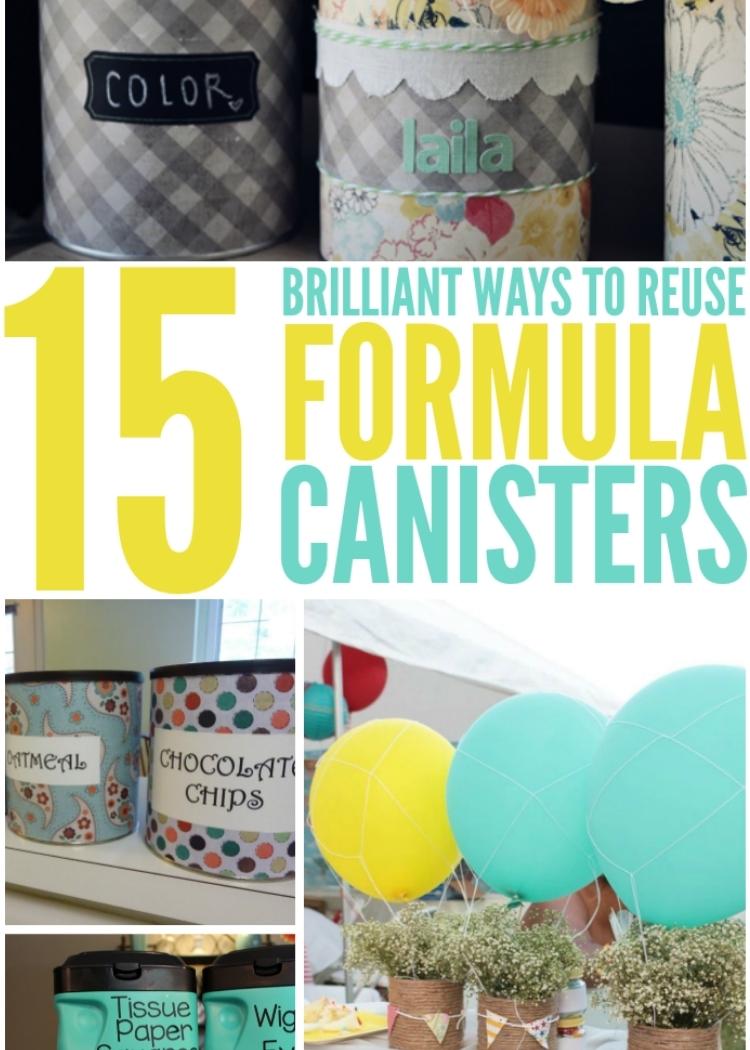 Creative Ways to Reuse Formula Canisters
1. DIY Piggy Bank
Make your baby a DIY piggy bank that matches the nursery theme, like the center canister pictured below. There are so many different ways you could decorate and embellish it to match your nursery. This would also make for a cute & sweet handmade gift for any mom-to-be, too! Fill it with bath salts, hot tea, and affirmations for the perfect self-care kit!
First, clean out the canister.
Second, slather the outside with mod-podge.
Third, cover it with scrapbook paper by wrapping strips around the canister.
Fourth, add additional elements, like a ribbon, lace, and felt letters spelling out your sweet baby's name.
Five, put in the nursery.
Six, add gifts of money and "Words of Wisdom" notes from baby shower guests to read over the next year for encouragement.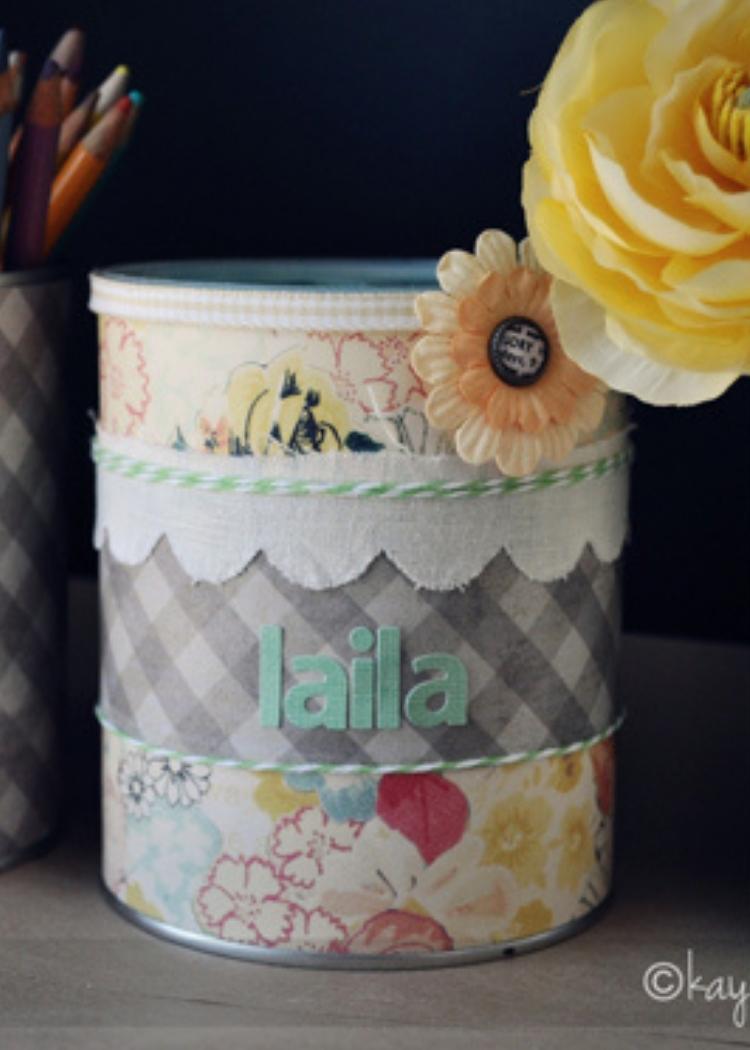 2. Create Organizers You Love
With a few reused formula canisters and some twine, you can create gorgeous organizers for your office supplies. Again, this is where mod-podge will come in handy! You could easily add touches of color by gluing on flowers or sparkly gems. On their own, these twine-wrapped canisters give a nice touch of farmhouse style and would go well on the fireplace mantel. Farm-house is a current and fun trend you'll want to be in on. Want to go for a Boho Farm look? Add a patterned ribbon and you're done!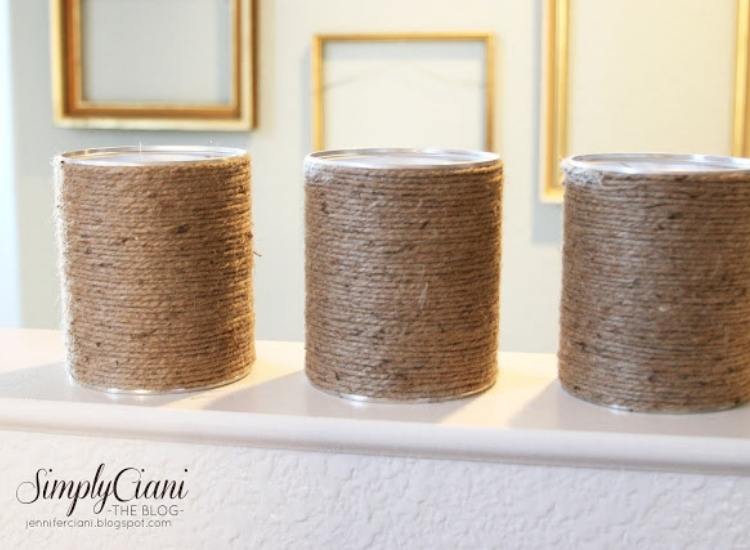 3. Hair Accessory Organizer
Organize your headbands and other hair accessories reusing a decorated formula can. Hair ties and barrettes can easily go inside, so it all stays together. What a fun way to organize and upcycle. Your kids will love helping with this one, and they'll know where it all goes when you're done! This activity could easily double as an opportunity to teach your little ones the names of colors. If you have older children, this would be a good activity to introduce them to color theory and color pairings. Art projects for all ages, and education, what a fun parenting win!
4. Reuse Formula Canisters For Plants
Give a potted plant as a gift! This teacher appreciation gift is simply adorable and affordable. This is a craft project you can totally get the kids involved in! Instead of gluing paper on the outside, have the kiddos paint them outside. Layout some newspaper for them to sit on to make for an easy and effortless clean-up. Use sponges for fun and unique textures. What a special and unique idea to reuse formula canisters.
These would also be great for Mother's or Father's Day, too! Don't have a holiday coming up? Use several for a "starter garden."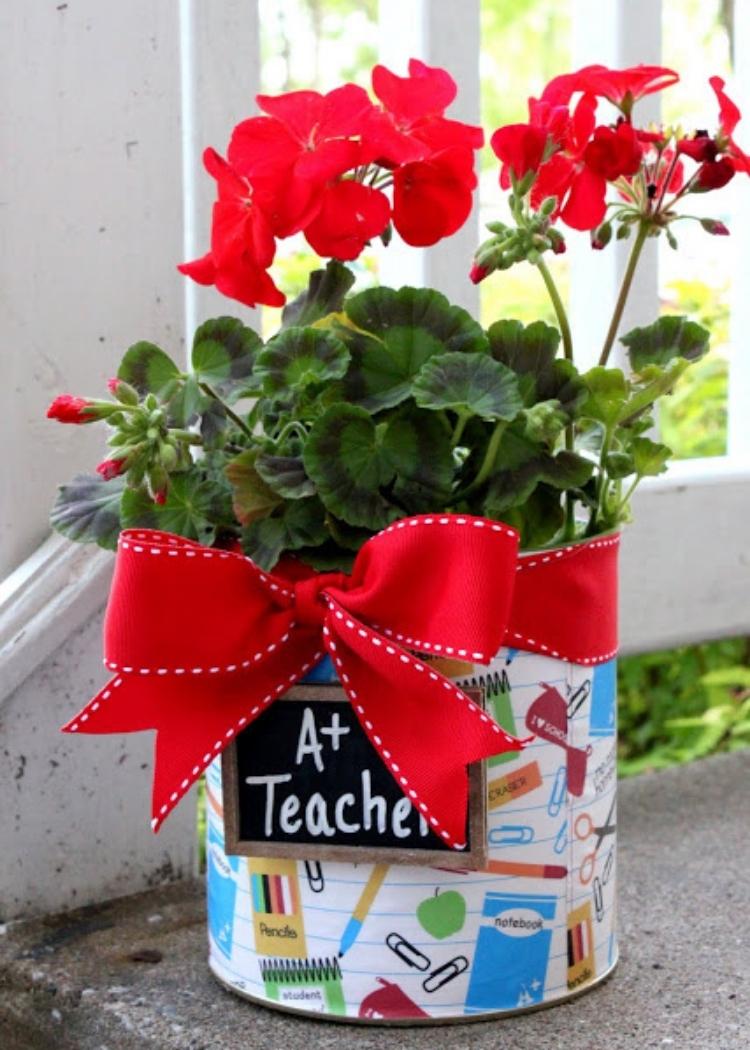 5. Toy Organizers Out Of Repurposed Formula Canisters
These Lego canisters are perfect for storing Lego figures, blocks, and more. A lot of Lego comes in sets, and reusing formula canisters are perfect for keeping those sets together and well-organized. Here's a tip: allow the kids to pick one set at a time to play with. They can get a new set out, once they have assembled one. This will help them to stay focused and engaged in the project they are working on.
You'll love how easy it is for them to keep the Legos organized! If you don't have sets, you could organize them by color. For the love of your color coordinating heart, paint the canister the corresponding color! All the fun and all the color!
6. Upcycle Canisters Into Mail Sorters
This mail center is sure to come in handy. Sort mail right away when it comes into your house so you never misplace another bill again! Place your upcycled canisters in the entryway if you can, that way they are easily accessible. Easy access means you're more likely to follow through with the habit. Organizing and paying bills already? Look at you, doing all the cool stuff, like adulting. If not, here's your chance to start. What better way to stay organized than by setting yourself up for success ahead of time by trying this idea on for size. Label each canister to keep yourself even more organized.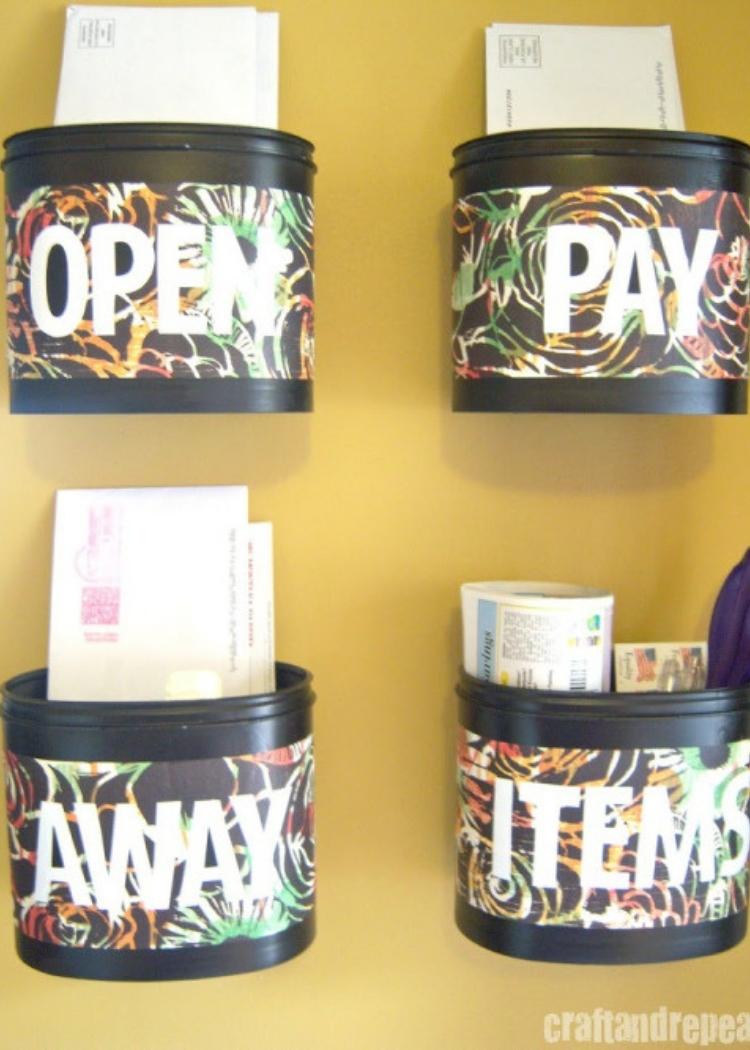 7. Create Crafty Toys Out Of Old Canisters
There are so many crafts, but this is one of the most fun ones! Make a stellar DIY drum set for your kids using cans and stretched balloons. Use two balloons, minimum. Cut holes in one of the balloons before stretching, so the color underneath can peek out just a bit. Supervision with this toy might be required depending on your child's age and habits. Another option might be to use the lid and some wooden spoons. Let them decorate the outside and then drum to their heart's delight.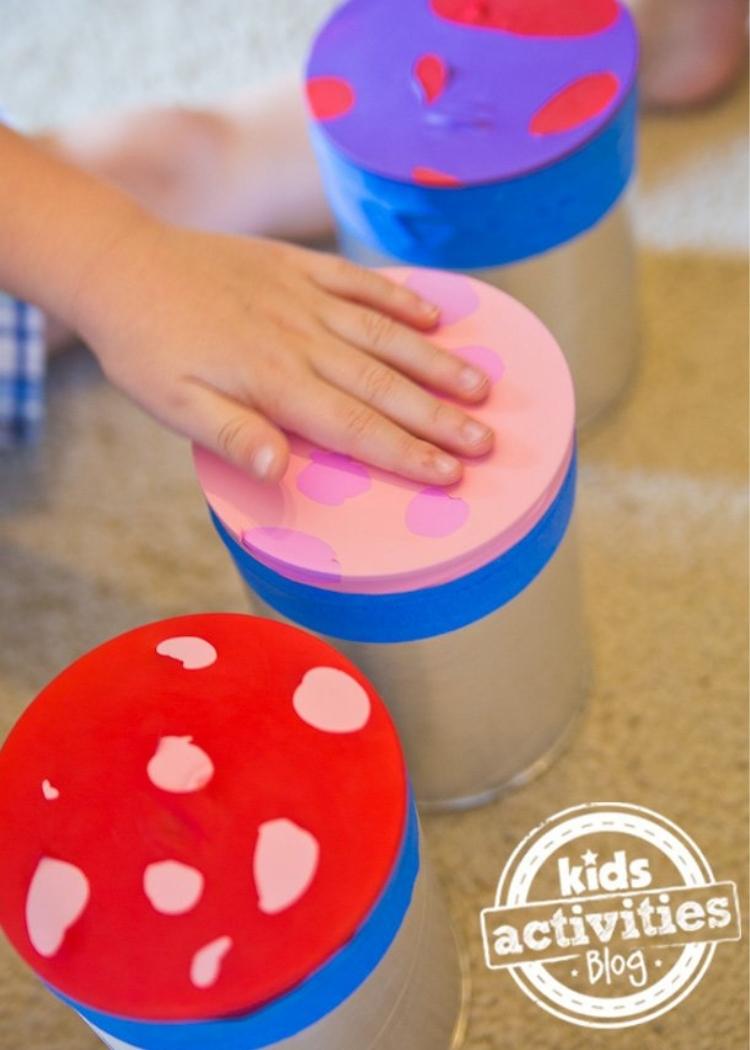 8. Repurpose Mudroom Storage Canisters
Create wall storage on the cheap. Put the canisters above coat hooks to hold hats, gloves, scarves, and other accessories. Perfect set-up for the mudroom! This also gives plenty of space for each child to have their own cubby, or two. Garden gloves and cleaning gloves would also store well in this area. Keep it simple by using the cans as they are, or spray paint them your favorite color to liven things up a bit. You could even create a rack of cans for each child's room, for even more individual storage space.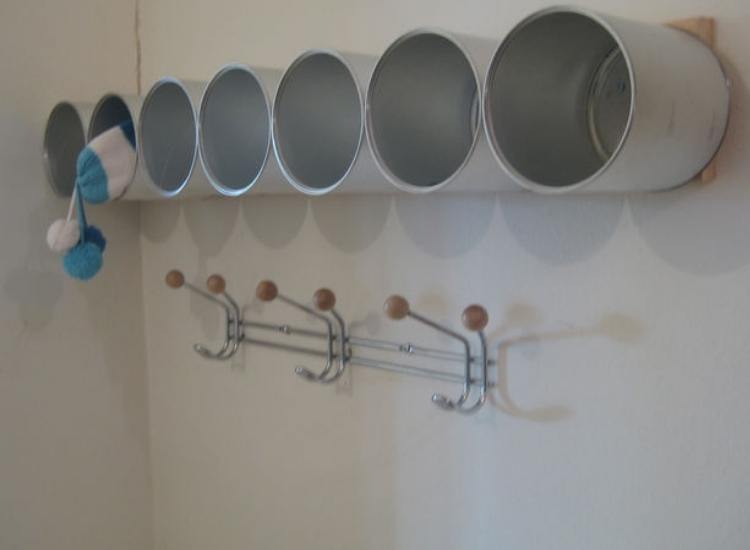 9. Easy Pantry Upgrade
Make some pretty food storage containers for your kitchen or pantry. Use labels to keep things brilliantly organized. Create a second removable or replaceable label that holds the date so you always know what to use soon. Make it fun and use several different patterns. This idea works especially well in the pantry.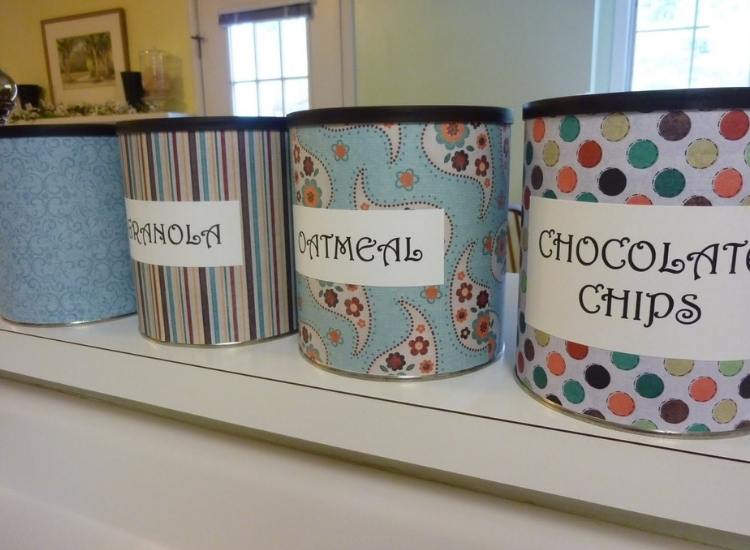 10. Reuse Formula Canisters for Baby Gifts
Store baby's bath items in a formula container so they're always handy. This idea also serves well as a frugal baby shower gift idea, too! Hosting a shower? You could repurpose them into shower favors for guests. Fill them with a candle, chocolate, or tea. Then dress them up to match the theme of your baby shower and you're good to go!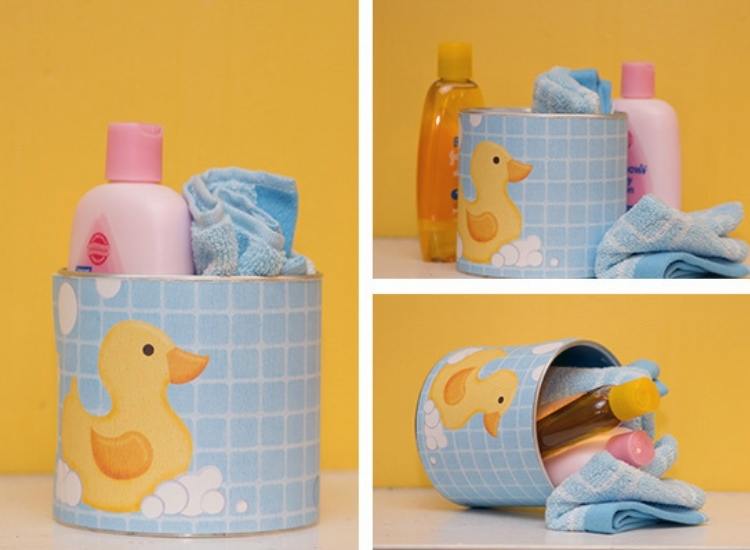 11. Utilize Reusable Canisters for Kitchen-Ware
Add burlap and twine to make these rustic kitchen utensil organizers for yourself. Aren't they lovely? You'll love how simple this is! Use some mod-podge, add the burlap, and wrap the twine around. Simple, easy, and cute! This is a fun and quick way to upcycle especially when you're trying to save. Add a splash of color by tying a ribbon over the twine! Make some extra for use in the bathroom for make-up brushes and sprays. Or cotton balls and band-aids storage containers.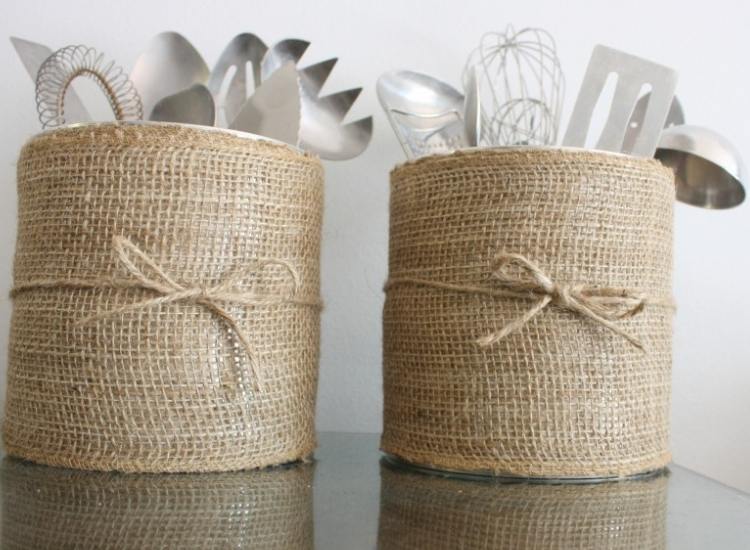 12. Store Kids Crafts In Upcycled Formula Canisters
Do a lot of crafting? Paint some formula boxes to store your materials in! This makes them easy for you and the kids to find but looks a lot less cluttered than shoving them all into drawers. Labels are a sure way to keep things in the right container, too! Having everything organized in the craft room will give you more time for the crafting you love to do the most! From sequins to wiggly eyes, you're sure to have a can for it all!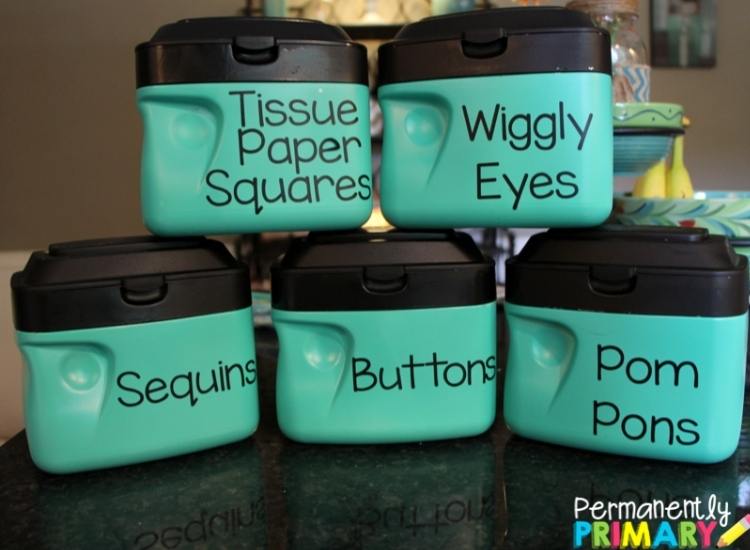 14. Decorate Reusable Formula Canisters
These cute and colorful canisters are another great example you could utilize in any room. They would be perfect for your guest room, too! In a guest room, they could hold necessities. They could serve as "Welcome Buckets," too! Here's an easy tutorial showing you how to cover the canisters with pretty paper to make them more appealing.
Another fun idea would be to use chalkboard paint. With a little bit of paint, glue, and stencils, you really could create any look you have in mind. From Damask-inspired to shabby chic, the creativity is ongoing.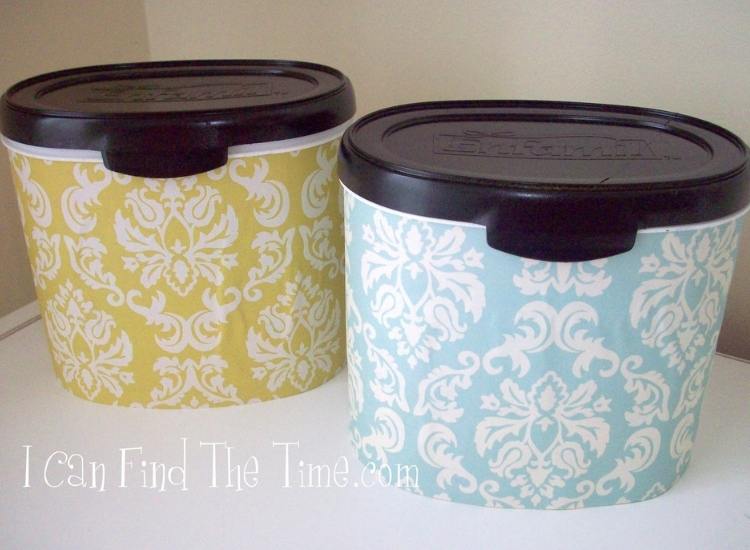 15. Canisters Make For Great Centerpieces
These hot air balloon centerpieces would look gorgeous at a wedding or shower. If you need a more simple and classic look, leave off the balloon. You could easily sub out the garland for a thick ribbon and bow for a classic style. The centerpieces could double as party takeaways, too! Now you have two solutions with this one idea!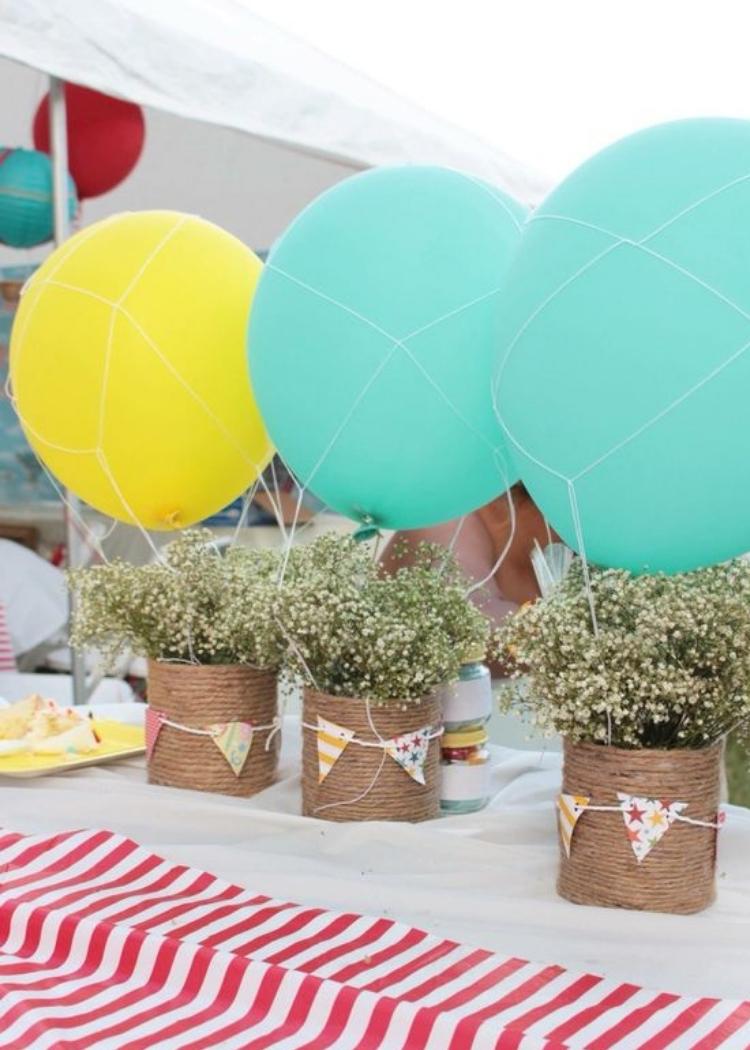 16. Bonus: Reuse Formula Canisters to Create Fun Party Favor Buckets
And this is a super cute idea: Turn those formula cans into favor buckets for your kiddo's first birthday party! The bucket alone is cute enough to stand on its own. Or you could add a bottle of bubbles and a treat. Need a fun party-time craft? You could set up a crafting station and let the kids decorate their own bucket to their heart's content!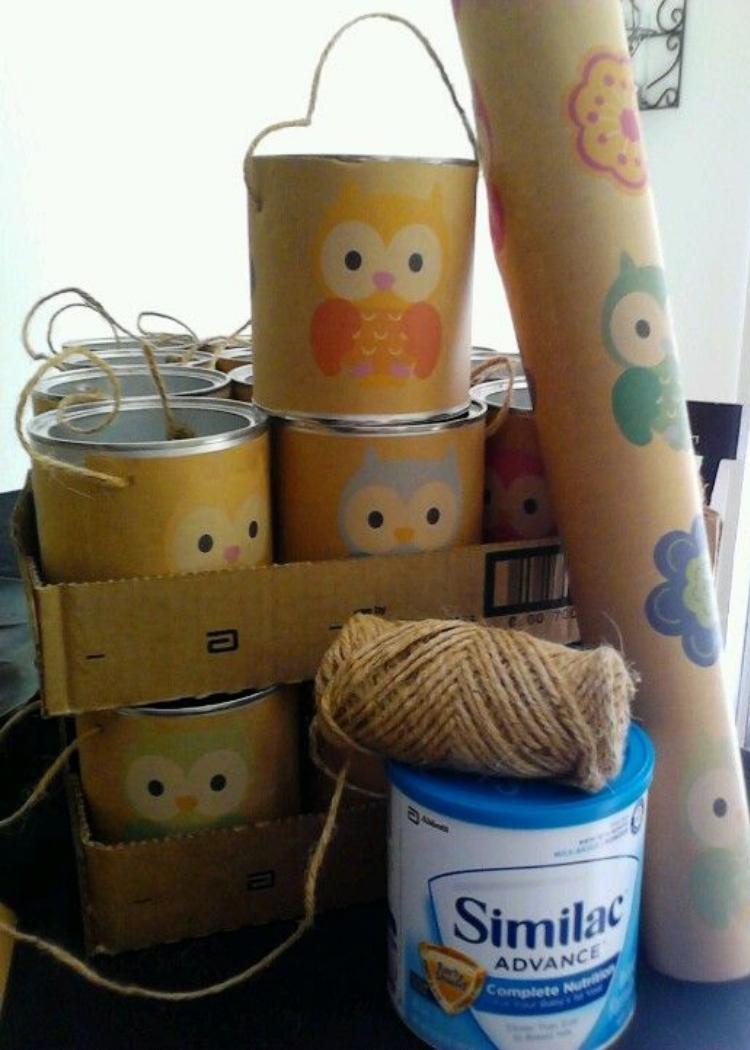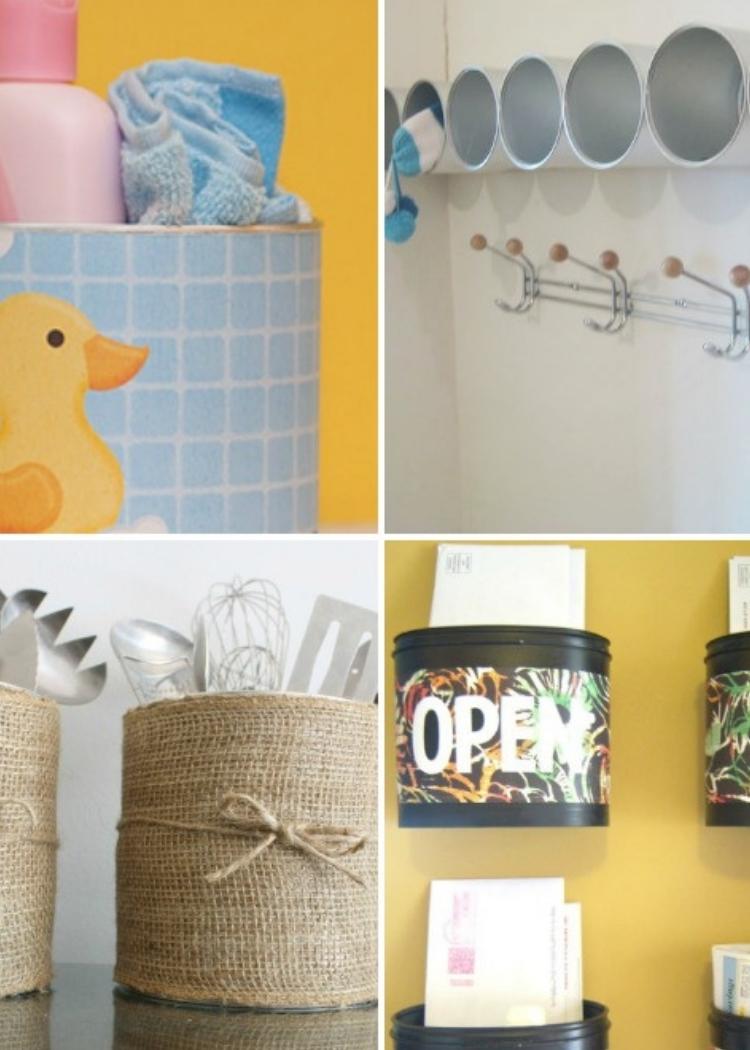 15 Brilliant Ways to Reuse Formula Canisters
Check out even more ways to upcycle and organize:
The post 15 Brilliant Things to Do with Old Formula Canisters appeared first on DIY House Hacks - One Crazy House.