17 Nifty Ways to Upcycle Old Jars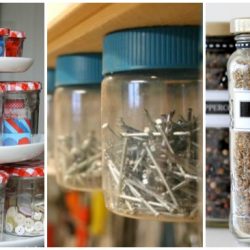 With so much trash taking up space in landfills, it's important that we do our part to keep what we can out of them. One way you can help is by upcycling your old jars. If you need some ideas, here are 17 ways to upcycle old jars. Never throw them out again! (And check out our list of ways to reuse oatmeal canisters, too!)They're so handy to have around the house! Use them to store things in your pantry, make a pretty vase or create some jar gifts for your friends.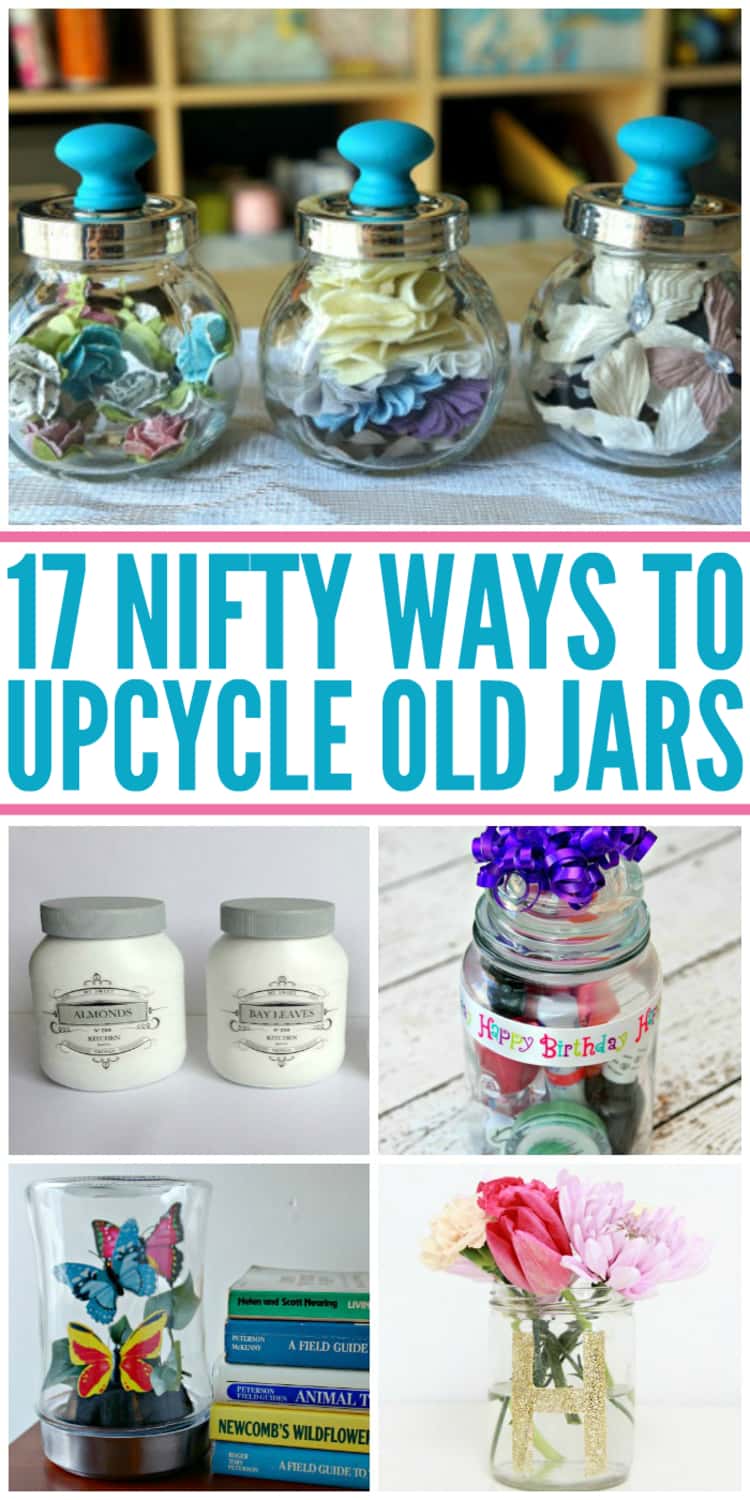 Creative Ways to Upcycle Old Jars
1. Upcycle An Old Jar Into A Cute Cloche
As you might know, cloches are used to protect outdoor plants from harsh weather conditions but that doesn't mean that you can't create your own cute cloche just because. Make a cloche to add to your decor with just an old jar, some styrofoam, a piece of felt, adhesive, a few butterfly stickers, and a crafting wire. You can choose to make this cute butterfly cloche or one that is Lego-themed, has tiny fairies, etc. Anything that tickles your fancy.
2. Upcycle Old Jars With This Simple Trick
It's amazing how simple items have the ability to transform ordinary stuff into beautiful pieces. Add drawer knobs to any lid for a decorative touch. This project needs zero decorative or creative skills and minimal expenses to create. The jars are great for storing crafts supplies, office or bathroom supplies, and even spices! They are also great as table centerpieces.
3. Feeling Generous? Upcycle An Old Jar Into A Beautiful Gift
Turn your empty candle jar into a manicure gift in a jar! They make terrific bridesmaids or hostess gifts. In 15 minutes or less, depending on how hard it was to clean your candle jar, make a great gift for that special someone. (Get more gift-in-a-jar ideas and cookie in a jar ideas.)
It's not about what it is – it's about what it can become!

~ Dr. Seuss
4. Transform Your Pantry With This Adorable Idea To Upcycle Old Jars
Tired of having spices spilling out of sachets and a forever disorganized pantry? Create pantry storage jars out of just about any type of jar that you have. If you want to make them match, add a coat of chalkboard paint, a few layers of varnish, and a pretty label.Simple and classy.
5. These Monogram Vases Are A Brilliant Way To Upcycle Old Jars
Wondering what to do with those glass jars you've been hoarding? Create monogram vases for gifting fresh-cut flowers or for holding tea lights for a party. You will need some double-sided tape and some glitter and that's it! You can make some more to hold your pencils and give your desk a personalized feel. There's literally no telling how much you can do with these cuties!
Extraordinary Ways to Reuse Food Jars
6. Keep Your Workshop Organized With This Handy Idea
Organize screws, nails, and other hardware in your garage or basement. Bonus points if you hang the jars under the shelf so they don't take up counter space! Screw the lids into a wooden shelf, fill the jar with screws, bolts, and other trinkets and screw the jar onto the mounted lid!
7. This DIY Tiered Craft Tray Is A Great Way To Upcycle Old Jars
Are you a craftsy person looking to declutter your space? Isn't this tiered craft tray gorgeous? It's made with jelly jars! This craft tray is a great way to keep all your craft supplies in one place, organized, and easily accessible. It makes use of quite a number of jars so it's a great upcycling project to take on! You can even make one for every space in your home. Your office desk, craft space, kitchen, and the kids' study table.
8. Convert Old Pasta Jars Into Spice Jars And See How Your Pantry Comes To Life.
If you buy your dried spices in bulk, you do save some money but if you keep your spices in those ugly plastic jars, you need a pantry makeover. Convert your old pasta jars into spice jars. You only need a few labels and some twine or ribbon for an easy DIY project. For a personalized look, make use of some spray paint and get creative!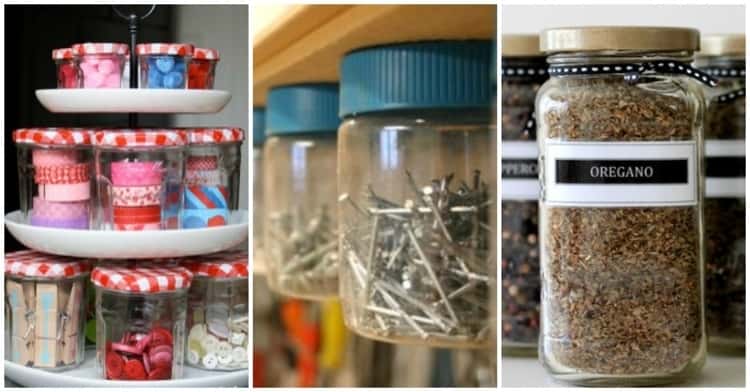 Here Are A Few Unique Ways to Recycle Mason Jars
9. Here's A Brilliant Way To Unwind While Upcycling
Binging on Netflix or reading a magazine is at times not the best way to unwind. This unconventional but fun DIY project is pretty easy to do, doesn't require much brain muscle, and is very relaxing. Doodle on mason jars to make pretty luminaries for your candles. Whatever art you decide to adorn your jar with is sure to be a sight for sore eyes on the dinner table.
10. Upcycle Old Jars Into A Desk Organizer
Glue several mason jars together to make your own desk organizer. You can get creative and make triangular, circular, even rectangular desk organizers with as many jars as you have. For a personalized look, you can spray paint them with chalkboard paint or use some colorful paper. Let your inner child thrive with this fun craft!
11. Sewing Kits Have Never Been Easier To Make
Make little sewing kits by adding pincushions to the lid. These mason jar sewing kits are super handy and help you keep all your sewing notions in one place. You only need a few mason jars, some pretty fabric, fiberfill or cotton, a hot glue gun, scrapbook paper, and a pen or pencil. This project shows you how to turn the lids into pincushions but you can get creative and decorate the jar as well!
12. Bathroom Organizing Has Never Been More Fun
Get rid of those tiny shower caddies that never helped anyone with this mason jar upcycling project. If you're not afraid of a little more DIY work, try your hand at this super cool bathroom wall organizer. You'll have a place to put your glasses when you get into the shower with them after a long day without fear of dropping them and even a jar where you can put some flowers, just because!
13. These Soap Dispensers Are A Great Way To Upcycle Old Jars!
Make some country chic soap dispensers. They are easy to make, adorable to look at, cost-effective, and, dare I say, environment friendly because you've just prevented a few mason jars from going into the landfills! These soap dispensers are a great way to rid your home of those annoying and ugly plastic bottles and to give your home a chic and fancy look.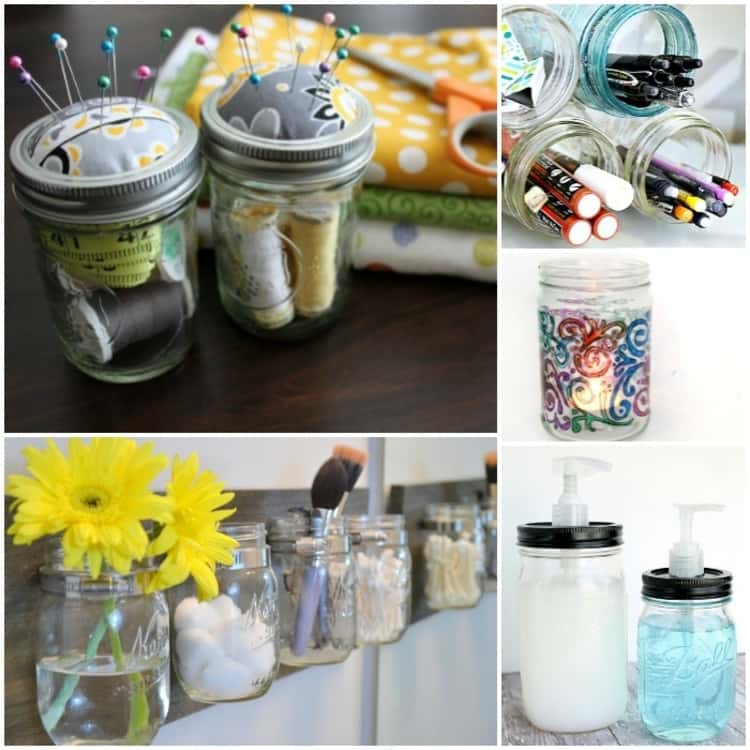 Ways to Upcycle Old Baby Food Jars
14. A Homemade DIY Gift To Make You The Best Gifter Ever!
Are you a huge fan of scrubs? I am. Facial scrubs, lip scrubs, body scrubs, the works! They're a great way to exfoliate and what's even better about making them at home is that you know exactly what comes into contact with your skin. In my experience, this is an important part of skincare.
Another reason I love scrubs is that they are super easy to make at home and make great gifts! Fill a few baby food jars with a homemade salt scrub, and give them as gifts! Check out more ideas for some homemade scrubs.
15. Don't Toss Those Baby Food Jars Just Yet
Baby food jars can be a headache when you can't find enough projects to use them in. After using them to store your spices, hold your screws, organize your desk, and helping the kids with their crafts, it may seem like you have no more use for the extra jars laying around. Add some paint and use them as bathroom organizers for q-tips, makeup brushes, and cotton balls.
16. Make Your Tot A New Toy And Upcycle An Old Jar. It's A Win-Win!
Kids love new toys. No matter how simple the toy is, they will be awed by it and will surely appreciate it. Make an I-Spy Jar for your little one to enjoy during quiet time. It is so much fun to watch them try and find all the tiny items hidden inside!
You Will Need:
Colored rice
Paper clip
Coffee Bean
Penny
M&M
Gummy Bear
Small eraser
Tiny bell
Buttons
Mini clothespin
Mini animals
Pony beads
Anything small enough to fit in the jar that you don't want lying around!
Make The I-Spy
Fill the baby food jar with the tiny items.
Fill the remainder of the jar almost full with colored rice
Toss the rice and objects in the jar to mix them up and hide the objects.
Replace the lid and glue it on. You don't want a mess or baby putting some of those items in their mouth.
Watch your toddler have a great time.
17. Upcycle Old Baby Food Jars Into Nifty Shakers
Regular ol' salt and pepper shakers are boring! Make your own shakers with some cute baby food jars and decorate them however you'd like. Just drill some holes in the lid, add a pretty painted border, and you've got yourself some nifty DIY salt and pepper shakers.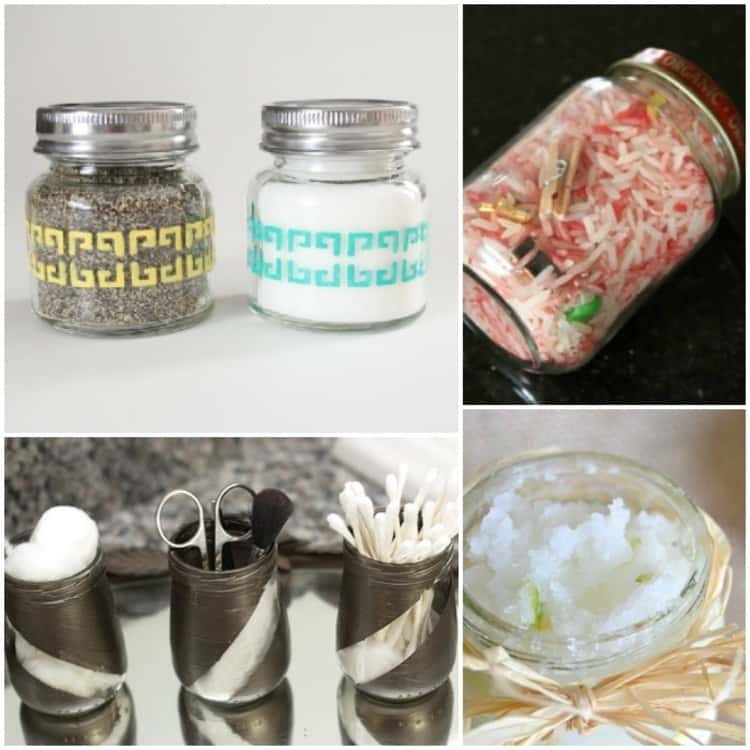 Found This Collection Of Ways To Upcycle Old Jars Helpful? Wait Till You See How Many Other Things You Can Upcycle And Recycle!
The post 17 Nifty Ways to Upcycle Old Jars appeared first on DIY House Hacks - One Crazy House.