19 Hacks That Show You How to Organize Your Closet
Want to learn how to organize your closet? Is your closet a disaster? It seems no matter how much closet space you have, it's never enough, especially when you throw things in willy-nilly. But even the smallest closets can be neat and organized with a few smart tricks. From your scarves to your shoes, here are 19 closet organization ideas to implement in your home.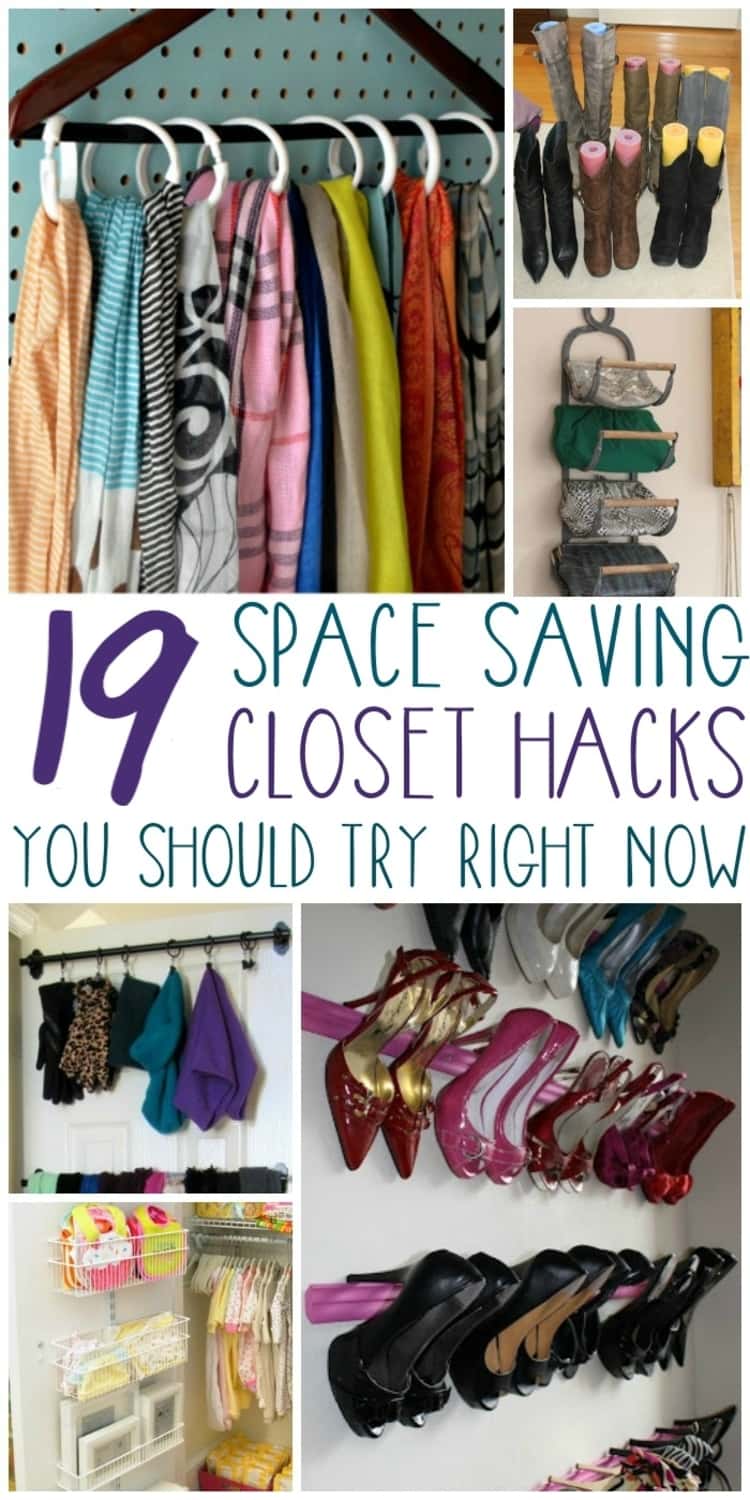 Closet Hacks To Get Your Space Organized
1. Decrease Stress Levels With Organized Closet Spaces
Homeschooling and Working From Home are lifestyles that are here to stay and so you better start creating conducive environments and spaces for them. This will help keep everyone's sanity as well as have a different atmosphere between school, work, and home spaces. If you've got a specific room you use for homeschooling and as your home office, why not convert its closet for these specific uses.
Organizing your closet for homeschooling or as your work-from-home space is known to significantly decrease your stress levels, so you better get started on it, if you haven't gotten to it yet.
2. Inexpensive DIY Curtain Ring Hanger To Organize Scarves In Your Closet
Tired of having your scarves collection in one big lump on the closet floor or folded neatly away in some drawer such that it's such a pain looking for a particular scarf to accessorize your outfit with? Here's how to organize your closet and all of your scarves: Use inexpensive shower curtain rings looped onto clothes hangers.
Each hanger can hold up to 10 curtain rings meaning 10 scarves will occupy the space of only 1 hanger in your closet. If that's not an organized closet, then I don't what is!
3. Another Cool Shower Curtain Rings Closet Organization Hack
If you're a tank top junkie like I am, you very well know the frustration that comes with owning several tank tops. Folding them is normally not an option – they're folding frustration central – and they always end up in a pile after I've searched for a particular tank top a few times. Don't even get me started on color stacking – I've tried that and it wasn't even remotely helpful because when they're stacked, pulling one tank top meaning you end up with several, lol.
But all this frustration is in my history because I finally got a breakthrough: shower curtain rings! You can use shower curtain rings to organize your tank tops. Divide them by color and use each curtain ring to hold a few of each on the closet rail. These shower curtain rings are easy to open yet strong enough to hold a decent number of tanks. Now all I do is to go to the specific curtain ring with the color of the tank I'm looking for, find it, open the ring, and leave everything as neatly as I found it.
4. Easy Closet Organization Hack To Keep Your Dresses And Open Neck Tops On Hangers
Argh! This was me a while back while trying to organize my closet.
I know. It's SO frustrating to keep your dresses and open-neck tops from slipping on the hangers but now there's an easier way to do without having to buy those expensive anti-slip hangers – just add pipe cleaners, rubber bands, or hot glue to the hangers, and voila! Say goodbye to piles of previously hang dresses and open neck tops in your closet.
5. Want To Organize Your Closet & Create Space For New Outfits?
I know I would – and I did – a while back when my clothing sizes were barely changing and I always used to have an overflowing closet.
But things are now totally different and easy since I discovered that using soda can tabs could help me save space and double up my clothes hangers. I was so happy to find this hack! It gave me an organized closet, created lots more space for new outfits, and I didn't have to spend any money on double hangers.
6. This Is How To Organize Your Closet – When You Gotta Give Up One
I always love seeing my shoes, clothes, and accessories at a glance and so this hack was a lifesaver, literally!
Once I spot the outfit I want to wear, a little parting of the hanging clothes in the closet and I can spot the shoe as well. This hack to organize your closet calls for some measuring and cutting but it's totally worth it. Just add a couple of strips of crown molding to the back of your closet to hang your high heels. When I did this, I went down from 3 closets to just 2.  And you could do the same, especially if there's a new addition to your family and you need to create some closet space for them.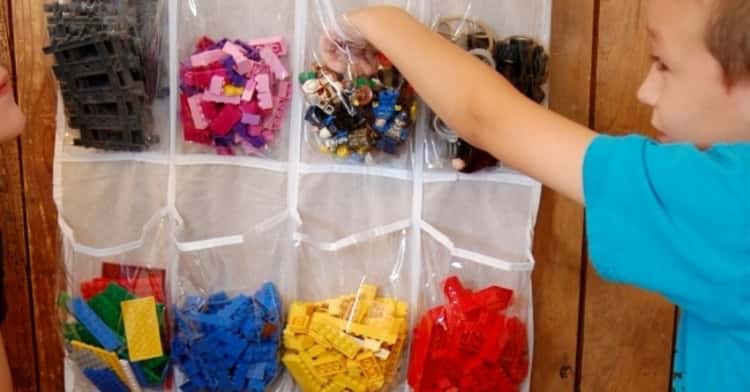 Brilliant Ways On How to Organize Your Closet
7. Organize And Store Your Kids' Toys In Your Closet
Is your house overflowing with Legos?
Mine was at some point, and up until we converted one closet into a play space – we now store legos and toys over the closet door in a clear shoe organizer. Better still, the kiddos help to put away their Legos when playtime is over, making my life and organizing a breeze!
8. Eliminate Shoe Chaos With A DIY Closet Organization Hack
You can do this by DIY'ing a PVC shoe rack for your other shoes. While this may not be practical this is for adults (depending on the PVC sizes you get) you could fit a lot of kids' shoes into these! You can stack the PVC pipes and combine them in any shape or design.
9. Pool Noodles & Closet Organization? A Perfect Combination!
You wouldn't have guessed how pool noodles help in your closet organization but they totally come in handy to prevent floppy boot syndrome. Any woman who has a sizeable boot collection knows this syndrome too well and thanks to pool noodle inserts, it's a thing of the past. Clever!
10. Are Seasonal Clothing Or Infrequently Used Items An Organizational Nightmare?
They don't have to be – you can store infrequently used or seasonal clothing items in colorful labeled bins. Great idea for kids' closets! And in fact, all members of your household. I'm thinking about winter scarves, mittens, caps, and such. The bins for the adult stuff don't have to be this colorful but you get the drift.
Opening up your closet should be like arriving at a really good party where everyone you see is someone you like – Amy Fine Collins
11. Too Many Ties? Here's A DIY Tie Hanger You Might Want To Check Out
If organizing your ties is your nightmare, you're in the right place. You may also have a pretty neat system for organizing ties but you have to move a bunch of them every morning to find what you're looking for.
Organize your ties with a DIY tie hanger made out of a piece of wood and some screw-in hooks. You'll have more space to put your ties and they'll be easily accessible for a grab 'n' go when you're running out of time!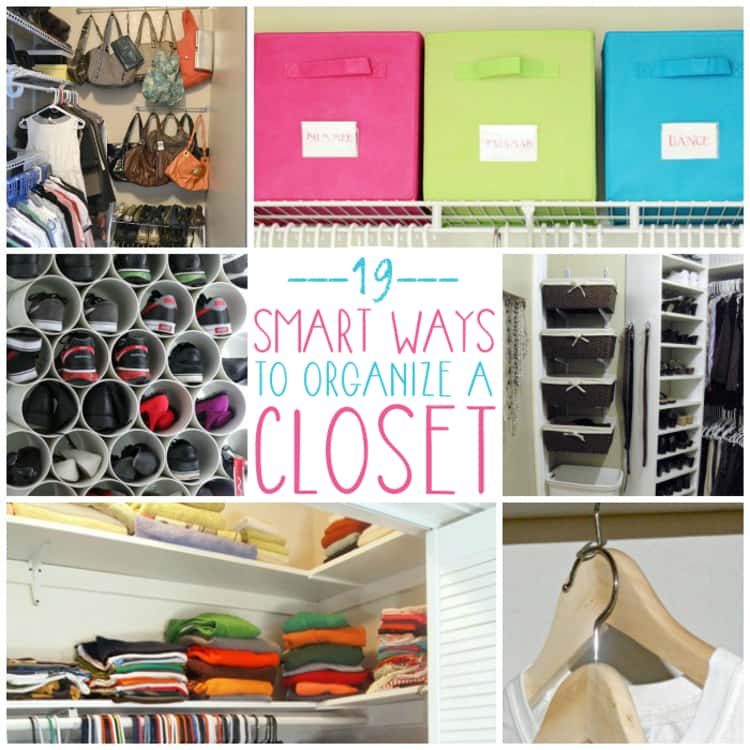 Small Closet Organization Ideas
12. Use Paint Sticks To Organize Your Jewelry
Tired of untangling your pieces of jewelry every time you need to wear them or losing an earring in the mess that is your jewelry box?
Keep your jewelry handy in your closet with a jewelry hanger made out of paint sticks. This closet hack is great for using up the wall space in your closet if the shelves are a bit far back. You can now have a beautiful display of your jewelry and you won't have any untangling to do.
13. Tired Of Losing Socks? Try This Closet Hack
Ties and socks are probably the most misplaced pieces of clothes. If you have a hard time keeping your pairs of socks together or organizing your ties, make this pegboard project to organize ties, belts, hats, shoe cleaners, and socks.
This closet hack is super simple to pull off and doesn't even need a lot of space. You can even use your closet door!
14. A Closet Redo, Instead Of A Bigger Closet, Is What You Might Need
The way a closet is designed contributed big time to the size of the closet and how much you can maximize your closet space. Take a look at this closet redo to see what a difference eliminating wasted space can make. Instead of one impractical shelf at the top, adding two shelves plus shelves along the side gave them more closet space and opened the closet up.
15. What's A Closet Without Handbags?
Handbags are nice to have. One for every type of occasion even. But organizing them can be a headache and at times, could cost you a lot because of the wear and tear of your precious bags. So we resort to piling them on the top shelf where we can't reach them and that's a whole other headache. Don't pile your handbags on the top shelf out of reach! Keep them organized and accessible with some bike hooks.
16. No, Your Clutch Bags Don't Belong Inside Handbags
It's sad how we have to dump our clutch bags inside handbags to save on space when we can get creative and save on closet space while showing off our wallets and clutch bags. This wine rack idea is genius for storing clutches and wallets. Not only does it save space, but it also looks really cute with that vintage look.
17. Afraid Your Closet Is Too Small To Share With Baby? Try Wire Baskets
Trying to organize your baby's closet? Wire baskets are a must for holding small items like bibs, hats, blankets, and more. And hanging them on the back of the closet door is a real space saver. They're also really neat and you won't believe how much space you've been wasting all along.
18. How To Organize Your Closet In Time For Winter
It sucks to have to sort through your wardrobe looking for your gloves and scarves once the weather starts getting chilly. This closet hack is both handy, super simple to set up, and takes less than $10! Now that I have your attention, it's time to consider using some curtain rods attached to the door and some shower rings to organize gloves, hats, and scarves during winter. The best part about this is that you can just move your winter scarves to the back once winter is over without much disorganization.
19. Here's An Easy Way To Organize Clothes That Don't Mind A Bit Of Creasing
If you're anything like the typical American, you probably have like a million t-shirts.. just kidding but you get the picture. Organizing them can be a headache because they take up so much space. But that doesn't have to be the case – put your t-shirts and other loungewear in storage boxes. Simply roll and tuck them into storage containers.
Enjoyed Learning How To Organize Your Closet? You May Also Want To Have A Look At More Organization Ideas:
The post 19 Hacks That Show You How to Organize Your Closet appeared first on DIY House Hacks - One Crazy House.