50 Fun and Easy DIY Room Decor Ideas That Won't Break The Bank
Nobody is ever really done decorating their home because there's always something new that you want to add, something to change, or something to update. You can do it all with DIY home decor. DIY room decor ideas allow you to add your own originality and style to your home without having to spend too much.
It's a wonderful way to personalize a space and a really great way to make a house truly feel like home. With that in mind, we're very excited to show you today some of our favorite ideas and we can't wait for you to try some of these cool DIY projects for yourself. Let's get started!
Supplies Needed to Make DIY Room Décor Ideas
Before you jump in and start crafting the DIY room of your dreams, you'll need to gather some supplies. While the exact supplies you need will depend on the project you are embarking on, there are a few basic supplies you should have on hand.
Basic DIY Room Décor Supplies
Paint (in multiple colors)
Paintbrushes
Scissors
Thread
Needle
Permanent Marker
Cardboard (save this every time you have some to throw out)
Mason Jars
Super Glue
Craft Glue
Clothespins
Drop Cloth or Plastic Tarp
Many DIY projects tend to begin with supplies you already have. Therefore if you have all of the above supplies on hand, you may find that there are several DIY room décor crafts you can do without making a trip to the store.
How to Make DIY Room Décor
DIY projects are usually quite easy, once you get the hang of them. But if this is your first DIY project, you'll want to learn how to make DIY room décor before you begin.
Follow the below steps to learn how to make DIY room décor so that you don't have to worry about messing up your first big project.
Step 1: Decide the Theme for Your Room
Before you can do anything DIY-related, you need to decide what direction you want to take the room in. Otherwise, you will have a bunch of mismatched DIY projects that don't fit.
It can help to make a drawing of how you want the room to look. You should also decide on a focal point for the room and start working from there.
Step 2: Pick out DIY Projects
Now that you have your theme, you can begin picking out the individual projects you want to include. Although you may only work on one project at a time, it's important to pick out all the projects in advance so the room can be cohesive.
Spend as much time as you need scouring the internet for your ideas and making a list of all those you wish to include. It can be useful to add pictures of the items as you go so you remember what they look like.
Step 3: Shop for Supplies
While you may have most of the supplies at home, if you are doing a total revamp, you will likely need to shop for a few items for your DIY room décor.
Make a list of all the things you need before you head to the store in order to ensure you don't forget anything. Otherwise, you may get halfway through a project and be unable to continue.
Step 4: Print the Instructions
When you start your first project, you may find it helpful to print the instructions. Especially if the project is messy, as it can be difficult to scroll on your computer when you've got paint of glue on your hands.
Step 5: Protect Your Workspace and Begin
You've got the instructions and the supplies, as well as the directions you will be following. All that is left to do is to protect the space you will be working in with a drop cloth or tarp then you can begin your first DIY room décor project.
How to Decorate Your Living Room DIY
DIY décor isn't just limited to a bedroom, and you can decorate any room in your house that you would like. You can even decorate your living room using DIY projects.
Because your living room is such an important part of the home, you want to make sure only the classiest DIY room décor projects get put in your living room.
Below are some DIY living room décor ideas that will keep your room feeling classy while also letting you customize the room with your DIY skills.
DIY Living Room Ideas
Hang DIY art on the walls
Make DIY trinkets to place on a mantel or side table
Use DIY bookends on any bookshelves
Add DIY pillows to the couch or chair
Put flowers (fake or real) in DIY vases
Craft crate furniture
Use DIY crafts to upgrade lamps
Although it is possible to make DIY couches, most people find they would rather purchase a couch, then use DIY room décor to build the room around the couch. Thus ensuring that you have a comfortable place to sit to admire all your DIY décor.
Easy DIY Room Décor for Beginners
Not all DIY room décor ideas are easy, and there are many projects that will look daunting to you at first. There are many easy DIY room décor ideas for beginners, however, so don't be afraid to start with one of these easy projects.
Easy DIY Room Décor Ideas
DIY Picture Frames
DIY Bookends
Painted Pots or Vases for Plants
DIY Chalkboard
DIY Wall Art
Mirror Upgrades
Photo Garland
Organizational Milk Crates
DIY Desk Top Organizer Projects
DIY Bulletin Boards
Repainting Furniture You Already Have
These ideas are not only great for an adult beginning DIYer, but also if you have a teen who is interested in redoing their room with DIY projects. Just ensure you supervise your teen while he or she is crafting their DIY room décor.
DIY Baby Room Décor Ideas
DIY room décor is so formidable you can even use it in a baby's room. As you make DIY projects for your nursery, it is critical to keep in mind that a baby will be in the room, meaning you need to keep in mind how easy a DIY project is to take small pieces off of.
Keeping your baby in mind, it can be difficult to think of safe projects for your nursery. The list below has many DIY ideas that you can safely implement in your nursery as you decorate.
DIY Baby Room Ideas
Painted Letters for the Baby's Name
DIY Mobile for Over the Crib (ensure no pieces will fall off)
DIY Hamper or Laundry Basket
DIY Wall Art
DIY Garland (hung high enough that the baby can't reach)
Repaint Nursery Furniture (be sure to use a baby-safe paint and seal all painted pieces to prevent chipping)
DIY Toybox
DIY Wall Chalkboard
Create New Covers for Decorative Pillows
DIY Baby Gym
Set Up a Wall Growth Chart
DIY Outlet Covers
DIY Room Décor Ideas for Teens
The only thing more difficult than making DIY décor that is safe for your baby's room is making DIY décor that your teen will enjoy. But this doesn't mean you have to buy everything for your teen's room as there are many DIY projects your teen will love.
The key to DIY room décor for teens is to sit down with your teen before you begin and find out what they want out of the décor in their room.
If the two of you can find a theme to agree on, this will lower any resistance they have to your DIY ideas and may even excite them a bit.
Additionally, you should always let a teen help with the DIY creation of their room. When they play a part in making it, they will feel much more proud of what they have accomplished when it is finished.
DIY Room Décor for Teens
Repaint Old Furniture to Match the New Theme
Create a Selfie Wall
Woven Storage Baskets
Reupholster the Old Headboard
DIY Corkboard
DIY Charging Station for Devices
Create a Reading/Relaxing Nook
DIY Terrariums
Repaint the Walls
DIY Rugs
Paint Storage Boxes
DIY Pouffe
Most of these projects will take your help to complete, but there are several on this list your teen can help with. In fact, on some of these projects, you should let your teen take the lead so they can feel they are in charge of their space.
Now that you've learned all about how to make DIY room décor, and which rooms you can make it for, it's time to look at some simple projects to get you started.
Simple and Affordable DIY Room Decor Ideas for Your Home
1. Billy Ball Yarn Flowers Bouquet for room decor
I love flowers but I find it very inconvenient that they wither rather quickly and you can't really enjoy them for very long. Faux flowers are a good alternative but most try too much to look real that they actually end up being disappointing.
That's what makes this cute billy ball bouquet so interesting. It has an identity of its own.
2. Embellished Fabric Flower Pillows to decorate a room
Pillows make lovely decorations, and while you can surely find many nice ones in retail stores, if you want something with a bit more character, you can make your own embellished fabric flower pillows.
The project starts with a plain pillow which you can either buy or make. For the flowers, you'll just need some fabric scraps, scissors, a needle, and thread.
3. Cozy Pom-Pom Pillow
Speaking of pillows, another cute idea can be to decorate one with little pom-poms around the edges. It would look lovely on the sofa or a chair.
For this project, you need a small pom-pom garland, scissors, a needle, and thread. Before you know it, your pom-pom pillow is done and ready to make your home look extra cozy.
4. Tissue Paper Flower Backdrop
Plain walls can sometimes look austere and boring so perhaps you'd like to add some color to them by decorating them with tissue paper flowers.
This is a rather easy project really for which you require tissue paper in multiple colors, some twine, yarn or twist ties, scissors, and painter's tape. Mix and match the colors however you like.
5. Cork Leaf Trivets
Even something as simple as the cork trivets you use in your kitchen and dining room can be customized, and this is in fact one of the easiest DIY projects on this list.
If you want to make your own cork leaf trivets just like these ones, you're going to need cork which comes in sheets or rolls, an x-acto knife, a marker, some cardstock, felt, scissors, and spray adhesive.
6. Half Log Book Ends
Everyone has at least a couple of books in their home, but regardless of how big or small your collection is, bookends are always a nice little feature. They're not only extremely useful, but they are also nice to look at, especially if you craft them yourself.
How about making some half log bookends? You can use paint to give them some color and character, or you can embrace the raw, natural look.
7. Sweater Planter Covers
Keep your indoor plants nice and cozy with cute sweater planter covers. The role of the planter cover is purely decorative, so don't worry about anything else.
The cool thing about this project is that it lets you upcycle an old knitted sweater so next time you change your wardrobe, don't throw out your old clothes just yet and look for ways to recycle them first.
8. Tree Stump Side Table
You could even make your own furniture. Nothing too big or complicated… just a tree stump side table. It's a nice DIY project for beginners, requiring very little planning.
For this project, you'll need a tree trunk (a large log would do as well), 3 swivel casters, some screws, a drill, sandpaper, clear polyurethane, and a paintbrush.
9. Branch Jewelry Holder
Some home decor pieces are also very useful, like this branch jewelry holder. To make this functional DIY room decor, you will need a branch (search for one that looks nice), some sandpaper, spray paint, a drill, and screws.
You can install it on a wall or a cabinet in your bedroom, dressing room, closet, etc.
10. Wooden Geometric Planters
If you'd like to add a little bit of greenery to your home, perhaps you'd enjoy making these little wooden geometric planters. Not only are these planters perfect for air plants, but they're also pretty fun to make.
Each planter starts out as a wooden block. You can use a saw to shape it and give it a geometric form. You're also going to need sandpaper, paint, a drill, and a paintbrush.
11. 3-D DIY Room Decor Fake Flower Wall Art
This is a 3D fake flower vase that you can display on a wall, just as a way to add some color and pattern to your home decor and to create a focal point.
To make your own version of this DIY room decor, you're going to need a few things such as paper straws, a foam board, fake flowers and leaves, scissors, tissue paper, canvas, and a hot glue gun. Have fun personalizing the design.
12. Wooden Framed Cork Board
This framed cork board is also a lovely idea for a DIY home decor project.  You can use it as an organizer or to pin things like notes, photos, etc.
To make your own board, you're going to need a wooden frame, corkboard, decorative tissue paper, decoupage glue, a foam brush, scissors, thumbtacks, and a hot glue gun.
13. DIY Room Decor Nautical Anchor Wall Art
Some nautical-themed wall art would look nice in a beach house, although this project is more versatile than that, so you could also add it to any room if you think it suits the decor.
If you have a child obsessed with boats or the ocean, this anchor would look perfect on the wall of a child's room. It's made using white rope, red burlap ribbon, canvas, paint, and of course, the main piece – a wooden anchor with glitter on it.
You could easily skip the glitter part if you prefer a simpler look.
14. DIY Industrial Pipe Coffee Cart
That little tree stump side table we mentioned before isn't the only piece of furniture that you can build by yourself. If you're ready to try something a bit more complex, check out this DIY industrial pipe coffee cart.
It has casters so it's easy to move it around, two shelves for storage, and a little counter on top. Turn it into a mobile coffee station or a little bar cart.
15. Cross-stitch Leather Catchall DIY Room Decor 
A cross-stitch leather catchall like this one is a useful accessory for any home or workspace. Use it to keep your phone, keys, sunglasses, and other things nice and organized, all in the same place.
This one is made of leather and has a lovely two-tone design. It's surprisingly easy to make, and there are a ton of ways in which you can personalize it.
16. Color Pop Veneered Frame
Give an old frame a quick makeover so it's better suited for the type of decor which surrounds it or just so you change its appearance to refresh your home decor.
If you like a particular frame, here's what you're going to need in order to create something similar: wood veneer, spray adhesive, spray paint, spray lacquer, painter's tape, an x-acto knife, and a straight edge. use your new veneered frame to display family photos or artwork.
17. Tomato Cage Side Table DIY Room Decor
Did you know you can turn a tomato cage into a side table? It's actually pretty simple. You need the wire cage, a round piece of plywood, 4 metal brackets, a drill, 8 small screws, wire cutters, and some spray paint.
We suggest painting the cage to give it a sleek and modern look. The tomato cage table looks really chic, with a lightweight and simple design and a very versatile appearance.
18. Yarn Tassel Wall Hanging
Here's something that you can display on your walls as a way to add color, texture, and character to the room. It's something that you can put together yourself using just a few simple things like colored yarn, a wooden dowel rod, and two metal rings.
If you want to make changes to the design that's fine, just plan everything accordingly. Check out the instructions on diys.
19. Make a Kokedama Planter
Kokedama planters have a sculptural appearance that other more traditional types lack. If you don't know how to make a kokedama planter, that's ok because it's all quite simple, as our tutorial explains.
Here's what you're going to need: Sphagnum moss or sheet moss, Bonsai compost, twine or string, a bowl, gardening gloves, and of course, a plant.
20. Create a Succulent DIY Room Decor Wall Planter
I really love cacti and small succulent plants and I'm constantly looking for fresh new ways to display them and make them a part of the home decor.
This succulent wall planter is one of the coolest options we've come across so perhaps you too would like to build one for your own home. The project starts with a wooden box so be sure you pick one that has an interesting shape and a suitable size.
You can paint it or decorate it if you want to.
21. DIY Gilded Square Nail Key Rack
Here's a nice little accessory that you can add to your entryway: a gilded square nail key rack that's not just practical but also full of potential when it comes to design.
You could make this with hooks instead of these square nails although this industrial look is pretty cool too. Apart from that, this version was made using a rectangular piece of wood, clear polyurethane, string, and some gold spray paint.
22. DIY Room Decor Test Tube Vase
Isn't this test tube vase just wonderful? We love the contrast between the solid block of wood serving as a base and the sleek and delicate glass test tubes.
As expected, you can make something like this yourself and it would be a fairly simple DIY project. You can paint or stain the woodblock or you can just apply a clear coat of sealant to preserve its natural appearance.
23. Decorate a Wall with Giant Confetti
Decorate a wall with giant confetti. This can either be something you plan for a party or a permanent decor feature. Either way, it's all very simple.
All you need is a circle cutter, colorful cardstock, and tape. Cut out circles in different colors and simply stick them onto the wall. You can create any pattern you want. This cute idea was featured on diys.
24. DIY Room Decor Vintage Mold Tin Strand Lights
An old string of lights is something that almost everyone has, usually forgotten in a dark corner or a storage cabinet or the garage. It's about time you used it in a DIY home decor project.
A particularly quirky idea is to use vintage mold tins to create little shades around the lights. Sure, it's not the most versatile project out there but it's an option that might just be for you.
25. Colorful Tin Can Planters
Tin cans are surprisingly reusable and there are many clever ways in which you can upcycle them and turn them into beautiful decorations. For example, you could make tin can planters.
Clean them, spray paint them, punch a few holes in the bottom, and there you have it. You can add soil and give your plants a new home.
26. Cover an Old Lampshade with Fabric
Tired of looking at the same old lamp every day? Maybe it's time for a makeover. A quick and easy idea is to cover the lampshade with fabric just to change the look without making any structural modifications.
Take out the old lampshade, cut out a piece of fabric (measure it based on the size of the shade) and adhere it to the shade using spray adhesive.
27. DIY Room Decor Hexagonal Tray to Organize Small Belongings
Things like trays, baskets, and boxes are super useful around the house and great to have around. You can use them in a lot of ways, most often to store or to organize things.
You could make a hexagonal tray to keep on your desk or table and you could put inside things like candles, small planters, keys, etc. You could even use it as a sort of catchall for all the items you normally keep in your pockets.
28. DIY Wood Slat Hanging Frame to Liven Up Your Wall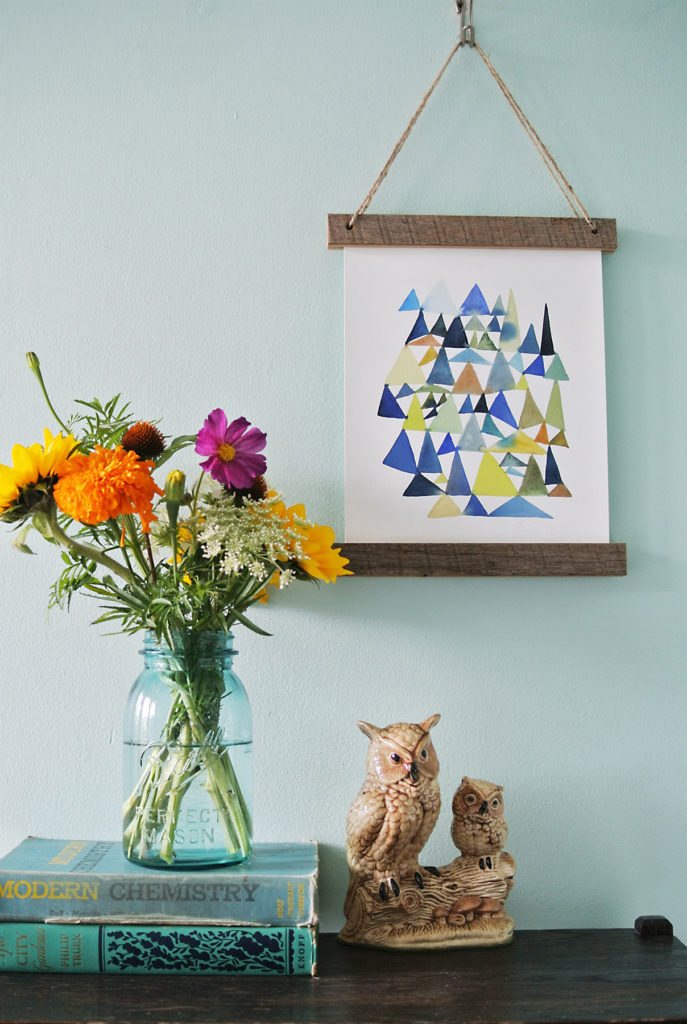 Even something as simple as a wooden slat hanging frame can have a big impact on a room's decor and ambiance. Make one for one of your favorite posters or print and display it on a wall to make the room look and feel more cohesive. It would be a lovely weekend project.
29. DIY Room Decor Hanging Wall Plates for Your Kitchen or Dining Room
Decorative plates used to be very popular a while ago and today they're a nice way to add a retro touch to a space. Hanging wall plates is not exactly difficult and you can use this technique to add a cozy touch to just about any room.
We suggest the kitchen or the dining area simply because it makes sense.
30. An Adorable Tree Trunk Planter for Succulents
If by any chance you can find yourself a tree trunk piece, we suggest turning it into a planter. It doesn't need to be big so even a small fallen tree would be a good resource to take advantage of.
You could make an adorable tree trunk planter for succulents which could also double as a bookend.
31. Create a Floral Wall Hanging with Silk Flowers and White Tulle
Putting flowers in vases isn't the only way in which you can display them around your home. A particularly interesting alternative is this floral wall hanging piece.
To make this piece you need silk flowers, a branch, and some white tulle. The white tulle is a really nice touch, more delicate than twine and less noticeable.
32. Domino-Themed DIY Room Decor Wall Art
Some domino-themed wall art might look nice in a game room but is also simple and versatile enough to look at home in living rooms, home offices, and even bedrooms.
Some square-shaped canvases, black and white paint, and a circle template are enough to make this project amazing. Check out the tutorial on DIYs.
33. Put Fake Fruits in Shadowboxes to Brighten Up Any Wall
This is one of my absolute favorite projects. The idea is to put fake fruits in shadowboxes and then hang them on a wall. They add pops of color to the decor and they make great focal points.
Add these to your kitchen to cheer up the space and pick your favorite fruits or vegetables to add a personal touch to the project.  Check out DIYs for more details.
34. DIY Room Decor Floral Garden Centerpiece for Your Dining Table
If you're ever trying to think of a new DIY project you can try, a table centerpiece is always a cool idea. With so many different options to choose from you can definitely find one that suits your style.
Floral centerpieces are popular so how about a floral garland similar to this one? You can find out how to make it by following the tutorial on DIYs.
35. Create a Piece of Linear Art with Washi Tape
Washi tape is a really great resource too when it comes to DIY room decor projects. You can do a lot of cool things with it, like some eye-catching artwork which you can display on the walls or your home.
It doesn't have to be a very complex piece. Abstract geometric designs are easy, fun, and interesting. Check out this one from DIYs as inspiration.
36. Crochet Jute Decorative Pillows for Your Living Room
Decorative pillows can be used to easily add some detail to a room and make a space feel like home. These crocheted jute pillows are quite easy to make and have a round shape which helps to set them apart from other more conventional accent pillows.
You can find out all about them in the tutorial from dreamalittlebigger.
37. DIY Room Decor Fall-Themed Centerpiece for Your Dining Table
Fall centerpieces can take many different forms and this one is quite interesting and more unusual than most others. The key element here is the glass cloche which sits on a wooden base and has a rustic rope sort of handle.
Inside you can put a variety of different fall-inspired items like miniature pumpkins, flowers, and so on. Check out firstdayofhome for more details and ideas.
38. Easy Decoupage Pumpkins for Halloween
Decorating pumpkins is always fun, whether you use a knife to carve out a pattern and turn it into a jack-o-lantern or you use a completely different technique. Here for instance the technique used involves glue and scrapbook paper.
This works great with a faux pumpkin but can also be used with a real one as well. More details can be found on firstdayofhome.
39. Wallpaper an Old Mirror to Give It a Complete Makeover
Did you know you can use wallpaper for something other than a wall? It's a really versatile resource that you can incorporate into a variety of home improvement projects.
For example, you can use wallpaper to remodel and redecorate an old mirror. You can see that exemplified in this project from pillarboxblue.
40. DIY Room Decor Sliced Cake Wall Clock
Wall clocks are mostly decorative these days so it's important to choose one with an interesting design. This right here is one of the most original ones we've seen in a while.
It's a cake-inspired clock design and there's a slice that's been cut out just to give it a bit more character. Check out dreamgreendiy for the tutorial.
41. DIY Tape Picture Frames Made With Washi Tape
It's often the frame that helps a picture, a painting, or a mirror to look more interesting and to fit into a particular décor. There are many different types of frames that can be made from all sorts of different materials.
The ones featured on designsponge are made out of washi tape which is one of the more peculiar and unusual options.
42. DIY Pom-Pom Tassel Garland for a Birthday Party
Pom-poms and tassels are the go-to ornaments for a lot of different types of projects. Garlands are a great example.
You can use both pom-poms and tassels to make a super colorful and cute garland for birthday parties and various special events. It could look something like this. Check out aliceandlois for more details.
43. DIY Room Decor Ombre Basket to Organize Your Home
Baskets and boxes are great for organizing various items and for storage in general. Those that look extra cute and stylish can often have an unjustifiably high price.
You can avoid spending on them by taking a simple and plain basket and decorating it yourself. Spray paint is very useful in this case. This ombre basket design from thelifejolie proves it.
44. Custom Cork Board for Your Home Office or Bedroom
Corkboards can be both practical and nice to look at and they're not just for offices. You can decorate a wall in your living room, bedroom, or kitchen using cork boards, and it doesn't have to be expensive or a complicated project.
Just take some cork rounds, color them using acrylic paint, then display them on a wall in any pattern you like. You can find some inspiration on oheverythinghandmade in that regard.
45. DIY Flower Wall for a Spare Bedroom Wall
Space wall space above the bed can sometimes make a bedroom look empty and overly simple. It's also a perfect spot for displaying all sorts of decorations, including some that are handmade, like these hanging flowers featured on sweetteal.
This is a really nice way to add some color to the bedroom. If you don't want to spend the additional money on a headboard, it's a great way to create a similar look in your bedroom without spending a fortune.
46. Make a Planter for Your Succulent From a Recycled Book
This is one of the most unique projects on our list today, which is brought to you by Instructables. If you have old books gathering dust in your home, you might be wondering how you could put them to good use again around your house.
Otherwise, buy some inexpensive books second-hand, which will be a cheap base for this project. You'll start by hacking into the book with a craft knife to create the base for your succulents to live in.
You don't just have to stick to making one of these planters and could instead make a whole book-themed collection. Succulents are so popular this year, and we think this is a really fun way to display them in your home.
Your plant will be happy and healthy in the book for many months to come, and you'll have recycled an item that was otherwise about to go to waste.
47. Display Your Favorite Instagram Photos in Your Home
We all love taking photos for our Instagram and Facebook accounts today, but we rarely take the time and effort to print them out and display them in our homes. We think this is such a shame, as you are taking the time and effort to capture these special moments.
This DIY Instagram photo display from Little Inspiration is a really inexpensive project that just needs a basic photo frame to get started. From there, you'll add floral wire and mini clothespins or clips to hang your photos.
Try to find somewhere that can print your photos on classic Instagram-style paper for the best effect. This would look great in a home entryway or in your office or bedroom.
You'll smile every time you see this photo display as you remember the great memories you made with your family and friends.
48. Create a DIY Room Decor Rug From Scratch
If you are looking for a new centerpiece for your bedroom floor, have a go at this DIY rug project from Paper & Stitch. This project creates a huge DIY rug, which measures 5 x 8 ft, so it will take up plenty of space on a bare bedroom floor.
While you may think this is a really ambitious project, that's far from the truth. You'll only need a small selection of supplies, and you can tailor the project to the size and shape that you desire for your home.
You'll start off by using multi-use netting and cotton piping. Cotton piping comes in a variety of thicknesses, and you can choose any option for this project.
However, if you are looking to save time, we recommend going for a thicker piping option as it speeds up the project quite a bit.
49. DIY Bedroom Canopy
Give your bedroom a complete makeover with this very simple DIY bedroom canopy project. You'll feel like you are sleeping in a hotel room every night when you add this dreamy addition to your bedroom.
Instead of making an extravagant canopy for your bedroom, we recommend just keeping things simple, as demonstrated by Spindles Designs.
An embroidery hoop is the main thing you'll need to get started, and you'll just paint it in the same color as your fabric to blend in with the whole design.
This canopy neatly tucks away to the sides of your bed when not in use, so you don't have to worry about it constantly being in the way when you are sleeping.
50. Blooming Monogram DIY Room Decor
Lulus shows us how to make this beautiful blooming monogram DIY project. If you are looking for a chic and pretty addition to your home, this is the perfect project for the spring or summer months.
You can, of course, change the design to fit your name, and you could even spell out a full word with these DIY monograms. We love the light pink roses that are used in this project, which are matched with tiny white daisies.
However, feel free to use any flowers you like to create the color and design you desire.
How to Create DIY Room Décor Jars
Transforming mason jars into décor is one of the oldest DIY room décor tricks in the book. Use these decorative jars as vases, storage containers for small items, pencil holders, or even just place them for decoration.
DIY Room Décor Jars Supplies:
Mason Jars (cleaned)
Paint
Paintbrushes
Step 1: Give the Jars a Base
You want the color you are going to paint on the jars to look solid, so start by giving the mason jar two full coats of white paint, letting the paint dry between the two layers(don't forget to paint the inside rim of the jar as well).
Step 2: Prepare Your Paints
It's best if you know what design you are going to paint before you begin and get your colors ready to go. Otherwise, you'll have to put the jar down while you paint.
Step 3: Paint Your Jar
Time for the fun part, paint your jar any colors you want. You can do stripes, spots, solid colors, or even a design, the sky is the limit. After painting, let the jars dry overnight before use.
How to Decorate a Clock for Kids Room DIY
One of the most prominent features in a kids' room is their clock and, lucky for you, this is also one of the easiest pieces to DIY to bring a breath of fresh air into the room décor.
A DIY clock is a good starting DIY piece for a room, as it can easily be worked on at the table. Here are the instructions to make your own clock for your kids' room.
Decorating a DIY Room Décor Clock Supplies:
Paint
Round Wooden Clock Face
Wooden Numbers (or you can paint them)
Paintbrushes
Clock Mechanism with Hands
Any Stencils or Stickers You Want to Decorate
Glue
DIY Room Décor Clock Decorating Instructions:
Step 1: Paint the Clock Face
Before you do anything else, sit down and paint the clock face. You can paint it all one color, or include a decoration. For example, a kid with a space-themed room would want a clock face that is black with painted on stars. Let this dry completely.
Step 2: Paint the Numbers
While the clock face is drying, you can paint the numbers. If you have chosen to paint on the numbers yourself, then you will need to wait for the clock face to dry completely before beginning the number painting.
The numbers should be a contrasting color so they stand out on the clock face.
Step 3: Paint the Hands
Depending on the clock mechanism you chose, you'll want to paint the hands to match the numbers on the clock face. You can also add a decoration to the clock's hands. For the space example, it might be a good idea to glue a small wooden rocket to the top clock hand.
Step 4: Put the Numbers on the Clock
Once the face is dry, affix the clock numbers with glue. You will also want to take this time to add any additional decorations you plan to add to the clock.
Step 5: Install the Clock Mechanism
After everything is dry, it's time to put in the clock mechanism. Double-check that your hands are in the right order and that your decorations won't disrupt the movement of the clock hands. Put in a battery and then you have a DIY clock for your kids' room.
DIY Room Décor FAQS:
Can You Make Money Selling DIY Room Décor?
It is possible to make money by selling DIY décor as long as you make pieces that look like they are professionally made and are in demand.
Can You Use DIY Décor for a Teenage Boys Room?
Teenage boys can be picky, but if they are into a certain theme it is very easy to make DIY room décor for a teenage boy. For example, if your teenage boy likes anime, decorate his room using anime-themed DIY room décor.
Can You Make DIY Room Décor Without Buying Anything?
Not all DIY crafts require a trip to the store! You can oftentimes make DIY room décor by using things you find lying around your home or already have on hand.
How Many Walls in a Room Should Have DIY Décor?
When making DIY room décor you want to be careful not to over-decorate. Generally, you should aim to decorate 60% of the available wall area in a room, leaving 40% of the walls blank.
Where Do You Start When Using DIY Décor to Decorate a Room?
To begin the DIY decoration process it's important that you start with the focal point of your room, such as a bed or fireplace, and build the room from there to ensure cohesion in your décor.
Time to Revamp Your Room With DIY Room Décor
All of these fun and easy DIY room décor ideas will barely take you any time to create but will make a fun addition to any room in your home. These projects are all budget-friendly, and many of them reuse old items that are hanging around your home.
Which one of these projects are you most excited to try first? Enjoy having a go at any of these easy crafts this year!
The post 50 Fun and Easy DIY Room Decor Ideas That Won't Break The Bank appeared first on Home Decorating Trends - Homedit.