9 Genius Wardrobe Organisation Hacks From TikTok Organisers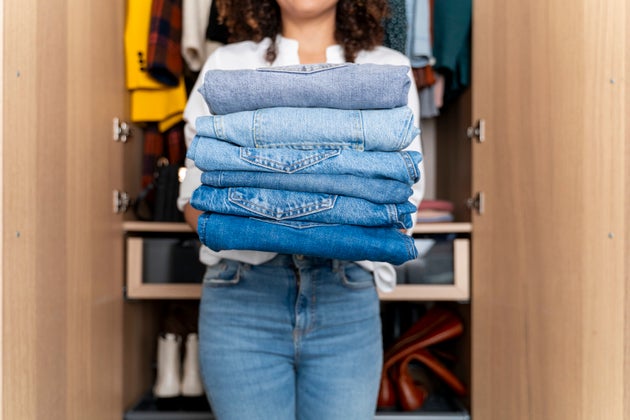 Wish your closet was less of a mess? These hacks from professional organisers on TikTok will help you get there.
Physical clutter in your home isn't just an eyesore. Research has linked it to stress, procrastination and life dissatisfaction.
When your closet is a mess, you waste precious time trying to track down certain items. Not only that, you may end up buying duplicates of things you already own because you couldn't find them (or forgot you had them) — which hurts your wallet and the environment, too.
To help you get your closet in order, we enlisted the help of professional organisers on TikTok. Below, they share some of their best tips for a tidy, functional and aesthetically pleasing closet.
1. Use matching hangers to create a streamlined look.  
Swap out your mismatched hangers for matching ones, said stylist and organiser Iris Miyasaki of By Saki.
It's "an easy and quick trick to eliminate visual clutter," she told HuffPost. 
Choosing slimmer hangers — like velvet ones instead of traditional plastic — can be a space saver, too. If you are going to use different types of hangers, then try to keep the colours consistent so things look cohesive, as organising expert Rachel Rosenthal wrote in a blog post.
To reduce waste, call your local thrift stores to ask if they'll accept your old hangers. Some dry cleaners will take back and reuse the wire kind.
2. To maximise shoe space, use these nifty shoe slots. 
Using shoe slots doubles the number of pairs that fit on a single shelf, closet organiser and stylist Caitlin Jaymes told HuffPost. 
The slots are "adjustable to height so you can fit different heel or platform heights," she said.
3. Or try these stackable shoe boxes.
Organiser Charlotte Upshaw of Chelf is a big fan of stackable storage, and she loves the drop-front shoe boxes from the Container Store. They have a clear front window that you can pull down, allowing you to see the pair inside and pull them out without having to unstack anything.
"Regardless of closet size, they're great and give a sleek look," Upshaw told HuffPost. "Using all the vertical space is a common missed opportunity in closets, so these work well for that." 
4. Add another upper shelf to take advantage of vertical space. 
An extra shelf at the top of the closet is "a simple project and can add so much extra space," organiser and woodworker Charlee Ostrander of Build & Create Home told HuffPost.
You can use this shelf to store out-of-season clothes, for example. In kids' closets, Ostrander uses it for bins of hand-me-downs, organised by size. Labelling the bins is key so you can find what you need without having to dig through each one.
5. If you have drawers in your closet, this folding technique is a must-try. 
First, you'll need some drawer dividers. They're "so easy to install and make it effortless to maintain an organised drawer," Miyasaki said.
Then, employ the "file fold" method popularised by Marie Kondo. It allows you to see everything at once, rather than stacking shirts or pants on top of one another.
"Think of your drawers as an office filing cabinet. The quicker you can identify what you're looking for, the less time you'll spend searching and dumping everything out to find it," Miyasaki said.
6. Use purse stands to display your handbags. 
Purse stands "are a great way to personalise your closet and make it look high-end," Jaymes said.
If you have room to spare, she recommends using these clear acrylic stands. But if you're short on space, acrylic shelf dividers are a great alternative.
An added benefit: "Displaying your bags upright will ensure that they stay in shape," Jaymes said.
7. Consider removing the closet doors.
Bi-fold closet doors can be a pain in the butt. They may fall off the tracks easily or make it difficult to access the sides of your closet, "causing more problems than they help," Ostrander said.
One option is remove the doors and make your closet an extension of your bedroom. 
"By making our closets pretty and incorporating them into the design of the room, I've helped clients stay more organised because they see it as part of their room and not just somewhere to throw stuff and close the door," Ostrander said.
8. Keep two-piece swimwear sets together with bikini bags. 
Do you just haphazardly stuff your bathing suits into a random closet drawer or bin? Instead, keep matching tops and bottoms together in these individual clear pouches.
"The flat bottom makes it stand upright in your drawer and the bags are durable too, so they double as a travel packing tool as well," Jaymes said.
9. Display jewellery on felt trays. 
Jaymes is a fan of felt jewellery organisers because they "make your closet look like a boutique and feel 10 times more luxurious than a jewellery tree," she said. "It's also a great way to separate all of your jewellery instead of getting tangled on a tree."
If you have shallow drawers in your closet, you can put the trays there. Or you can place them on a shelf and stack the trays on top of one another. (If space is limited, you can use a hanging jewellery organiser on the closet rod or over the door.)