Amazon Prime Day Has Plenty of Deals on Organizers - Shop Our Top 10 Picks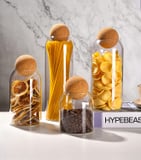 Whether you need to revamp your space or your wardrobe, Amazon Prime Day has plenty of deals on pretty much everything. While it's a great time to finally treat yourself with some cute clothes on a budget, some new beauty you've been eyeing, or a big-ticket item like new home furnishings and gadgets, it's also one of the best times to stock up on essentials and home necessities. Prime Day has plenty of deals on all your organization and storage needs. So last-minute shoppers and organizing enthusiasts, unite! We rounded up the top 10 organizers you can score right now.
Looking to organize your kitchen? We found a food-container lid organizer so you'll never have to deal with mismatched sets, a pots and pans organizer that will give your cookware a home, and even stylish food canisters featuring secure spherical corks. Whether it's fabric cubes, wire baskets, or clear plastic bins, we've got you covered for all your storage needs for your entire home. Plus, we uncovered a stellar deal on a 22-piece drawer organizer set that you can use for many different things, like makeup, kitchen utensils, office supplies, jewelry, and more. We even found storage options for tricky spots like your entryway, under the sink, and even your trunk. Shop our top picks ahead before it's too late!