Best Organizers I Bought for Our Home
Last week I ordered a few new organizers for our kitchen cabinets, and from chatting with you guys on social, it sounds like many of you are working on your home's organization right now too. Something about the start of a new year just makes us all crave a fresh start and clean, uncluttered spaces. 
I started thinking about all the little organizational tips and tools I've implemented in our home the last year or two that have made SUCH a difference in how our home feels and functions, and I thought it might be helpful to share the products that have worked best for us and we still use today!
I've categorized everything by room to make it all easier to digest and linked to any related blog posts if you'd like to read more. If you have questions about anything, let me know in the comments!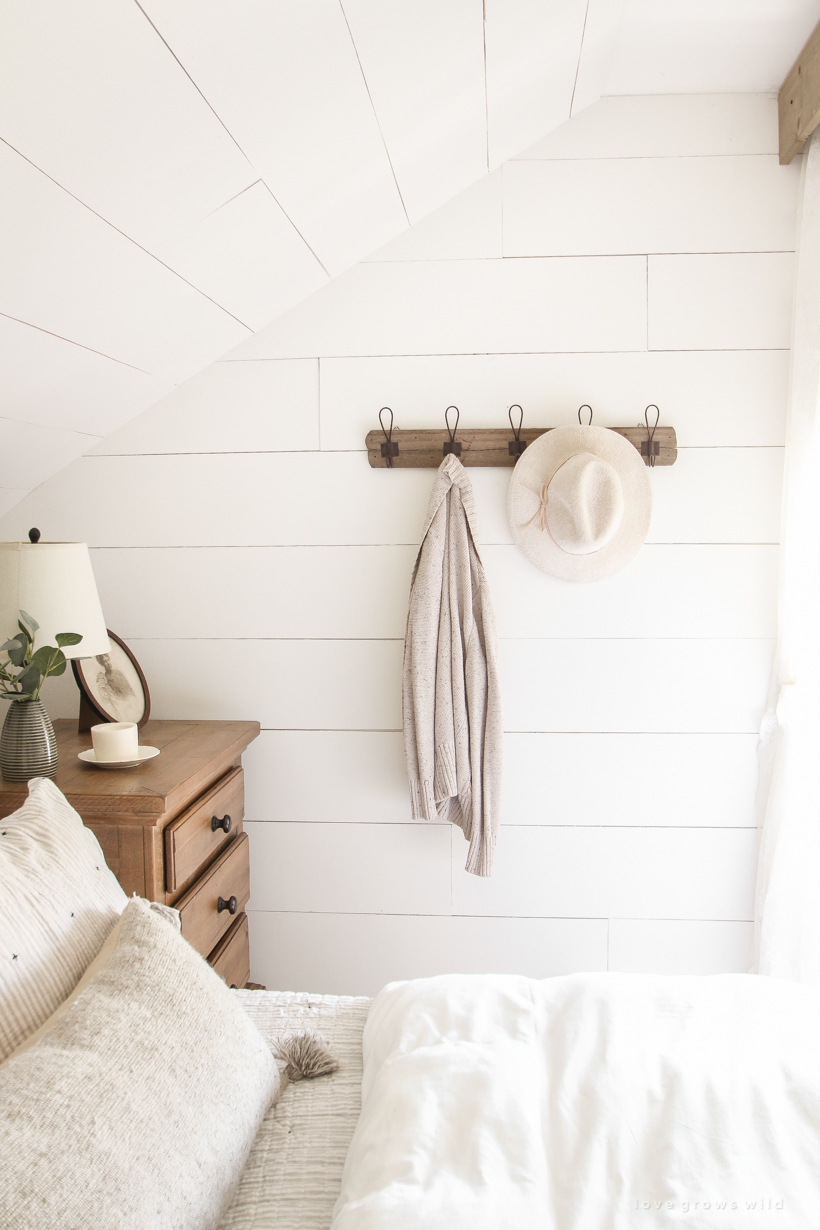 ---
BATHROOM ORGANIZERS
The first thing I do is go through all the various products in our bathroom and throw away anything that is old or we don't use anymore. I'm always amazed how much accumulates over time. Then it's all about finding the right size organizers for the space you have available. I have a good size linen closet with shelves, but I also store a few things under the sink and love the shower caddy that suctions to the wall. The hair tool organizer is SO nice to have for my blow dryer, curling irons, flat iron, etc. And the makeup case holds every bit of makeup I use, including brushes! The rotating tiered organizer is great for skin care, makeup, nail polish, or perfume, and the shower caddy more than doubled the shelf space in our shower. 
related blog post: Bathroom Organization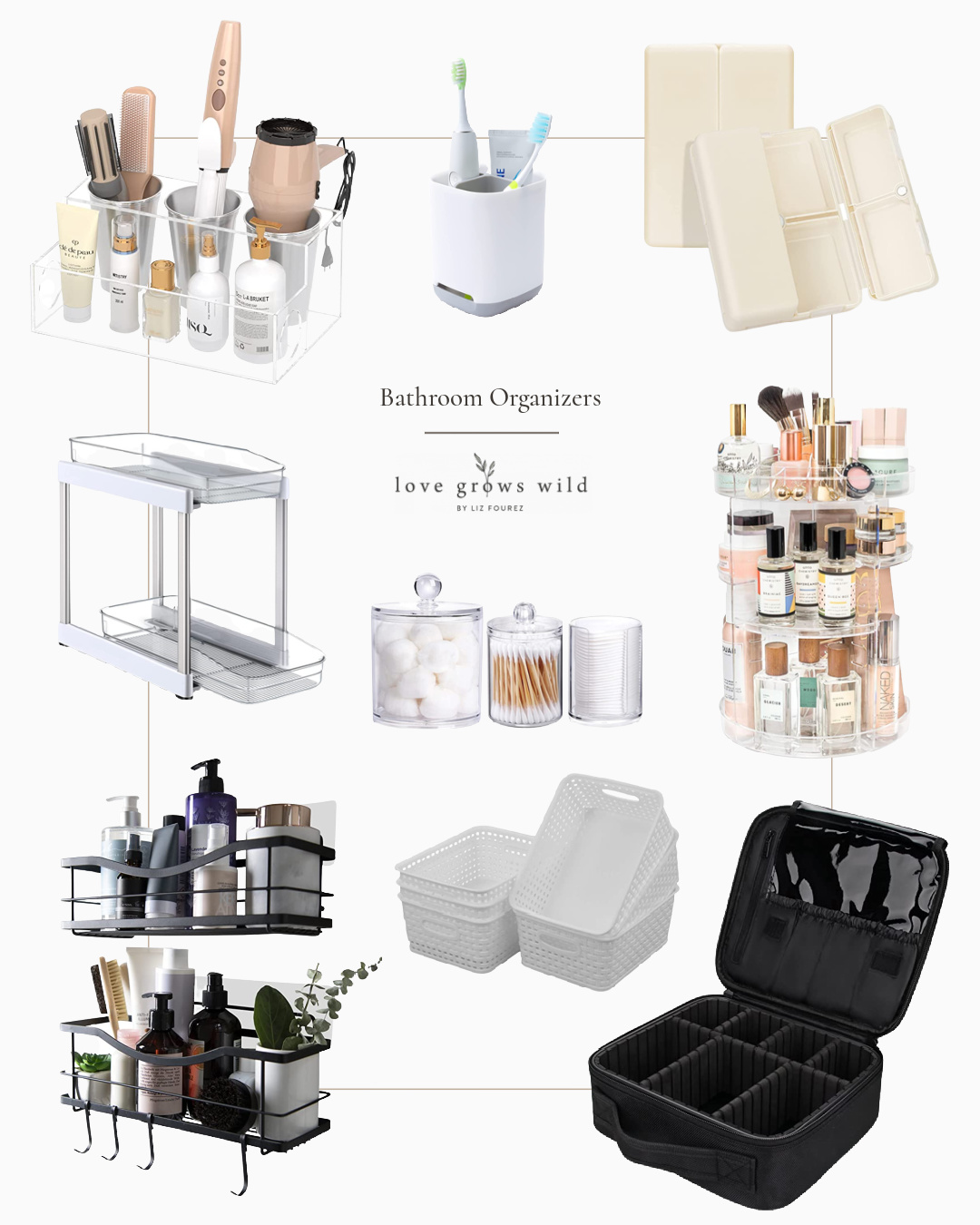 – CLICK IMAGES BELOW TO SHOP –

---
BEDROOM & CLOSET ORGANIZERS
The majority of organizers in my bedroom are for storing clothes, shoes, jewelry and accessories. If your closet is full of old, mismatched hangers, this is your sign to upgrade to new matching ones – preferably the slim space-saving kind with non-slip rubber on them. I know velvet hangers became extremely popular, but I don't like the dust and fuzz that accumulates or the price. The ones below are way more affordable and come in a set of 50. If you have an especially small closet, check out the hangers that hold 5 shirts each! I love open bins for shoes, and these jewelry stands made it so much easier to see what I have and keep everything from getting tangled.
related blog post: Master Bedroom Closet Makeover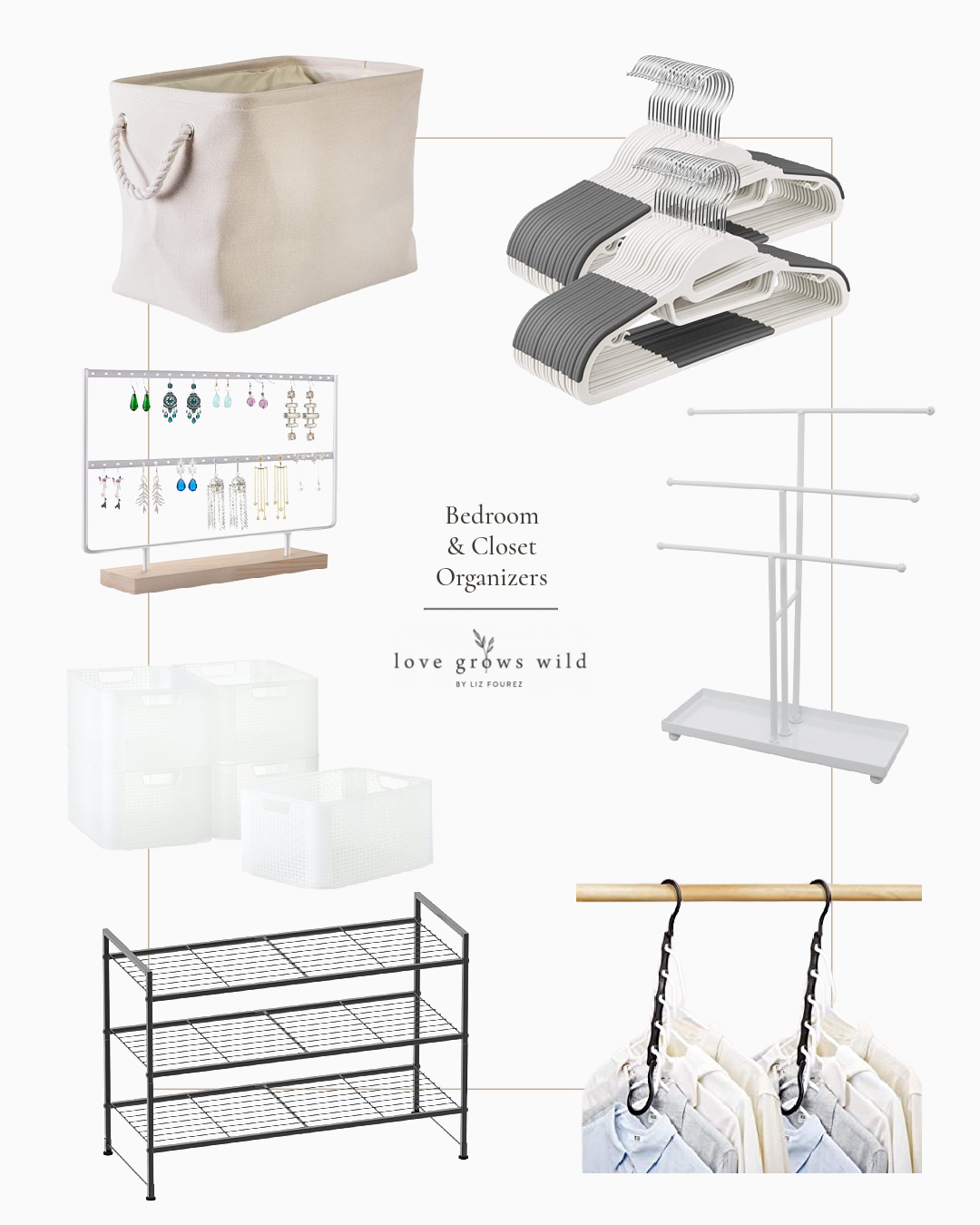 – CLICK IMAGES BELOW TO SHOP –

---
KITCHEN ORGANIZERS
Kitchens come in all shapes and sizes, so organizing in this space takes a little bit of measuring and planning. Take inventory of what you cook with or use every day, and get rid of anything you haven't touched in years. Think about what categories you have (for example: drinkware, cookware, serving pieces, pantry items, cleaning supplies) and which cabinet they would fit best in. Take measurements inside each cabinet to know exactly how much space you have to work with. Then shop online to find the specific dimensions you need – much easier to do online than carrying a tape measure into a store. Think about how to maximize each space. If you have tall cabinets, find tiered organizers or something with shelves to take advantage of vertical space. If you have really deep cabinets, look for organizers that slide out so you can easily reach what is in the back. Last tip: routinely do a "check in" to see what is working and what isn't. Sometimes it takes a few tries to find the best fit for your kitchen and your family!
related blog post: How to Create and Organize a Pantry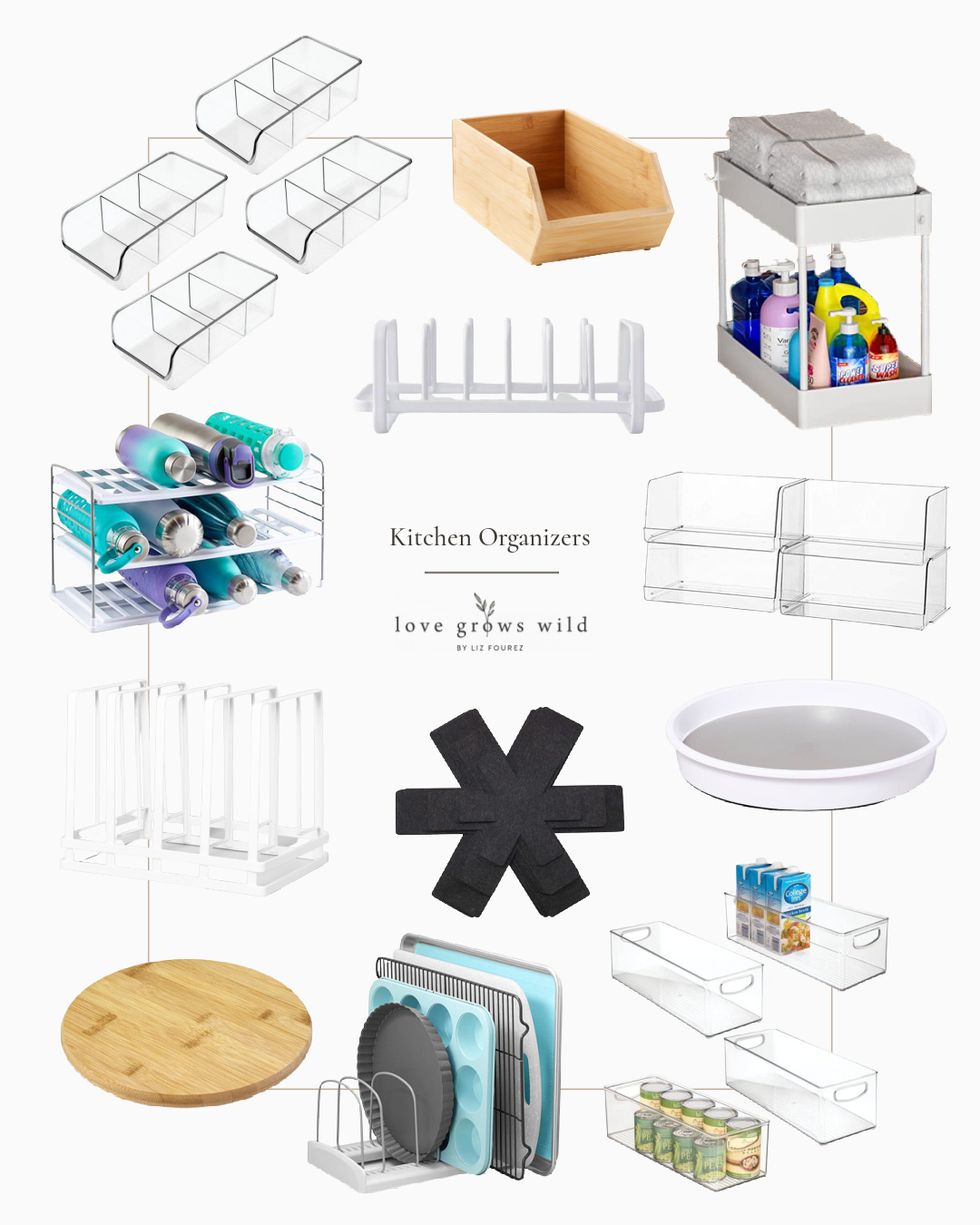 – CLICK IMAGES BELOW TO SHOP –

---
OFFICE & GARAGE ORGANIZERS
I have just a few key pieces for both of these spaces, so I combined them into one category. In the office, my biggest struggle is organizing all the devices we use and charging cords. Having one central location to charge everything has been a game changer in our house, and the products below with multiple outlets and usb ports are so convenient. I've gone through multiple orders of these reusable cable ties for organizing long cords literally everywhere in the house. Also, you probably don't know you need this battery organizer yet, but trust me, you do! In the garage, I again categorized everything that needed a place and found an organizer that could handle the job. I couldn't stand the pile in the corner of brooms, shovels, rakes, and other gardening, landscaping, and cleaning tools. This little cart below is perfect for containing all of them, but keeping them separated so you can easily grab what you need. And if you have kids in sports or with lots of outdoor toys, the metal cart below has a place for balls, beach toys, stinky shoes, water jugs, baseball bats, sports equipment bags, and just about anything else you could think of. And the straps for hanging hoses or extension cords on the wall are awesome.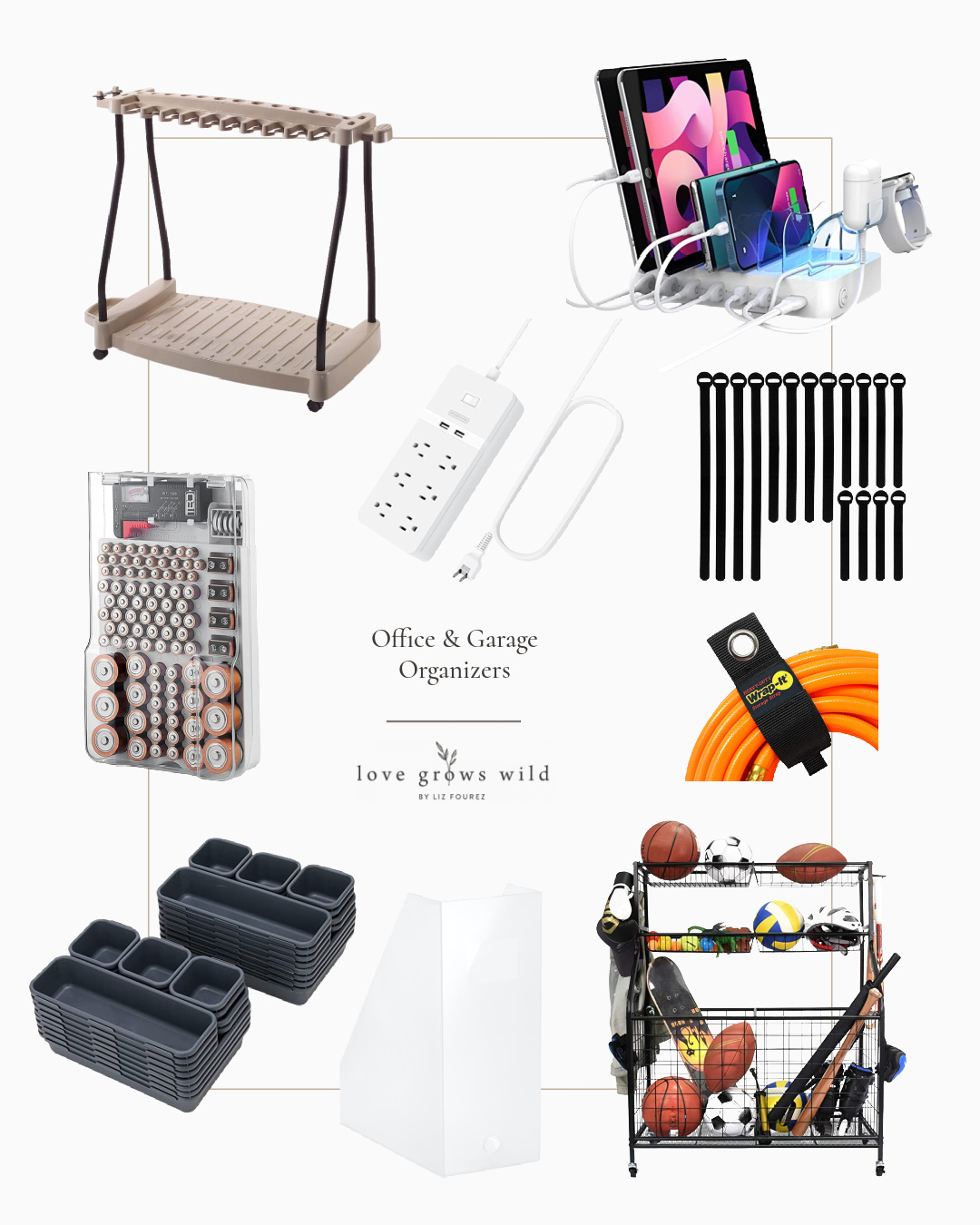 – CLICK IMAGES BELOW TO SHOP –

---
As always, I sincerely appreciate you shopping through the links I share, which allows me to make a small commission from your purchase while your purchase price stays the same. When you use my affiliate links, I'm better able to create content for this blog as well as support my family, and I thank you from the bottom of my heart for supporting what I do!
Our Store: Grow + Gather
Shop my Posts | Shop my Amazon Store
Join our Community | Follow on Instagram 
Follow on Pinterest | Follow on Facebook
The post Best Organizers I Bought for Our Home appeared first on Love Grows Wild.