Filing Baskets for Easy Paper Organization
Organizing with baskets by using filing baskets can help you keep your files and papers accessible, yet still neat and tidy. If you struggle with figuring out a good way to store paperwork and files, this simple system might work for you!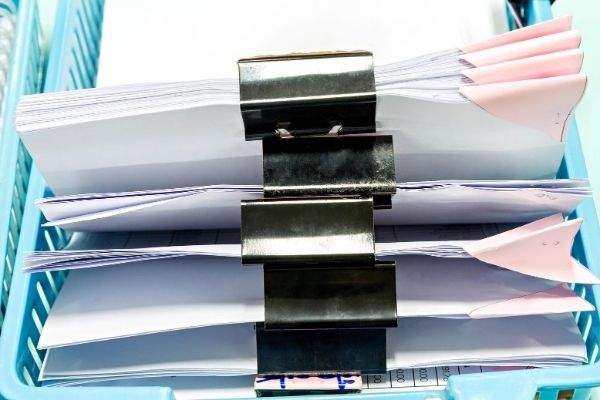 Organize your household files with flair and a little style using filing baskets. They make keeping your files safe much easier! There are filing baskets that match almost any decor or style preference.
Whether you want to use them for your home office, a corner area that is your catch-all, or tucked away in a closet, filing baskets can help you get organized.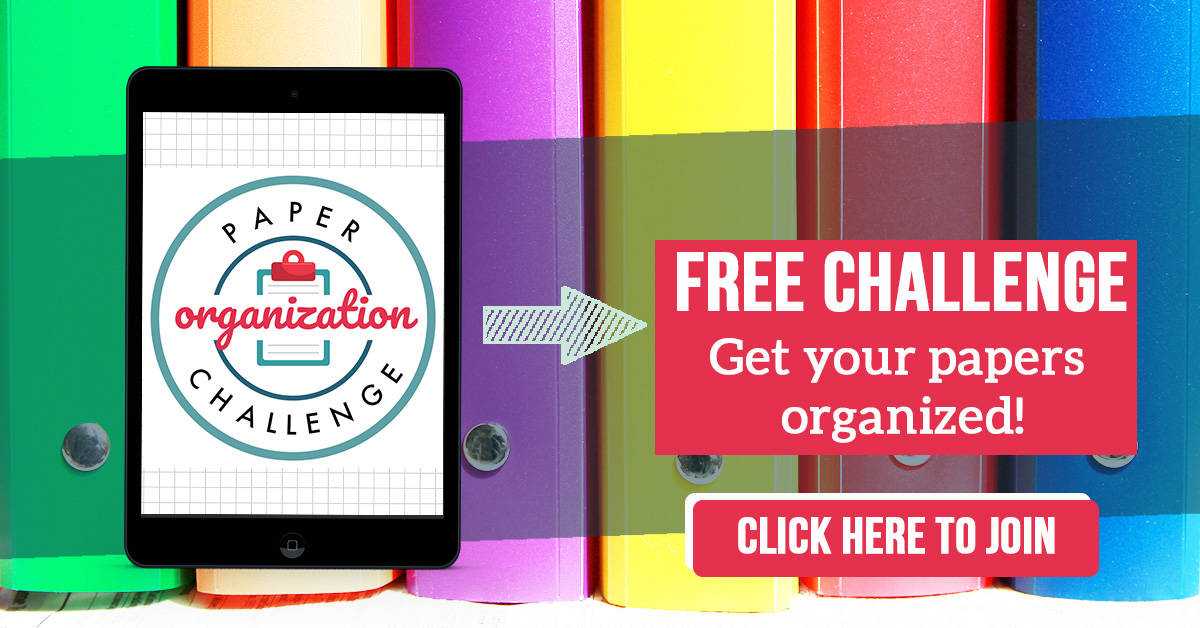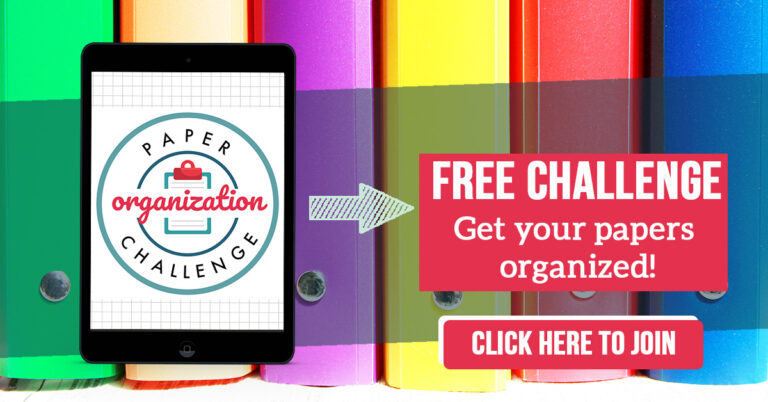 The Best Filing Baskets For Home Or Office
Related: The Best Home Filing System for You!
What is the best way to organize files?
The best way to organize your files is the way that makes the most sense to you.
An easy-to-remember system that you can consistently use (or catch up with if needed) is the best.
Often, we implement complicated filing systems, but don't use them often. Then, when we go back to use them after several weeks or months away from them, we forget where everything goes!
I personally like to use filing baskets for things I need to access frequently.
Having something on my desk that I can see, and get to quickly is the best. 
But for other things, using a home filing system in a file cabinet, or creating binders for specific categories of paperwork is much easier.
For taxes, and legal-sized papers, Bankers Boxes are a good solution. They are sturdy, easy-to-assemble, and you can store them out of the way.
The Sunday Basket: A System for Managing Current Paperwork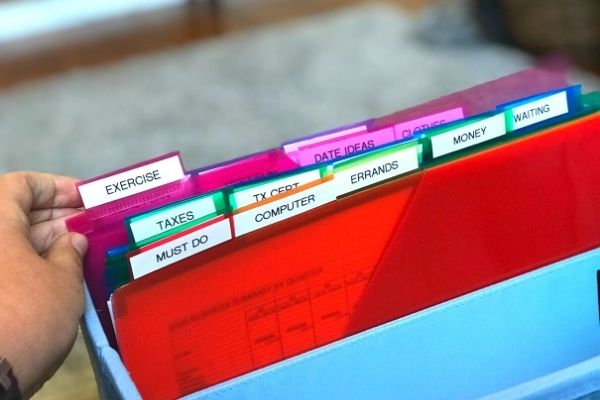 If you need a system to help you organize your household paper, try making a Sunday Basket.
It helps you keep all of your papers in one place, and you can regularly process the items in the basket to take action on your to-do's.
A Sunday Basket is like an inbox with a lot more structure.
The Sunday Basket was created by Lisa Woodruff of Organize 365.
Go here to learn more about how to use a Sunday Basket.
I like to use my Sunday Basket as a filing basket next to my desk. Every weekend, I go through all of the papers I've added to the basket during the week to make sure I'm keeping up with everything.
The Sunday Basket itself is a nice product, but you get the true value of the Sunday Basket when you do consistent weekly reviews along with it.
Organizing Important Documents
If you want to have all of your important files together, but have limited space, plastic file boxes with protective lids are also a good filing option.
With a plastic file box, the file frame is built in, and you can still use hanging file folders as part of your filing system. 
If you're short on space and want something you can easily pull off a bookshelf, using binders for important paperwork is another good solution.
Organizing with Binders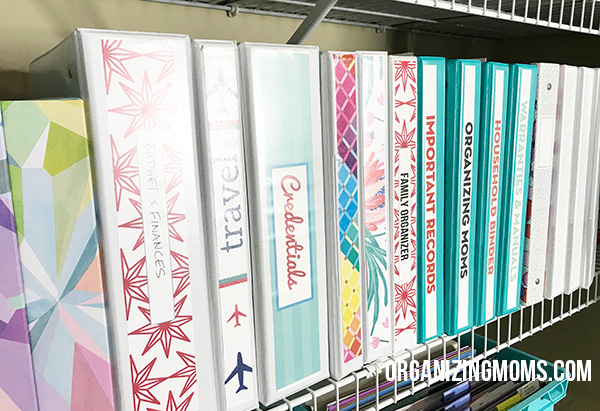 Binders are a great storage solution for paper because of their small size and mobility. If you need to take important documents with you in case of an emergency, you can just grab your binder and go!
Even if you still want to keep your vertical file cabinets, having a few binders full of important paperwork that you can store on shelves or in your desk drawers can make everything a lot easier to find.
You can create binders for different types of papers you want to organize. Here are some ideas to get you started:
Important Documents Binder
Credentials Binder/Portfolio
Related: Organizing with Binders
More Resources for Paper Organization and Filing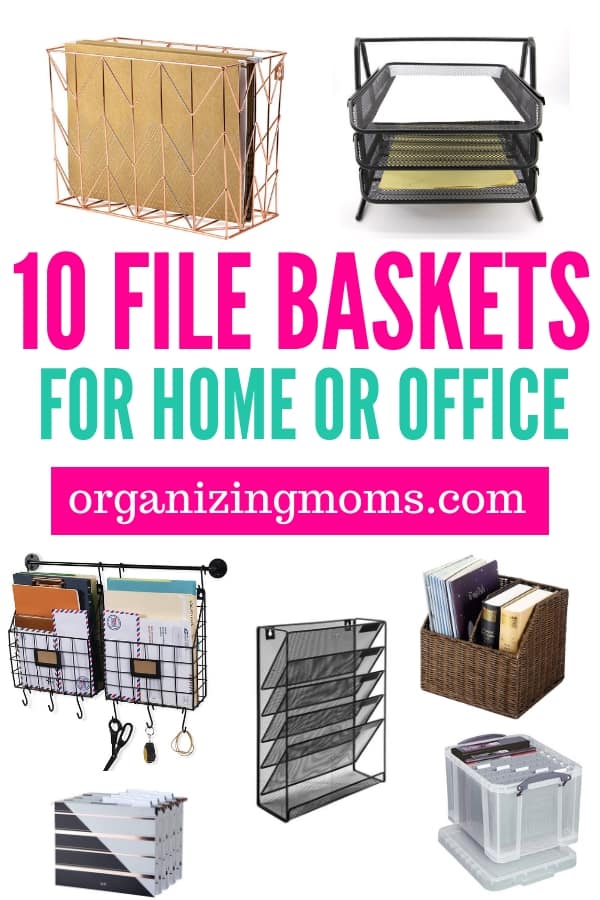 The post Filing Baskets for Easy Paper Organization appeared first on Organizing Moms.