Flexispot Kana Pro Standing Desk review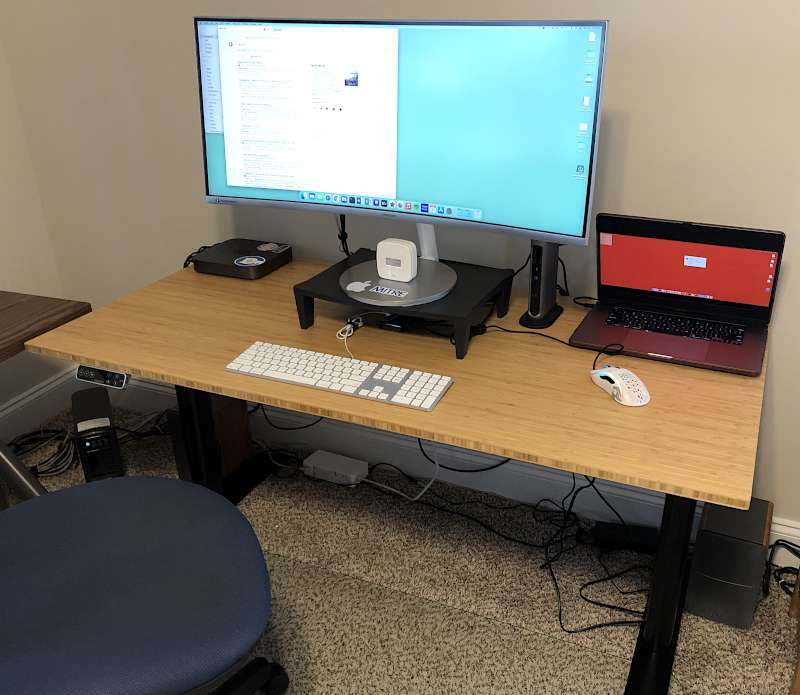 REVIEW – I'm a software guy, working in the areas of DevOps, cloud engineering, and data modeling.  What does that really mean?  Just this:  I spend a lot of time sitting, working on my computer at my desk, and I don't spend nearly enough time during the day standing, walking, or exercising.  As I'm a teleworker, I have it a bit better than most.  I can get up when I want, check the mail, get coffee, whatever, but I feel like I should do more.  Like any technical job, I have meetings at work, and so I'm thinking that I could use some of these meetings to do some standing and stretching, which might help out some.  To this end, I've been testing the Kana Pro Standing Desk from Flexispot.
What is it?
The Kana Pro is a powered, sit-stand desk.  It has a bamboo top and some hefty steel legs.  It comes in five different sizes and two different shapes.  It includes a handset to control the desk height, which can retain four different preset positions.  The Kana Pro (formerly known as the Modish) is part of the Flexispot brand (check out our other Flexispot reviews), which is headquartered in California and whose mission is "to introduce creative solution [sic] geared towards creating better working environments that promote efficiency, productivity, and wellbeing."  The Flexispot brand is owned by Loctek Ergonomic Technology Corp., a Chinese company.
What's in the box?
The Modish arrived in two boxes, one (very large) box for the top and another (very heavy) box for the frame and motors.  They included the following items:
The desk (unassembled)
Hardware and a hex wrench
Installation guide
Customer care card
Return form
Catalog of products
Plastic envelope to hold all the paper work
Hardware specs
Dimensions: 48×24, 55×28, 60×30, 72×30, or 78×30 inches
Bamboo top: 0.7 inches thick
Lifting capacity: 275 lbs
Vertical desk height: from 24.6 to 50.2 inches
Flexispot also offers a host of additional accessories from casters to power strips to file cabinets.
Design and features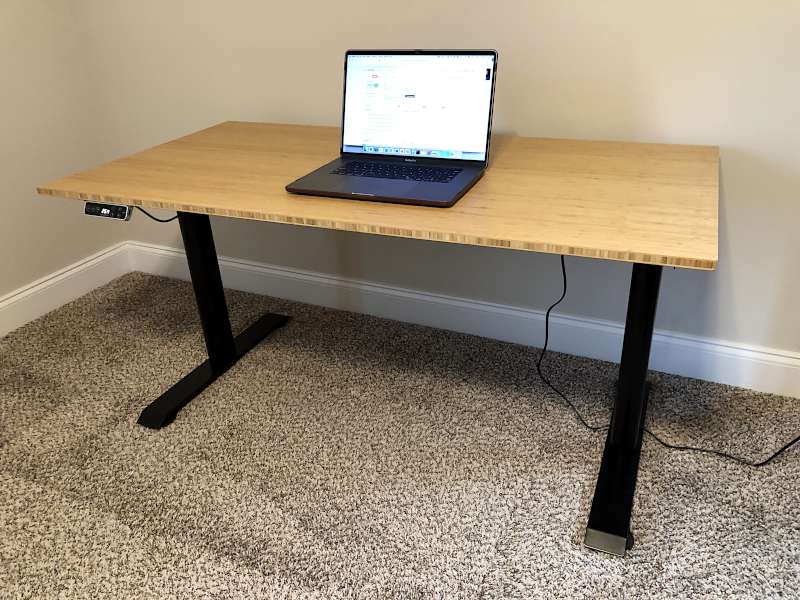 The Kana Pro's overall design is similar to other sit-stand desks.  It has a wooden top mounted over a metal frame with legs.  There are, however, a couple things that set it apart.  First, the top is made of bamboo, which is both distinctively stylish and very solid.  This is not some cheap, pressed-board desk that will fall apart the first time you move it–I'm looking at anything that you sell, WalMart.  Second, the framework and legs are super strong and heavy.  I can't lift the desk by myself.  Of course, some of that weight is due to the motors that are mounted in the legs, but even so, this is a well-built desk.  Overall, it has a clean, simple-looking design that will look great in almost any home office.
Installation and setup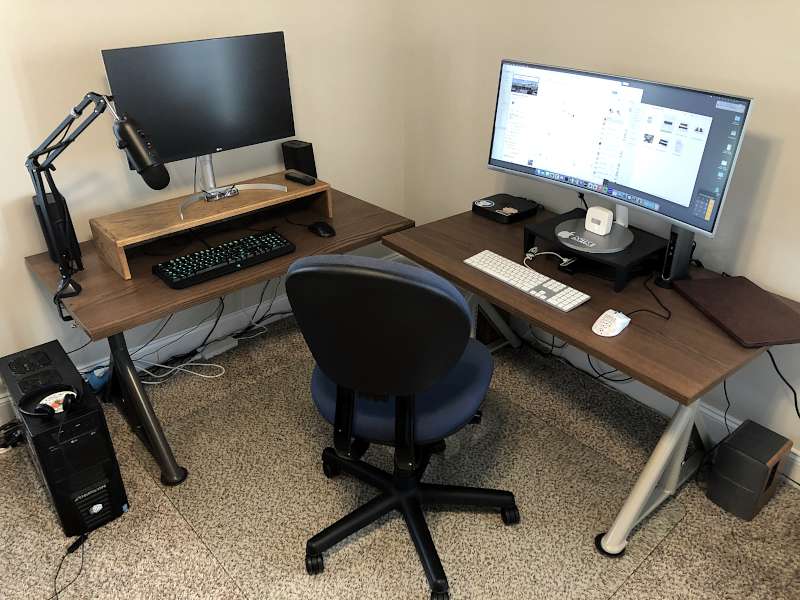 During COVID, I kitted out my home office.  I have a pair of small IDASEN desks from Ikea in an "L" shape; these guys are rock-solid desks that provide plenty of room for work and play.  On the left desk is my gaming PC; on the right are my personal computer, a Mac mini, and my work computer, a 16" MacBookPro, which share a keyboard, mouse, and monitor.  On floor in the middle is a Lowell glass chair mat; though a bit expensive, this mat is so much better than those vinyl ones, which are always cracking.  I'll never go back to a traditional floor mat.
You can also see the best of the gadgets that I've reviewed in the past, the ones that I'm still using every day.  Around my gaming computer (left) you can see the mic stand from Tonor, the Creative speakers, and the HyperX gaming mouse.  You can also barely see the Cutie power cube on the floor.  On the other side (right) you can see the leather case by Andar on the laptop, the dock by Kensington next to it, the Eve motion sensor that activates my fan, and the Glorious D mouse.
I really like this setup, but my plan is to replace the desk on the right with Flexispot's desk.  I'll see how it stacks up against the IDASEN, and whether or not I really use it during meetings at work to stand up.
First step, as always, was to assemble the desk.  The packaging in the boxes was fabulous!  Flexispot went above and beyond in protecting every piece; I didn't find anything scratched or dented, despite how heavy everything is.  The instructions were wonderful (with one exception, see below).  The assembly process was very similar to installing the Ikea desks, only better, because the installation guide–you can view it here–actually uses English to help explain things to me.  (Ikea, you could learn from this.)  It only requires two tools, a hex wrench (which is included) and a drill (which is not included).  To screw the framework into to the desk top, I grabbed my SnapFresh cordless drill from the garage, and it worked great.  One little detail that I really appreciated:  The screws and nuts all come in individual slots in the bag, and they were labeled!  Wow, it was so easy to find the right piece of hardware for each step.
If you want to watch me assemble the Kana Pro, which took about 45 minutes, you can take a look at this 1080p time-lapsed video:
There are a few items of note from the installation process.  One, step 6 in the process was to install the baffle, which provides cable management for the power supply cables, and the instructions were (ahem) baffling.  I hope Flexispot rewrites this step to be clearer.  Eventually, however, I figured it out simply by trial and error.  (I still don't understand why there two holes on the end of the baffle that are never used.)
Two, the handset can be installed on the left or the right side, whichever I want.  I appreciate having options!
Three, I found that Flexispot uses a pair of motors to power the desk, one in each leg near the top where it connects to the cross piece.  This no doubt contributes to the significant weight of the desk, but also for how quickly and smoothly it raises/lowers the desk.  (More on that in a moment.)  There is also a built-in power supply in the cross piece to which the motors and the handset connects.  I like it there, as there's now one less power supply on the floor.
Overall, the assembly process went well, and the desk raised and lowered the first time that I tested it.
Performance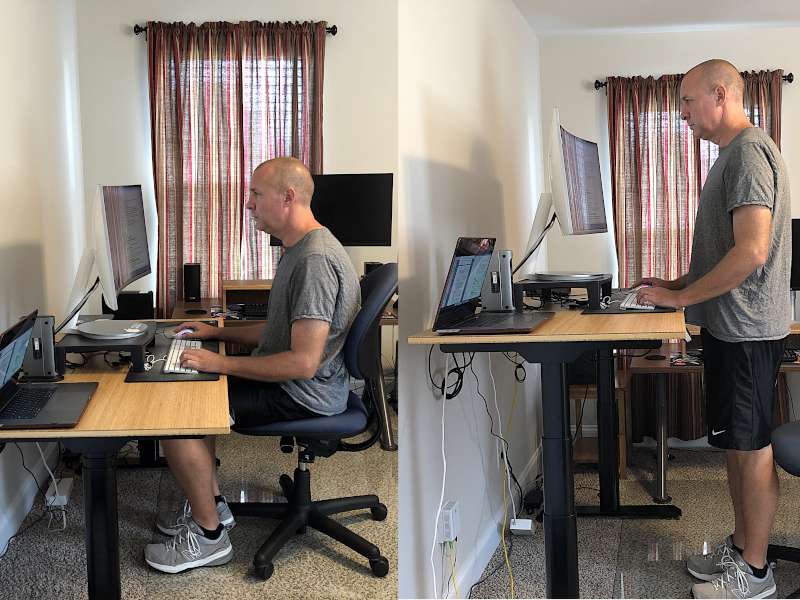 I really like this desk!  In particular, there are three things that I like about the way it changes positions.  First, it's smooth.  The motors clearly have more than enough power to handle this desk.  There's no herky-jerky, jarring, stopping-starting.  The desk just effortlessly moves from one position to the next.  The manual says that it can handle up to 275 pounds, and so to test this, I climbed up onto the desk.  While I'm not quite 275 (thankfully), the desk moved up and down smoothly with me aboard.  Second, it's quick.  I typically keep my desk at 25.6 inches for sitting—the handset has an LED display that displays the desk's current height—and change it to 40.7 inches for standing.  That's a difference of 15.1 inches, and the Kana Pro can accomplish this change in 10 seconds (whether going up or down).  That's an inch-and-a-half per second, which is not bad at all.  Third, it's quiet.  While the motors are audible, they are not even remotely loud.  Even if I change the height of my desk during a meeting with an open mic, the other attendees can't hear it.  Even better, it will never disturb anyone else in my house.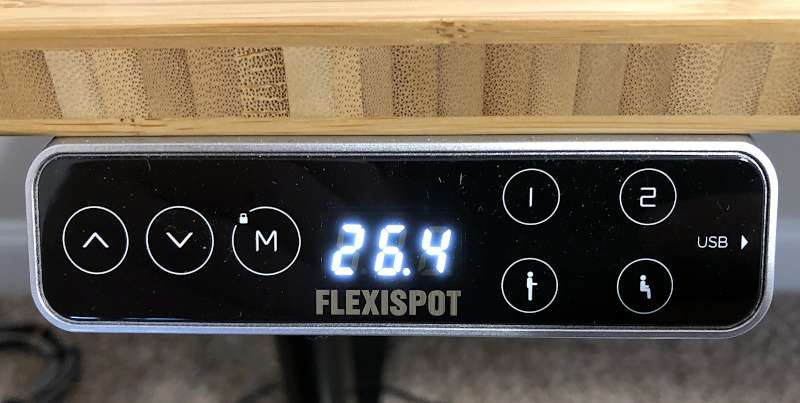 The handset is the control panel for the desk, and it has seven capacitive buttons:
Up and down – These manually move desk up and down.
M – This sets a saved position and activates the child lock.
Sit and stand – These are the saved positions for sitting and standing.
1 and 2 – These are two other saved positions.
I only need two saved positions, so I set the sit and stand positions.  When I want to stand, I tap the stand button, and when I want to sit again, I tap the other one.  This handset is simple to use and very responsive.  One item to note is that the handset does stick out from the desk a bit, and I do accidentally bump against it with my knee, which occasionally changes the height.  If it's too much of a problem, the solution would be for me to move it from the left side of the desk to the right.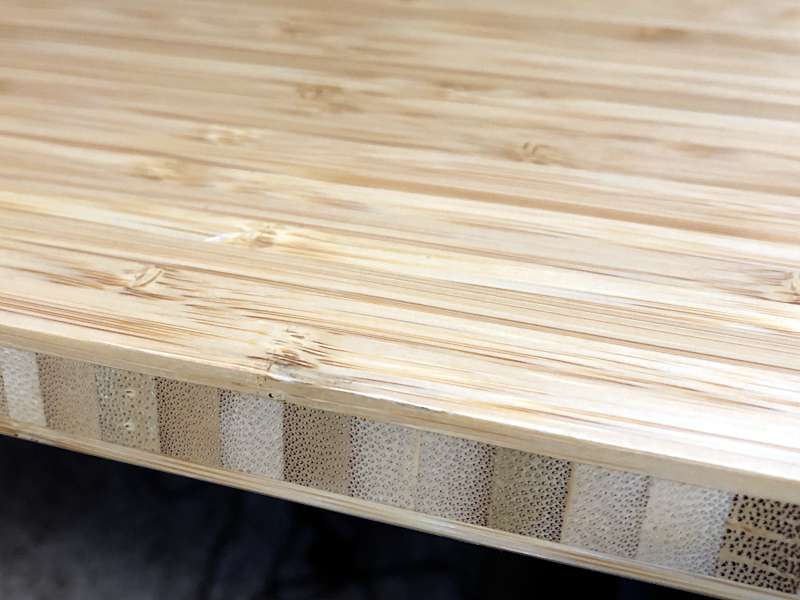 The desk top is light-colored bamboo look with lots of thin, long strips.  This is a matter of preference, but I like this look, as it has a lot of character.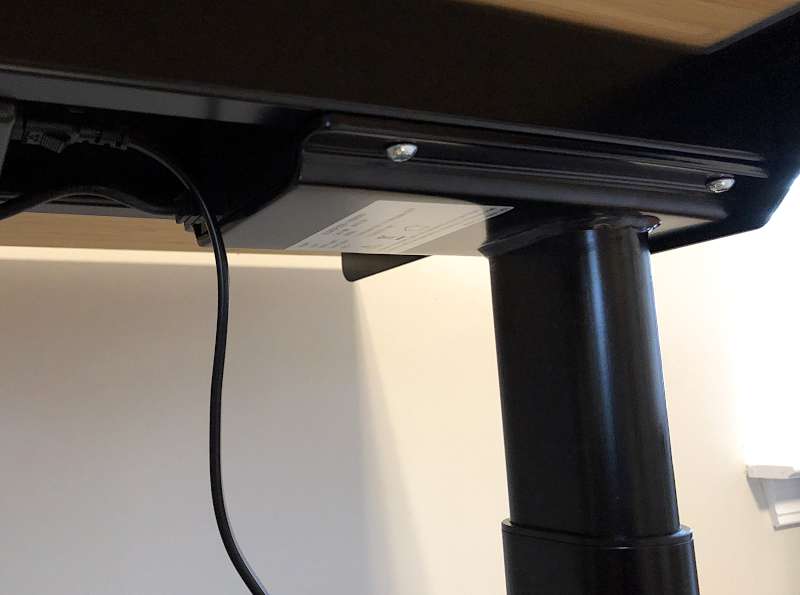 The desk is solid and heavy.  In one of Flexispot's marketing videos, a guy raises the desk to a standing position and then leans against it at a nearly 45-degree angle, and the desk doesn't rock or tip over.  I was skeptical when I saw this, but I tried it.  I'm happy to report that this is not marketing hype.  I really can lean against it, like in the video.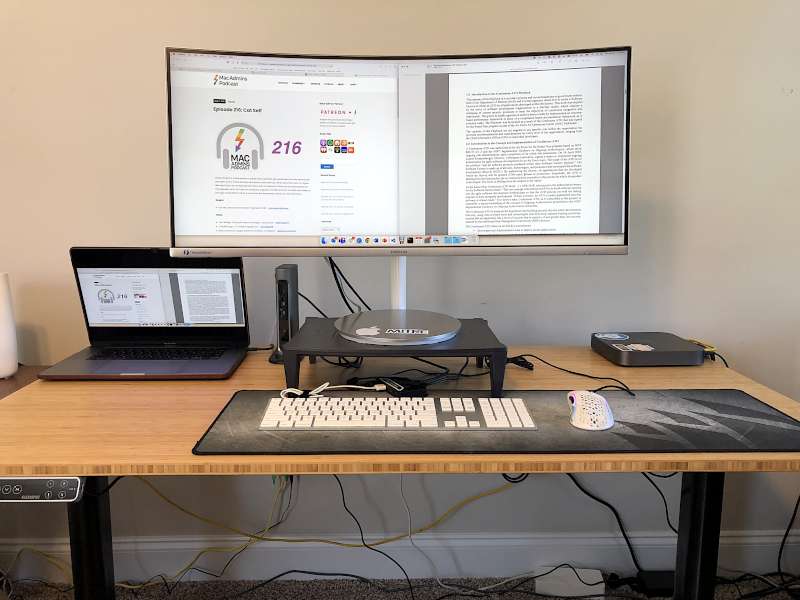 My Ikea desk is 47 inches wide, and the Kana Pro is 55.  For a desk with two computers and an ultrawide monitor, I appreciate these extra inches.  Mostly, however, I appreciate that Flexispot offers the Kana Pro in five different sizes.  Whether you have lots of room or hardly any, Flexispot has a desk for you.
As this is a sit-stand desk, here's the bottom line:  Am I actually using this desk to stand up during the day?  The answer is a qualified yes.  It's yes, because I do stand two or three times a day, usually during one of my virtual meetings at work.  It's a qualified yes, because I'm still trying to form a new habit here.  I've been sitting at work for my entire career, and I'm not yet used to standing.  Starting a new habit takes time, and it's going to be a while before I take frequent advantage of this desk.  If I fail to do so, however, it will be my fault, not the Kana Pro's fault.
While I really like this desk, I do have a few concerns:
This desk is sturdy, but it's not as sturdy as Ikea's IDASEN. When I type on the Kana Pro, I can see the monitor jiggle around ever so slightly, something that doesn't happen with the IDASEN. This is even more true when I'm standing, to the point that I can't effectively see what I'm typing.  If I had to guess, I would say the difference is the base of the table legs.  Ikea uses a triangular support structure at the base of its legs, whereas the Kana Pro only has a "T".
The Kana Pro does include a cable management system—it's the baffle that I mentioned above—but this is only for the cables used for the table, motors, and handset. There's nothing built-in to manage all the cables for my computers and monitors.  This is a huge drawback compared to the IDASEN, which has a pair of built-in mesh nets that do a marvelous job of organizing and hiding all my cables.
While assembling the desk, I found some sort of chemical compound the consistency of rubber cement on a few places on the bamboo top. I couldn't find anything about this in the manual, so I tried to use rubbing alcohol to remove them, but no luck.  It's a sticky mess that still hasn't gone away.
On one side of the desk top, the edges are rounded; on the other side, the edges are sharp. Unfortunately, it's the top of the desk that has the sharp side, while the bottom has the rounded.  (How do I know that I don't have it upside down?  Because they are pre-drilled holes for attaching the frame, and the side with the holes must be the bottom side.)  This is a really big mistake for a product that's advertised as being ergonomic.  When using a desk for any period of time, I am constantly finding the sharp edge to be poking into my arms and elbows.  Flexispot needs to change their manufacturing process so that they put the rounded edge on top (or better, make the top and the bottom both rounded).
In touting their bamboo top, Flexispot noted that it has "a lacquer coating to help resist scratches, water and insects." Wait, what?  Exactly what insects am I expecting to come and attack this desk?  This one left me scratching my head.
If I press and hold the M button on the handset for five seconds, it will enable the child lock.  The other buttons are disabled until the M button is again held for five seconds.  This will be a handy feature for anyone working from home where there are small, active children.
Flexispot says that the Kana Pro can "detect and prevent collisions before they occur."  This is not true; the Kana Pro does not have any sensors that can detect when a collision is going to occur in order to prevent it.  What it does have an ability to sense resistance to the motors, which can trigger them to stop moving and back off a bit, before they accidentally squish something that's in the way.  The best one can say is that the Kana Pro can detect collisions after they occur.  There are three levels of collision sensitivity, low, medium, and high, that can be set with the handset, which are demonstrated in this video.
Flexispot also says that there's a timer that lets me know when it's time to change positions, but I can't find any mention of how to set this up in the manual or their website.
Extra Features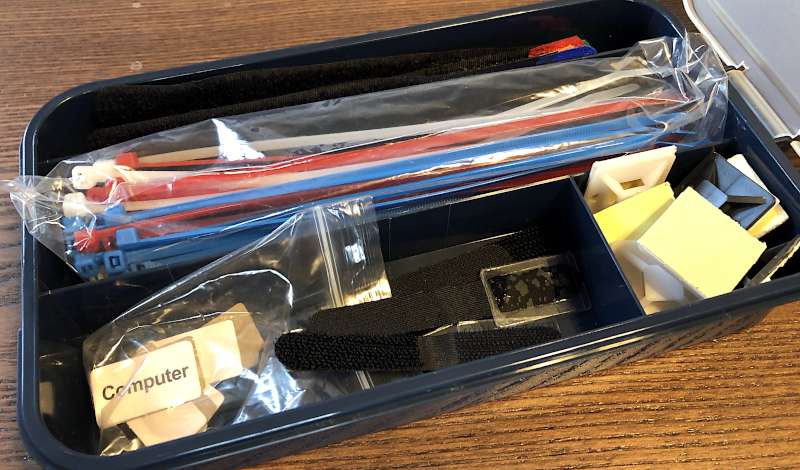 When you purchase the Kana Pro, you can spend an extra $25 and pick up the Cable Management Kit Organizer Set.  As the Kana Pro doesn't include any built-in cable management for cables that come with my computers, I asked Flexispot to pitch in a set, and they graciously agreed.  It contains four things:  adhesive cable tie bases, cable ties, and Velcro ties (both with and without labels).  Having received the set, I have to admit that I'm underwhelmed.  This cable management doesn't feel like a built-in system, like the Ikea desk has; rather, it feels like a low-budget after-thought.  Given how very nice the desk is–and it really is nice–it's almost embarrassing how not-nice this cable management set is.  It's also not a good deal; it's cheaper if you just pick up the pieces you want on Amazon.  On the one hand, don't bother buying this; on the other hand, don't let this set stop you from buying the desk.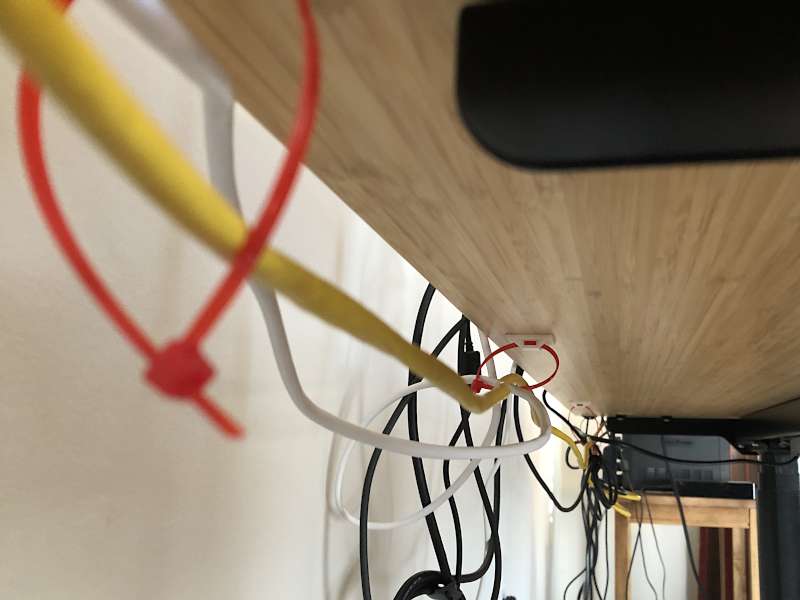 To test out the set, I attached four cable tie bases along the bottom of the desk near the back and loosely tied one cable to each.  I used these like conduit to run several of the cables, thus getting them up off the floor.  It's not attractive, but it's better than nothing.
What I like
Solid and sturdy
Pleasing design
Powerful and smooth motors
Easy-to-use handset
What I'd change
Add a better cable management system for my cables
Add rounded edges to the table top to be ergonomic
Add a better (and honest) explanation to the manual (and website) about features like collision detection and the timer
Final thoughts
The Kana Pro is a standing desk from Flexispot that has an attractive bamboo top, powerful motors, a sturdy steel framework, and an easy-to-use controller.  It comes in various sizes and can save up to four preset sit or stand positions.  I like this desk and have been using it while working from home; I'm glad to have it as part of my home office setup.  It does, however, have a few issues.  It's not ergonomic, it doesn't have a built-in cable management system for my computers' cables, and it's not quite as steady as I would like it to be.  Should you buy this desk?  As the pros definitely outweigh the cons, I recommend that you consider it when shopping for standing desks.
Price: $699.99
Where to buy:  Flexispot's online store
Source: The sample for this review was provided by Flexispot.
Filed in categories: Reviews
Tagged: Computer furniture, Standing Desk
Flexispot Kana Pro Standing Desk review originally appeared on The Gadgeteer on September 1, 2021 at 10:00 am.
Note: If you are subscribed to this feed through FeedBurner, please switch to our native feed URL http://the-gadgeteer.com/feed/ in order to ensure continuous delivery.