From Planters to Lipstick Storage, Here are 15 Ways to Reuse Empty Candle Jars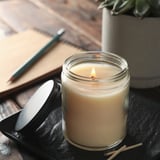 Candles are my love language. My collection varies from holiday fragrances to wax blends infused with essential oils to scents inspired by faraway destinations. Between my bedroom and living space, my apartment is lined with candles, but because I work from home, I burn through them crazy fast, leaving me with an ever-growing stash of empty candle jars.
Going through so many candle holders felt wasteful to me, so I got creative and found ways I could repurpose those empty jars and turn them into everyday items, including succulent planters, drinking glasses, and more. Candle jars come in all different shapes, sizes, colors, materials, and textures, giving your home a touch of charm no store-bought organizer or tumbler ever could. Here's how you can reuse yours, too - plus, tips for getting the jars nice and clean.
How to Get Wax Out of a Candle Jar
Before you begin brainstorming creative ways to reuse your empty candle jars, you'll first need to remove any remaining wax, as well as the wick and its base. You can do this by either melting (aka heating or boiling) or freezing the wax.
The melting method can be done four different ways: over a stovetop, in the oven, with steaming water, or using a double boiler. In both the stovetop and double boiler techniques, boiling water is used to melt the wax down to a liquid state. Then carefully, you can pour the liquid out of the jar. The steaming water approach is the least messy by far. All you have to do is fill the jar with very hot water and allow the wax to rise and harden at the surface (about five hours). Then, using a butter knife, you chip into the hard wax, drain the water, and scrape out the rest.
Last but not least, you can remove the wax by placing an empty jar face down on a double lined baking sheet (foil topped with a sheet of parchment paper), and bake it at 200°F for about 15 minutes. Just be sure to remove any stickers or labels beforehand. With all of these methods, proceed slowly and with caution, as hot, melting wax can burn your skin.
Freezing, however, is the easiest option for wax removal. Simply freeze the jar for a few hours and then remove any remaining wax and wick bases with a soft knife. Whichever method you choose, the jars should always begin at room temperature and the wax should be hardened, not in a soft or liquid state from being lit.
How to Reuse Candle Jars
Repurposing candle jars can be as low- or high-maintenance as you want it to be. While empty candle jars make for great organizers and storage, they can also be turned into everything from planters to vessels for food and drinks. Here are a few ideas to get you started, listed in order from the least to the most additional prep work.
Tea-light holder: Reusing old candle jars as tea-light holders is the oldest and easiest trick in the book. Plus, it requires no additional prep work - carefully drop in an unlit tea-light, light a match, and voilà!
Toothbrush holder: Keep germs at bay with a fancy, newly repurposed toothbrush holder. Tall and narrow candle jars work best.
Lipstick storage: Do you spend too much time turning purses, backpacks, and pockets inside out trying to find your lipstick or chapstick? Not anymore. Store all your glosses, lip liners, and lipsticks in a repurposed candle jar for safe keeping.
Hair accessory organizers: Personally, I like organizing my hair accessories in reusable jars rather than trays, because like the accessories themselves, the jars come in all shapes and sizes. Tip: Three-wick candle jars work best for bulkier items like large clips and scrunchies, while single-wick jars are ideal for smaller items like bobby pins. If you keep the jars' lids, you can stack them to free up space.
Drinking glasses: Not only is this an easy hack (just thoroughly clean the jars with soap and water), but it also gives your drink ware extra personality and charm.
Office supply storage: Paper clips, rubber bands, binder clips, pens, markers, scissors - they'll all be right at home in a repurposed candle jar. Clean up office-supply clutter in a flash, no extra prep work necessary.
Coffee ground jar: If you prefer to grind your own coffee or purchase freshly ground or whole beans from your local spot, then you'll love this coffee ground jar idea. Plus, a decorative jar takes up less room and makes for a prettier accent.
Mini piggy bank: Whether you're saving for something special or need a jar to house extra change (laundry day, anyone?), converting an old candle jar into a mini piggy bank is a quick, sustainable option.
Swear jar: This idea is perfect for parents, babysitters, or anyone looking to clean up their act a little. Make it fun by giving the jar a clever name like "Swear Bank," "I Solemnly Swear I'm Up to No Good," or if you're all adults, "Well, Sh*t."
Snack or treat canister: Consider this a unique alternative to a kitchen canister set. Use empty candle jars to store dry snacks, candies, tea bags, and pet treats. For unpackaged and loose items, make sure the jar is sealed airtight to prevent spoilage.
DIY skin or lip scrub jar: Those interested in making their own skin or lip scrubs will appreciate this hack. Reuse clean, emptied candle holders as jars for homemade exfoliates - it's a great gift idea, too! Just don't forget the lid.
Small planter: If you're willing to put in a little work, you can use candle holder to house plants or succulents. Just imagine how gorgeous a tiny cactus would look in a decorative or etched jar! Before you start planting, be sure to research what kind of environment your plant needs in order to grow. For example, you may not be able to poke holes in the jar to accommodate plants that need better drainage.
Mini herb garden: Similarly, if you've ever wanted to grow your own herbs but never had the space or resources, now's your chance. While candle jars vary in size, their generally smaller scale will force you to start slow, which can help prevent you from biting off more than you can chew. Plus, they're great for apartment kitchens.
Homemade candle jar: The next time your candle supply is running low, try melting new wax chips and recycling old jars to make your own homemade candles. While this reusable hack will require time, materials, and lots of patience, I promise it's worth it. Pro tip: add a few drops of essential oils for a soothing touch.
Decorative accents or centerpieces: Looking to swap out your table centerpiece or bring in new accents to complement your current decor? Two words: candle jars. Incorporating jars into your decor can add dimension, color, and texture. For a minimalist look, remove the remaining wax and the wick and place jars throughout your home wherever you see fit. For a more decorative approach, fill the cleaned jars with potpourri, seashells, artificial greenery, wooden beads, and more.