Home Gym Reveal – Peloton Dupe Alternative and Decor for Small Spaces
Our home gym reveal, giving you inspiration for creating your own! With affordable fitness equipment (a peloton dupe spin bike), home decor must have pieces, and more to making reaching your health goals that much easier.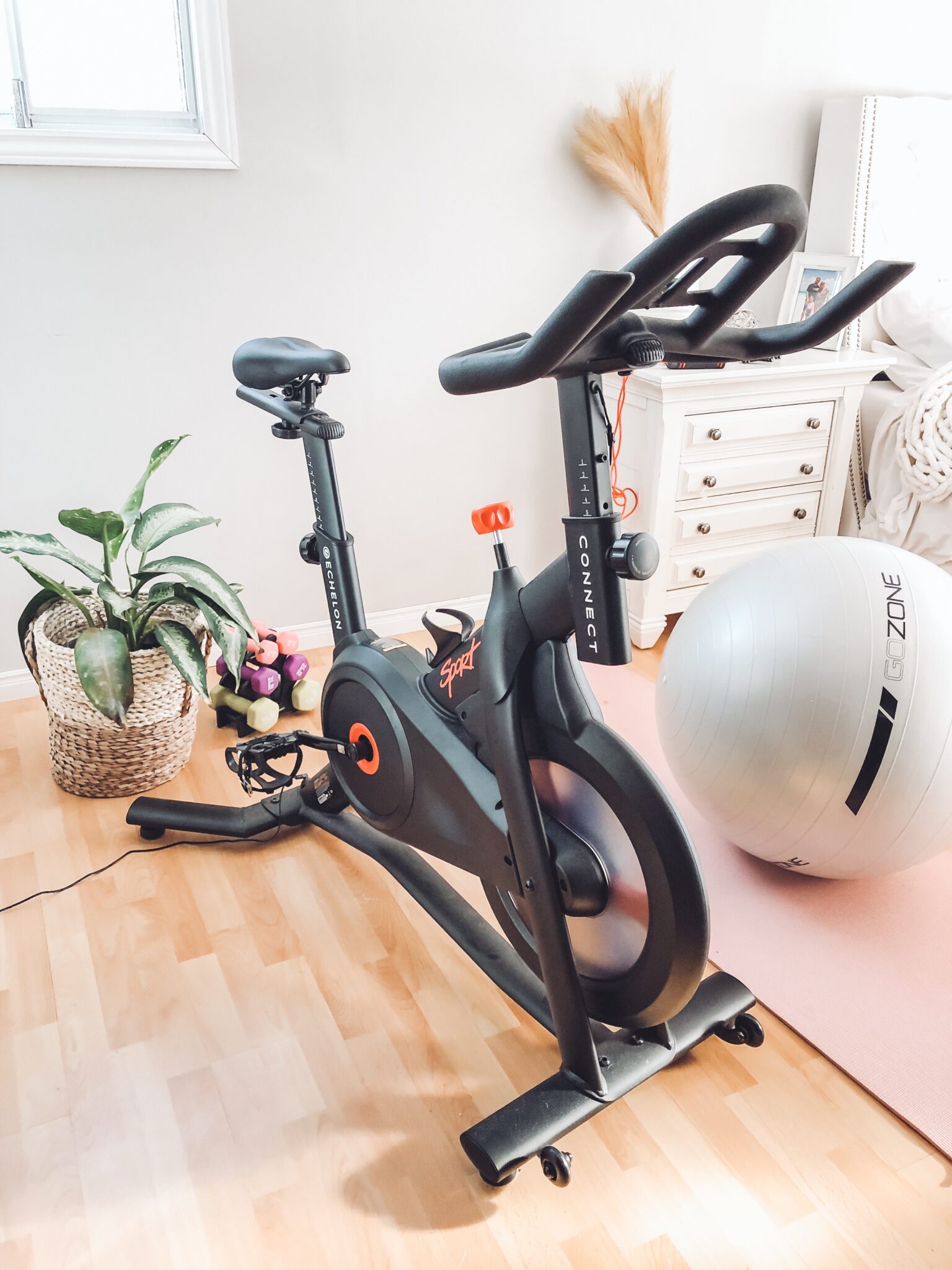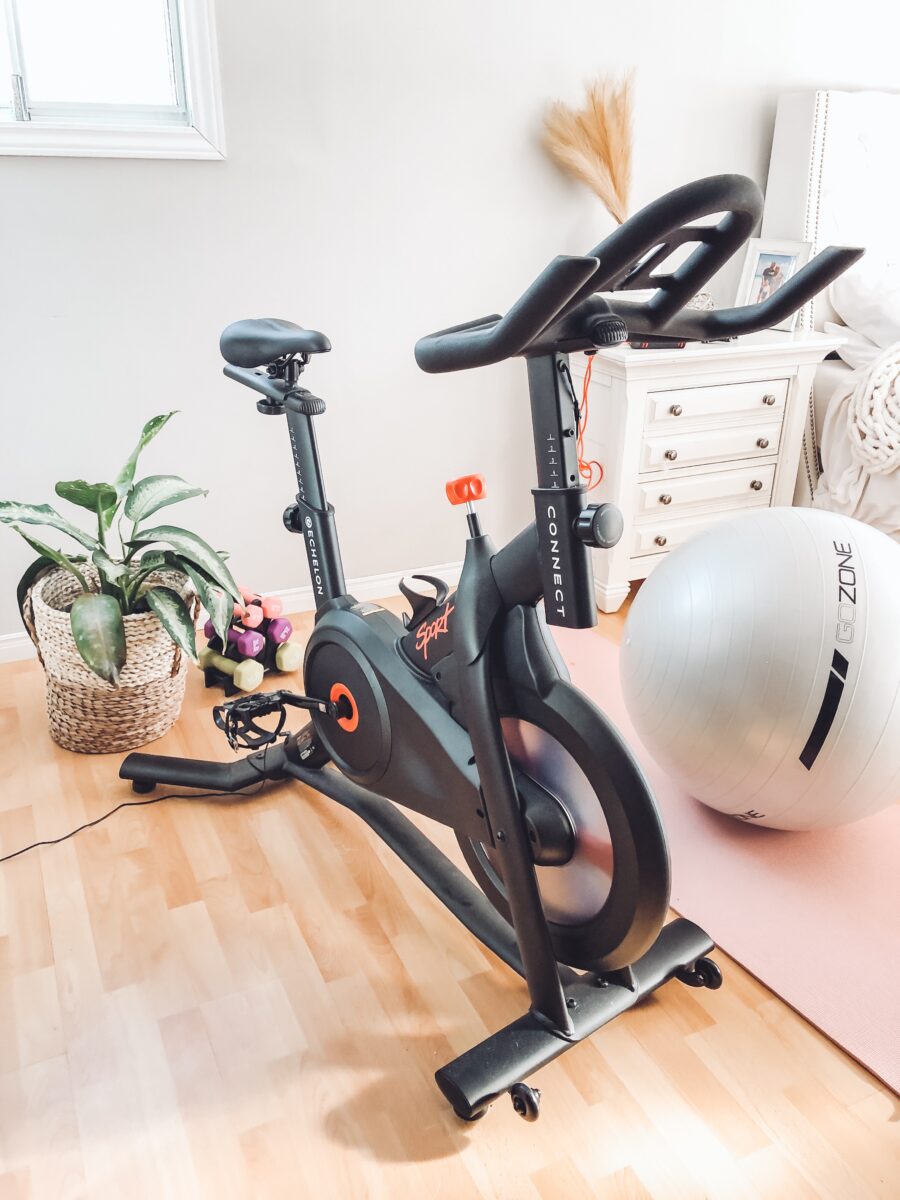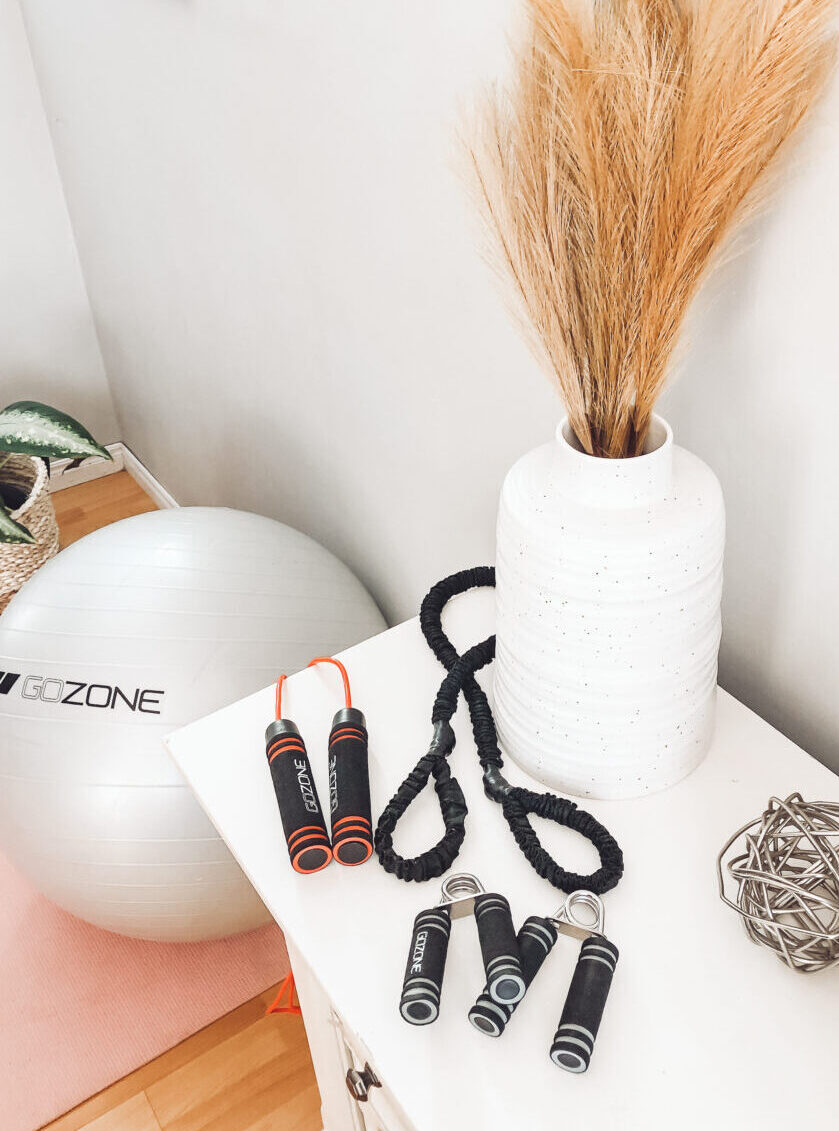 Home Gym Reveal
For many years I've had an elliptical in my dining room. Yes, in my dining room. Thankfully, it's a very large dining room! It was time to designate a home gym in our house that our family would use and enjoy also, in privacy. Exercise is very important to me. It makes me feel absolutely amazing and it does wonders for energy levels and mental clarity. Just about anything you bring up to your doctor will get the response of "try to get regular exercise". It really is the cure. That and of course, the supplements I swear by and can't go a day without!
Turning a room, or section of your house into a home gym should be about creating a space that you want to be in. An exciting, yet calming place with lots of natural sunlight and very little clutter.
Small Home Gym Ideas
The corner space I used to turn into a mini gym happens to have a cozy little window for fresh air and lots of sun light. It also has just enough room for a yoga mat, some basic exercise equipment, and full body mirror. That is pretty much your baseline for a home gym.
The simple, the better when it comes to planning out your home gym space. The last thing you want is to feel overwhelmed with clutter.
Keep your space clean and tidy, and make sure there's optimal airflow. When decorating, remember that less is more. Function and quality matter when choosing exercise equipment. And consider your budget when shopping. 
I found some great affordable weights on Amazon and was surprised of the price point and free shipping. They won't break the bank and they come in different colours to choose from. Really, a great way to add intensity to any workout — whether it be during a spin class or while squatting.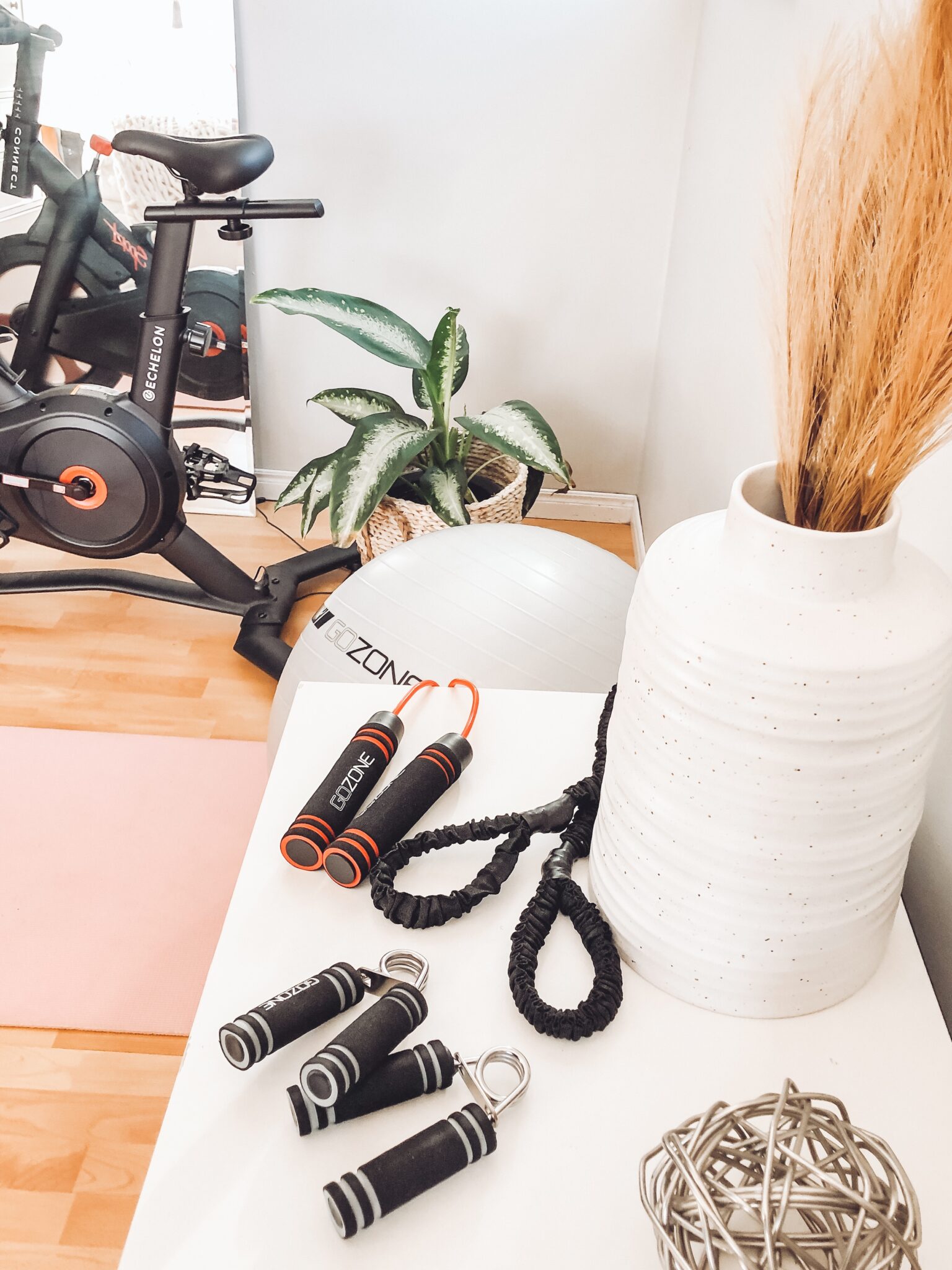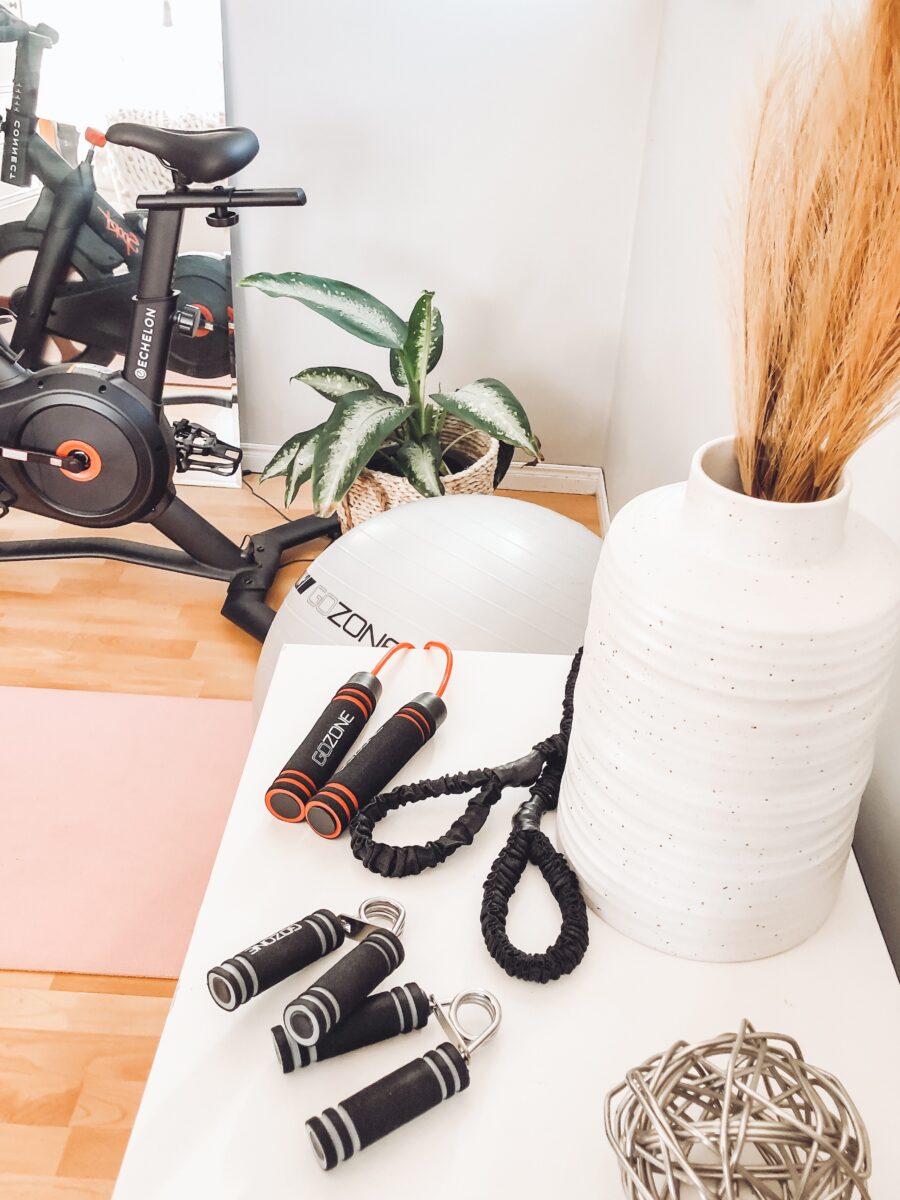 Decorating Our Small Home Gym
I grabbed a seagrass woven basket from our local Walmart and a fresh green houseplant (about medium in size) to bring some fresh greenery into the space. Otherwise, a faux house plant will also do.
It's a great idea to include a full body mirror in your home gym. You can mount it on the wall either in front or on the side of where you'll be exercising. It's important to monitor your form at all times, so that you're doing your exercises correctly. This prevents injury and also motivates you as you start noticing your progress!
Plus, a home gym selfie in front of that mirror won't hurt, to track your progress and keep on your journey! Sometimes a new set of workout clothes makes me feel motivated to keep up with the journey, highly recommend some of these affordable yoga sets!
It's good to have a small side table, if possible. Just an extra space that's convenient to leave your phone, a speaker for music, or your water bottle. You can also keep small equipment in a drawer or on top in a small basket — great for storing a weighted jump rope, a resistance band, or hand grips!
More Home Decor Posts You'll Love: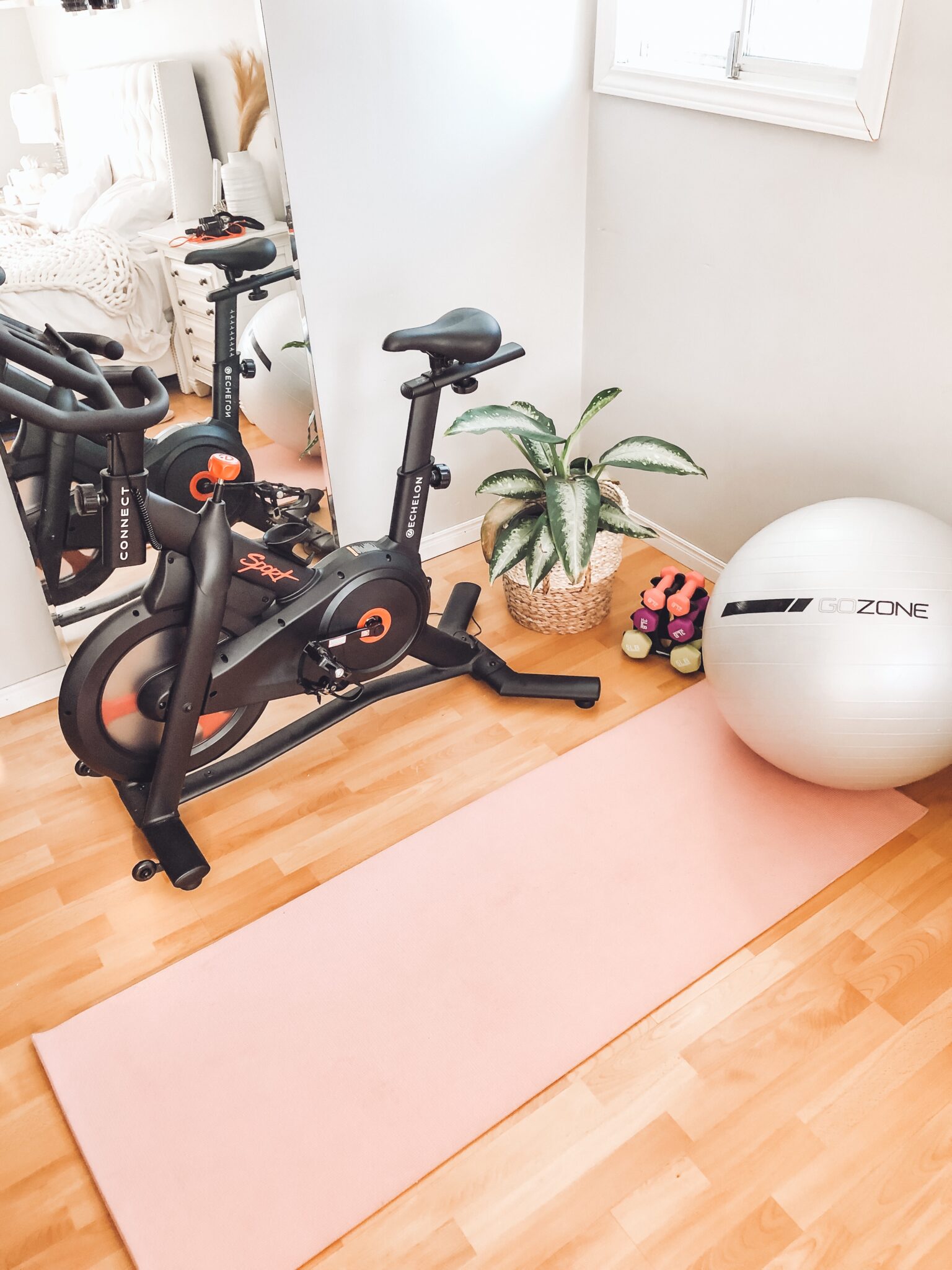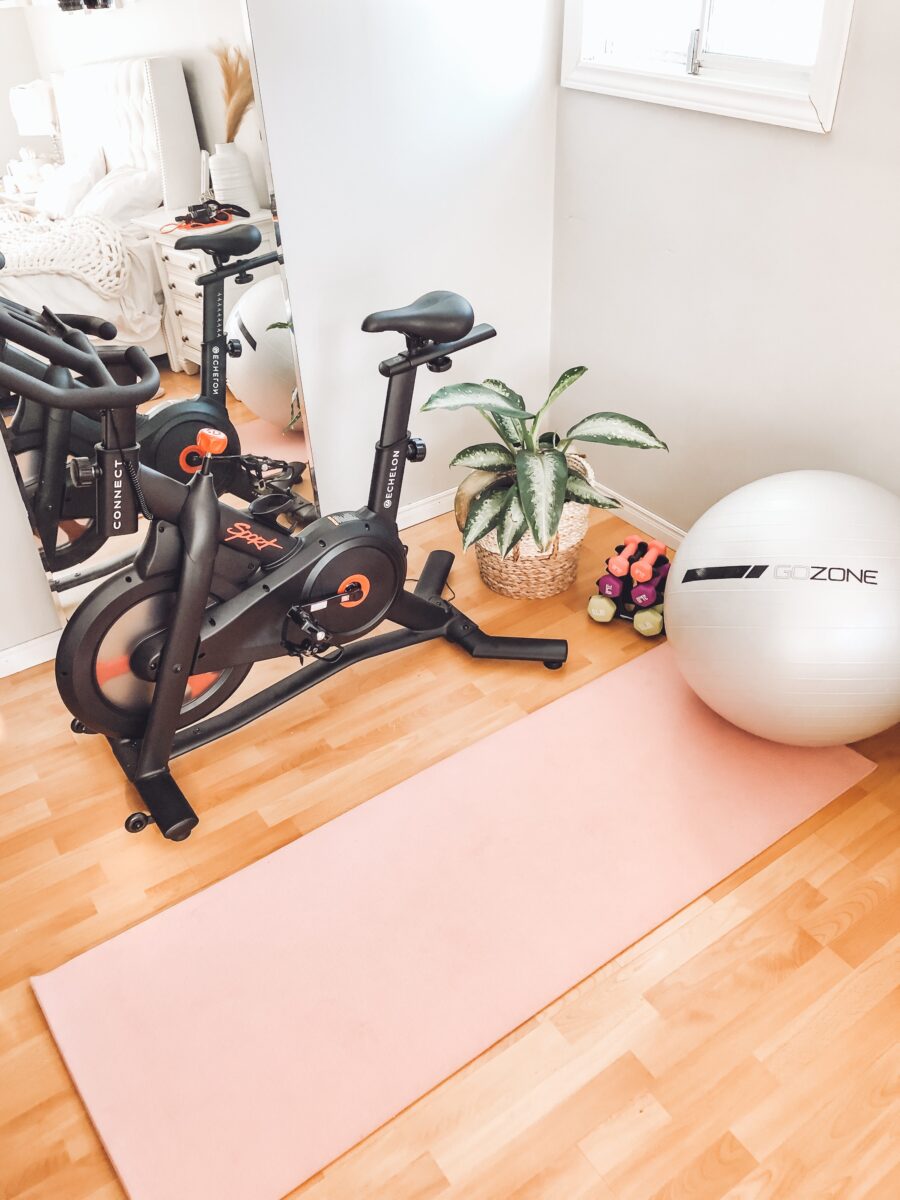 An Affordable Peloton Spin Bike Alternative (Dupe)
I really, really wanted to get a Peloton bike, believe me. I know it lives up to all of the hype! Unfortunately since we're in northern Ontario, Peloton does not deliver to our location and so I looked for more affordable options anyway, and luckily I came across the Echelon Sport. 
You can't go wrong with a quality bike that basically has the same aesthetic as the Peloton, and all of the great features as well and a much cheaper price point. Echelon has a bike with the built-in screen display, or with a tablet holder to connect to the bike via bluetooth. 
Practically the same capabilities and reliability, just at a much better price point.
Echelon Exercise Bike and Spin Classes
The best part about the Echelon is that it fits right into small spaces with ease. The size is compact, mind you it's still a full size bike, and it's easy to maneuver around the house if need be. It took us less than an hour to set up straight out of the box.
All you need is a device to place on the holder, connect via bluetooth to the Echelon app and away you go!
You can use the Echelon App for spin classes and many other workouts, which is free for three months with the purchase of the bike. After those three months are up, you can either pay the monthly subscription to continue, or, you can switch to any other fitness app like the Peloton App (it's actually a cheaper prescription without buying the Peloton bike, with all the professional trainers you dream of). Yes please!
For a quick comparison, the Echelon app charges $44.99/month and the Peloton app has a monthly subscription rate of $16.99/month without purchase of the Peloton bike.
Keep in mind that cadence is measured differently on each bike, so you may want to do a quick Google search to print out the conversion chart for reference when using the Peloton app with the Echelon bike.
Must Have Affordable Exercise Equipment
As mentioned before, you'll want to have your baseline — a cardio machine of choice, a yoga mat, and a full length mirror. 
If you aren't into yoga, the mat has a ton of other uses. Use it for stretching, meditating, or just simply for comfort.
Not into spin bikes? Try a cardio machine like a treadmill, elliptical, or rowing machine. These all provide a full body workout.
For adding intensity to any workout, simply add weights and start small. Use three pound weights, for example and then work up to five pounds at a time. You can also use a resistance band to really start challenging yourself. 
If you have the space, or are more experienced in terms of fitness level, you'll want to organize and safely stow dumbbells on a stand like this one. Also, a comfortable gym bench is a must for you and or your hubby for weight lifting.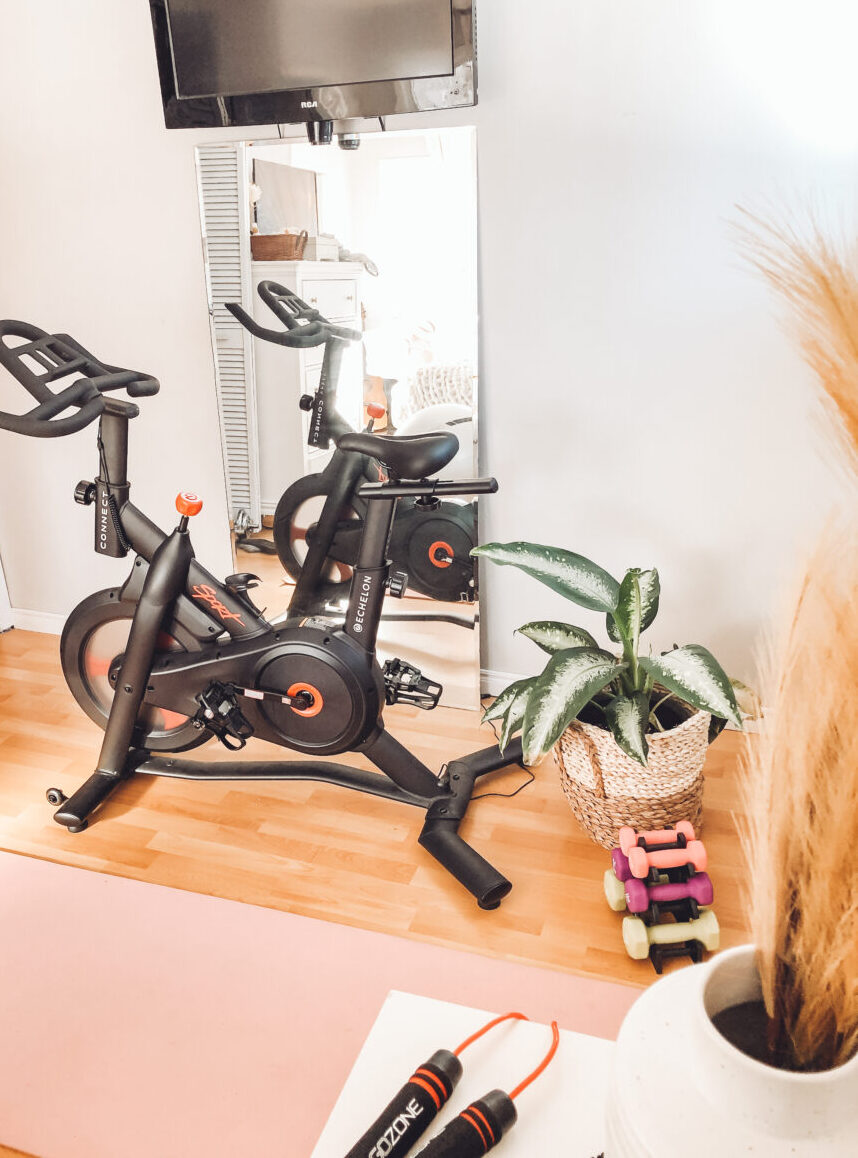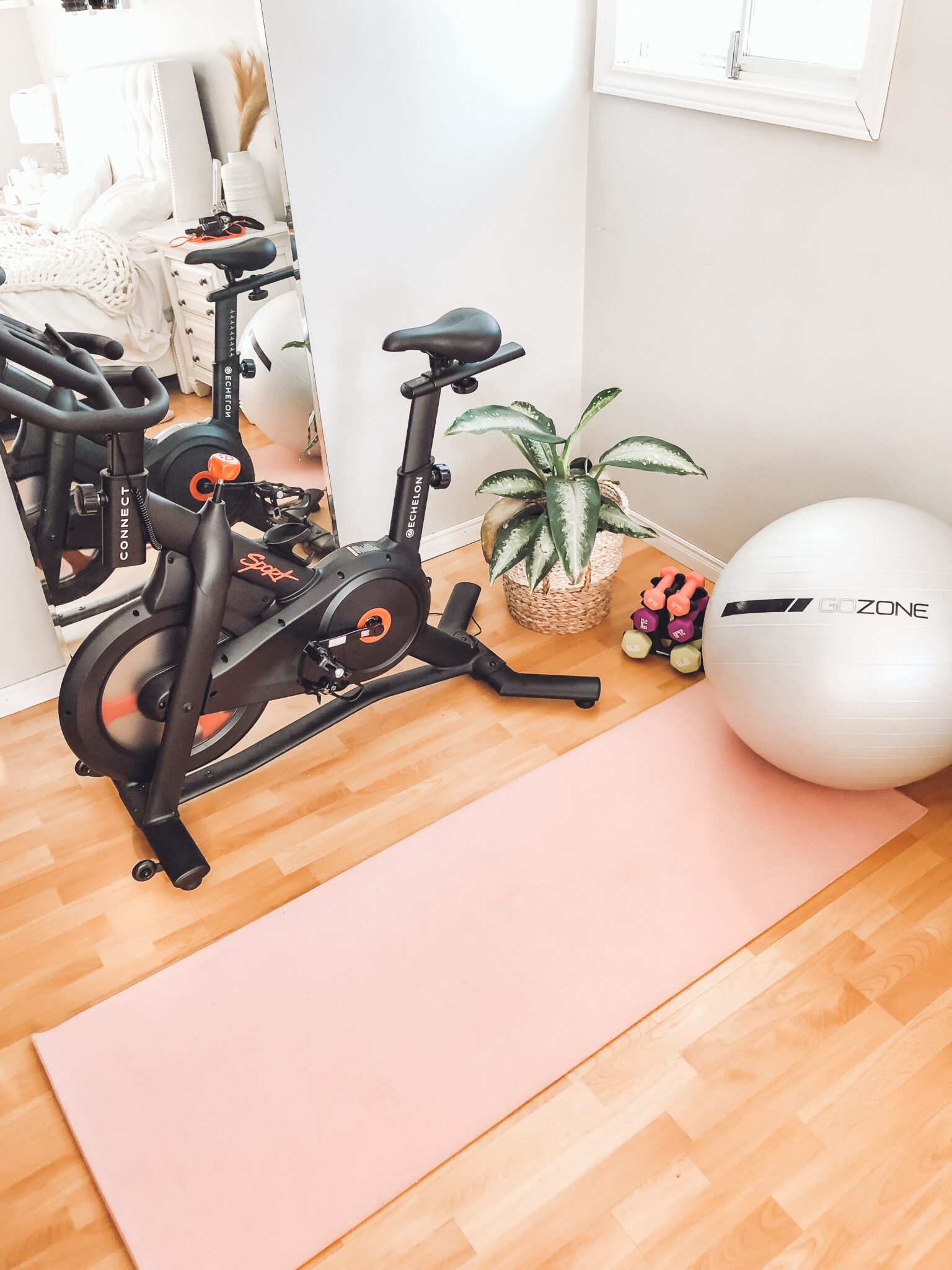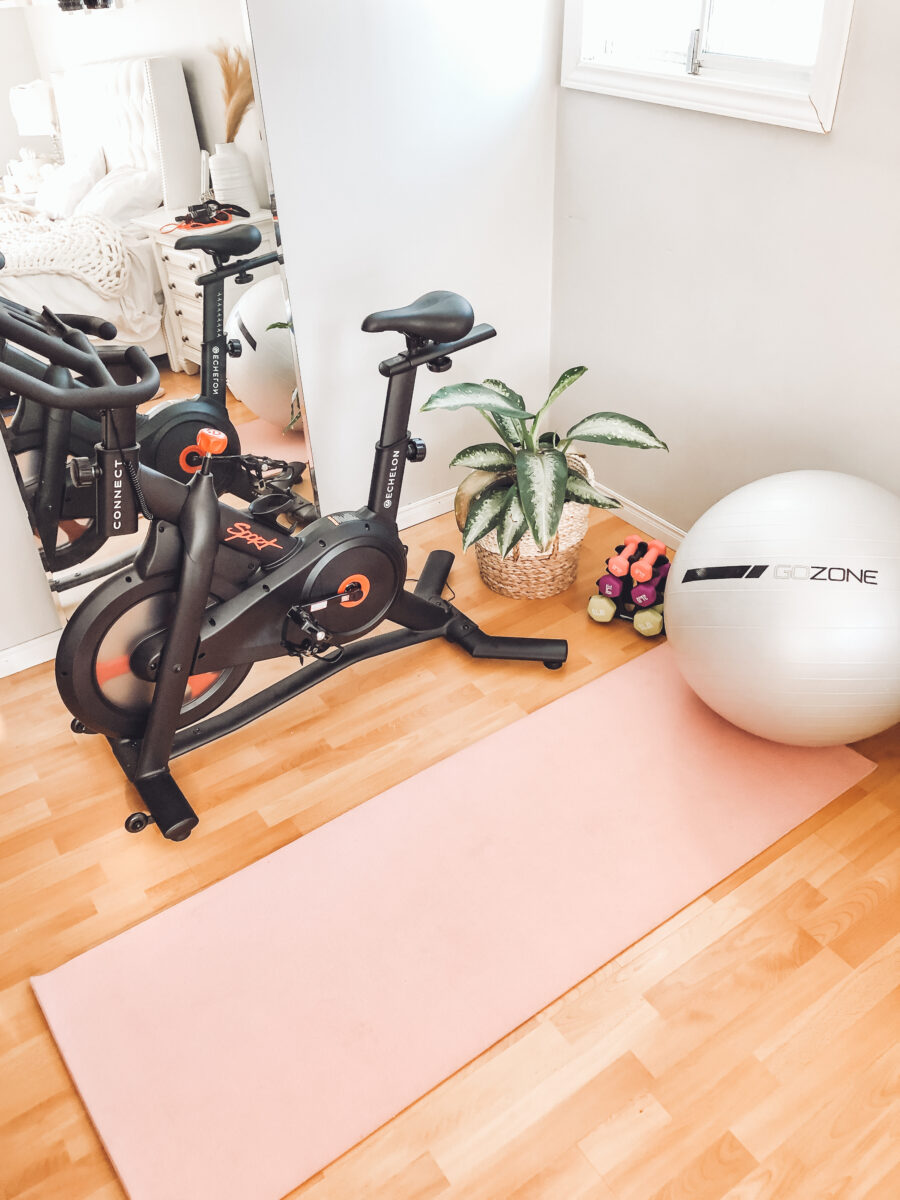 Room Details
Shop Furniture / Decor
Shop Equipment:
More on Health and Wellness:
Pin This Post!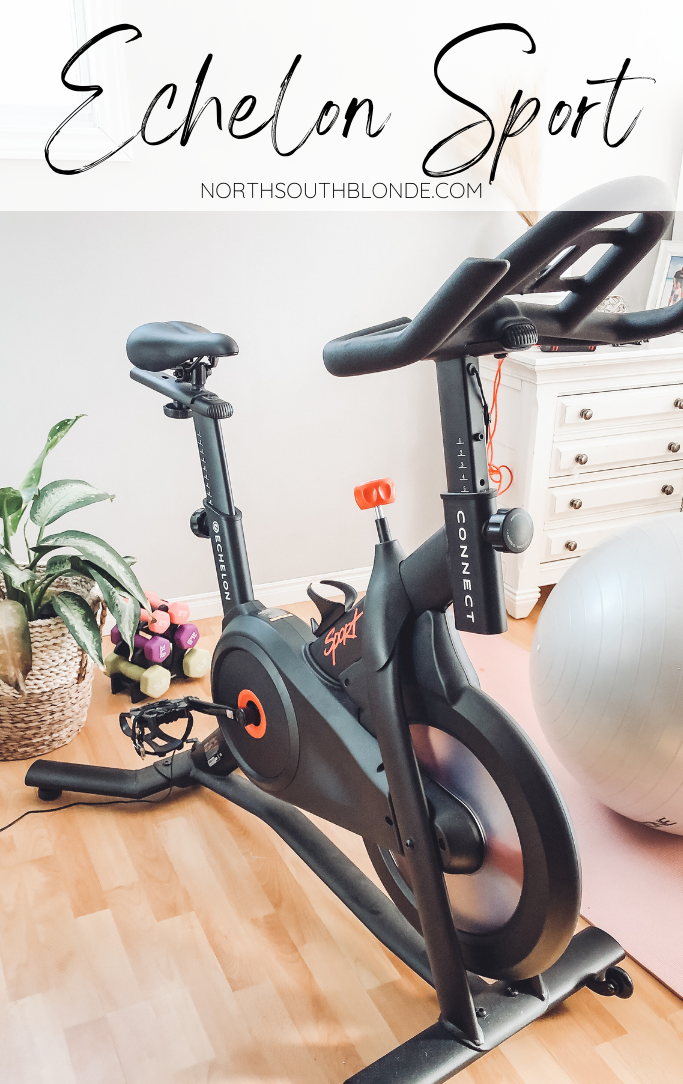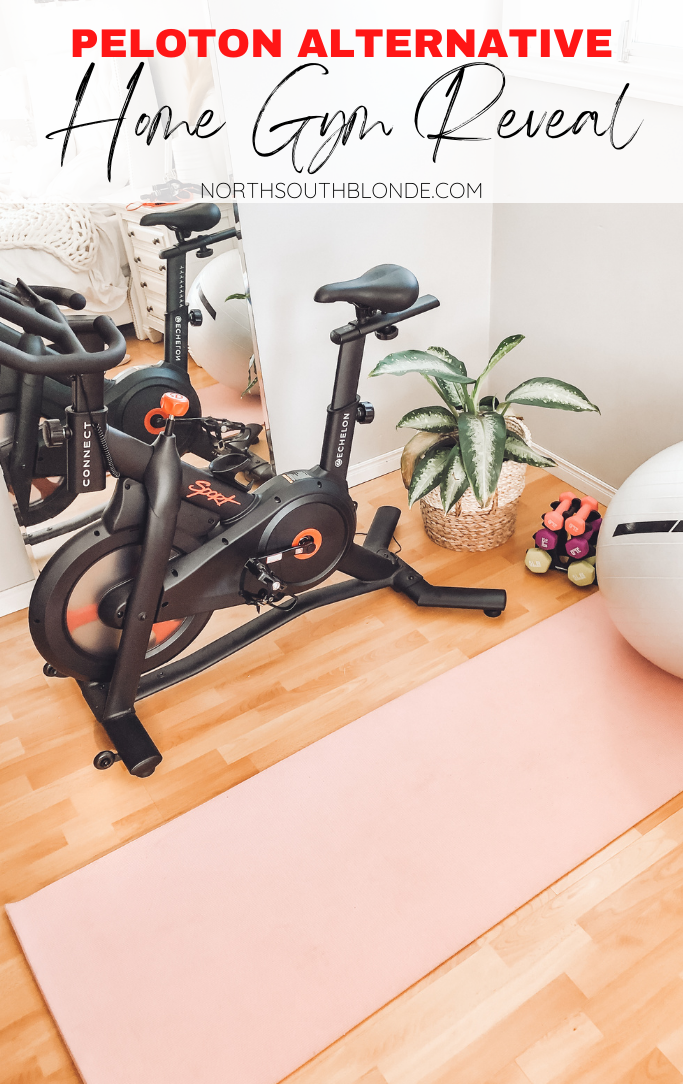 The post Home Gym Reveal – Peloton Dupe Alternative and Decor for Small Spaces appeared first on North South Blonde.