Line for (Picket) Line: How Authors Are Standing With the WGA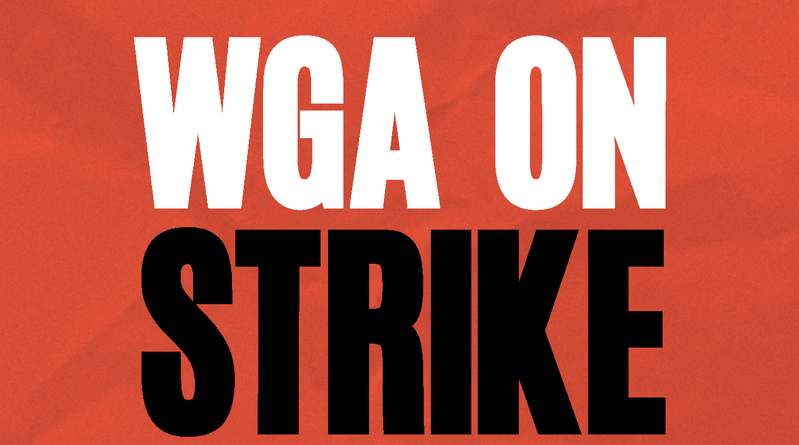 Editors note: Some comments were edited for length and clarity.
When the Writers Guild of America went on strike on Tuesday, May 2nd, authors were right there with them. Some joined the picket lines as card-carrying Guild members; some put projects they'd had in development with major studios on indefinite hold; some jumped into their group chat to make sure they were doing all they could to hold the line. Some, even, turned to their own organizing spaces to consider how to be in deeper solidarity with their fellow workers.
Because that's the thing: writers are workers, whether they're collaborating on a TV show in a writers room, trucking away at a novel alone in their home office, or hopping on a Google Doc (hi!) to report on both. So if anyone outside the WGA is going to understand why it matters to stand in solidarity with screenwriters as they strike not just for better working conditions, but for the very existence of writing as a real career, it's other writers.
"I've seen a lot of solidarity from fiction writers, prose writers, with the WGA," says author Steph Cha, who's been a Guild member since 2019 (the same year her most recent novel, Your House Will Pay, came out). "And I think part of that is it feels like the same battle—where the work that we do, because it is also an art form and it is also personally satisfying, gets treated like it's not work. I love writing TV, but it's very much a job. Yes, it's a craft. Yes, it's a passion. But it is also work, and I think it's valuable to have that work protected."
"I've always been really interested in how people not get screwed while trying to write," says Maureen Johnson, an author (most recently of Nine Liars fame) who's not in the WGA but was in the middle of talks on a new Hollywood project when the strike hit. "It's a business in which it's very easy to just be crushed. You're always one week away from disaster. I have some projects that are in development, and I have asked that everything stop until the strike is over. Unions work best when everyone chips in—you know, the power of collective action. We're all writers. It's not a deep read."
Writers are workers, whether they're collaborating on a TV show in a writers room, trucking away at a novel alone in their home office, or hopping on a Google Doc.
Ilana Masad, whose debut novel, All My Mother's Lovers, came out in 2020, and who's a member-organizer with the Freelance Solidarity Project (the digital media division of the National Writers Union—where, full disclosure, I'm also an organizer), is on the same page. "As someone who is organizing and working with FSP, I'm just pleased to see that writers' work is being discussed as something of value in the WGA strike, and that it's something people are getting behind," she says. "In terms of how it's affecting me? You know, I didn't get my John Oliver this week or last week because of the writers strike. But that is a very small price to pay for helping to be in solidarity with [other] writers."
This isn't to say that it's emotionally easy—or even logistically straightforward—for an author to be in solidarity with their fellow writers. Because while the Guild's Strike Rules are crystal clear about not just what it means to cross the picket line during the strike (i.e., writing, selling or developing literary material for, taking meetings with, or applying to internships or fellowships at any struck studios), but also what the consequences are for any writer found to have done so (eternal banishment from Guild membership), the writing industry itself is full of gray areas.
"I was in a lot of text groups with, like, Sam Irby and Carmen Machado [both Guild members] just trying to ask each other what we thought was right," says author Sarah Rose Etter, whose debut novel, Ripe, is due to hit shelves on July 11th. "I have not spoken to one writer who is not in full support. One novelist, one person, no one."
The challenge, then, has been understanding the rules around how to be in support. "Suddenly it became if I take this phone call, is it crossing a picket line? If I respond to this email, is it crossing the picket line? So for like three days, it was a wild ride of non-stop texting, reaching out to the WGA trying to figure out what am I allowed to do. And it finally got to a point where I saw a tweet that was like, instead of looking for loopholes, why don't you just… not? And it was such a relief to just be like, you know what? Cancel the meetings! I support what they're doing."
One person who both Cha and Etter turned to when the strike started was Amelia Gray, a novelist and WGA member who both writers named as a particularly inspiring colleague and union member to lean on these past few weeks. (And whose ability to down the writer-on-strike power meal of two hard boiled eggs and a cup of coffee immediately before our call was inspiring to me personally.) Gray, who's not a strike captain this time around but has been in negotiation years past when strikes were narrowly averted, is particularly good at bridging the gap between the rules and the spirit of the strike.
"The goal is to make the strike quick, and the best way to do that is to limit the availability of materials," she says. "And so to me, the difficult question that I think writers on the other side of the WGA are facing is, okay, I have a piece of IP, I've been working on it for years, I am motivated to sell it, [but] that runs counter to what the strike is about. The big idea is that nobody is offering up material to be sold, and nobody is taking those meetings, and that's where the collective [power] comes in."
That said, Gray stresses that writing at home, for yourself, isn't crossing the picket line—a sentiment that's reflected in the official Strike FAQ (and by fellow Guild members). "I don't think that anybody can stop you, or should stop you, from writing alone in your room," she says. "That's the beautiful thing about writing: you can continue to generate and create ideas and thoughts and to work because your work is your own. I think that's actually the backbone of the action, is that your work is valuable, and it's yours."
If this all feels more than a bit existential, that's because it is: in its official strike announcement, the WGA underscored that between the increasing gigification of screenwriting and the looming labor threat posed by advancements in generative AI technology, this is a fight for the very existence of screenwriting as a viable, stable career. The potential outcome of which is harrowing.
"One of the reasons I do screenwriting, and that I think a lot of fiction writers turn to screenwriting, is that it's one of the only forms of writing that is a steady living," explains Cha, whose first big TV project, a spy drama called Butterfly, was officially ordered to series by Amazon Prime Video on May 23rd, and is now on hold until the strike is over. "It feels destabilizing to me, both as a TV writer [and] also as a novelist, to have that under threat. It feels very existentially threatening to every form of writing to have the most lucrative and most widely recognized form of it become so tenuous."
That said, when there are already so few paths to having a stable career as a writer, the prospect of losing this one has also proved to be galvanizing.
"It's funny," says Gray, "I was picketing with a friend of mine, and she said, If you're not having an existential crisis right now, you're doing it wrong. And there is some of that! But I simultaneously feel the most solidarity I've ever felt with my fellow WGA writers and workers. It's so refreshing to come together and pick our heads up and realize that we all have a lot of the same worries and concerns and fears and thoughts about the future. The antidote to that kind of existential fear is pretty well cured when I go on a walk with a thousand people who feel the same way."
Novelist Emily St. John Mandel agrees. "I've been going to the picket lines as often as I can," she tells me by email, "and I've been struck by the camaraderie and resolve I've seen there. None of this is easy. Like everyone, I want the strike to end tomorrow so I can go back to doing the work I love. At the same time, my experience of the picket lines has been that it's actually inspiring to be surrounded by so many people who care so deeply. These are not people who are going to give up."
That inspiration extends to the potential knock-on effects this strike might have on other sectors of creative labor. Every author I spoke with is optimistic about what other unions might feel inspired to take on in the wake of the WGA strike, from developing better defenses against the encroachment of generative AI to potentially joining strike forces with SAG-AFTRA later this summer to, even, organizing writers and other non-unionized creative workers beyond the WGA.
When there are already so few paths to having a stable career as a writer, the prospect of losing this one has also proved to be galvanizing.
"I feel like we have so forgotten the power of organized labor," says Johnson. "You know, when I was a kid, like around my neighborhood, it was considered sort of a dirty thing. And then my mother got into a union—she was a school nurse—and she was like, Oh, it's an amazing experience. But I never grew up in a place where we were educated about the power of unions."
"My first job ever was a union job," says Cha. "It was at a public library. And I was only vaguely aware of what that meant. But I do know I worked there for a year when I was in high school, and I got like three raises without doing anything, so it was like, Oh, this is cool! I'm not an organizer, but I do think a lot of unions exist to take an atomized population and give them a shape, and I could see that being very useful for novelists. I don't know that we have the bargaining power that screenwriters do, but then again, we face a lot of the same problems. I would vote to unionize, if that were a thing we could do."
Masad, who's already organizing writers beyond the WGA, agrees. "I think we're in a time where unions are becoming a goal for people, which is very encouraging to me," she says. "The fact that there was so much author support for the HarperCollins union strike, and all of those meme accounts [XOXOpublishinggg, Publishers Brunch] that started as literary memes are now pro-union memes. There's just more of a public sense of solidarity these days."
In the end, it was this bubbling sense of solidarity that each author kept coming back to.
"I do think there's something much bigger at stake for anything that involves the written word," says Etter, explaining why it needs to be solidarity all the way down. "And it sucks in some ways: I've been waiting my whole life to sell movie rights for a novel, and I finally got to the point of like, I have the agent, and I have the material. We put it out on submission the week before the strike, I suddenly started getting interest, and then it stopped cold. And so both things are true: it breaks your heart, but you know you're doing the right thing. I can be a baby for two days about the fact that I have to put my plans on hold, but the big picture is this is the right thing to do long term."
For the authors out on the picket line, that solidarity is everything.
"I can't go up against Ted Sarandos [alone]," says Gray. "But when I'm out [picketing] in front of Netflix, I feel like I have a louder voice, because there's a thousand people out there. I've been really heartened this [contract] cycle to feel the solidarity. It just feels very good."
_______________________________
Picket schedules and locations can be found here, and the social media toolkit is here. To support non-Guild workers impacted by the strike, donate to the Entertainment Community Fund here.