Panel discussion: "From Vincent Chin to #StopAAPIHate: Helen Zia and 40+ Years of Asian American Activism"
To observe the first anniversary of the shootings that targeted Asian American women in Atlanta and the 40th anniversary of the killing of Chinese American Vincent Chin by white autoworkers, Vanderbilt's AAPI employee affinity group will host an in-person event with author and activist Helen Zia, 12:30–2 p.m. March 24, on the second floor of The Commons Center in the Multipurpose Room.
REGISTER HERE

for "From Vincent Chin to #StopAAPIHate" with Helen Zia.




The event is free and open to the public.
March 16 marked the one-year anniversary of the day a 21-year-old man went on a shooting rampage at three spas in the Atlanta area, killing eight people—six of them women of Asian descent. The shootings stoked outrage and fear among Asian Americans, who were already experiencing discrimination, racism and hate crimes related to the COVID-19 pandemic. 
Zia's 2001 book Asian American Dreams: The Emergence of an American People explores in part Chin's case and how it became a defining moment about civil rights and race in the United States.
Other participants in the event include: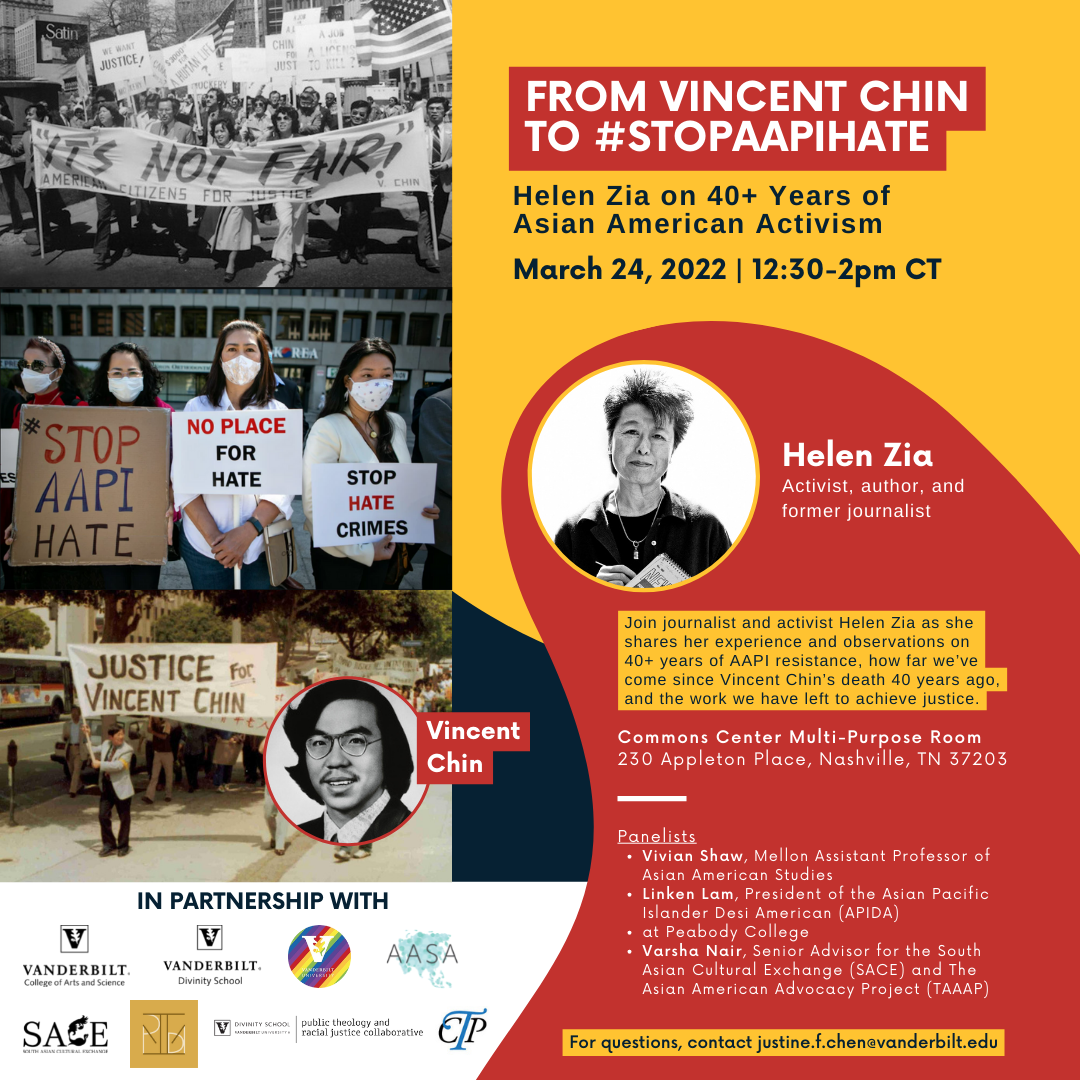 About Vincent Chin:  
Chin, 27, was at his bachelor party in Detroit on June 19, 1982, when two white autoworkers attacked him with a baseball bat. The workers blamed Chin for problems in the U.S. auto industry that had been fueled by a recession and by an increasing number of Japanese auto manufacturers. Chin died four days later. His killers negotiated a plea bargain for manslaughter; they were sentenced to three years of probation and ordered to pay a $3,000 fine. They never served jail time. 
Chin's case, which predated hate crime laws, raised questions about the American justice system and galvanized the AAPI community to participate in civil rights conversations.  
About Helen Zia:
The daughter of immigrants from China, Zia has been outspoken on issues ranging from human rights and peace to women's rights and countering hate violence and homophobia. She is a Fulbright Scholar and a graduate of Princeton University's first coeducational class. She attended medical school but quit after completing two years, then went to work as a construction laborer, an autoworker and a community organizer—after which she discovered her life's work as a writer. 
The event is co-sponsored by the College of Arts and Science (Asian Studies Department), the Cal Turner Program for Moral Leadership in the Professions, Public Theology and Racial Justice Collaborative at the Vanderbilt Divinity School, K.C. Potter Center, Office for Equity, Diversity and Inclusion and the following student-led organizations: Asian American Student Association, South Asian Cultural Exchange, Peabody APIDA and the Asian American Advocacy Project.