This Target Planner Is Already Helping Me Reach My 2023 Goals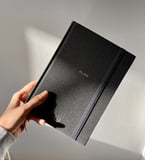 I have a lot of goals for 2023, but improving my productivity by far lands on top. As someone who works from home, the inescapable blend of work and home life can get the best of me. There's no one-size-fits-all answer to solving this, but as a visual learner, a weekly and monthly planner seemed to be worth the investment. I sifted through dozens of planners online in search of the best one for my lifestyle, and after a few recommendations from influencers I follow, along with some from my friends, the Wit & Delight Black Linen Planner ($20) at Target seemed to be an obvious choice. After owning it for almost a full week, I can say that it's already made impactful changes to my life.
What I Like About the Wit & Delight Black Linen Planner
Where do I begin? This planner does it all - not only in the organization department but mental health wise, too. The 12-month planner comes with guided journal prompts, goals, focus items, and hopes for each month. It has note pages that give you the freedom to speak your mind and monthly check-ins where you can keep track of goals you've set along with your takeaways. While I haven't gotten through a whole month of using this planner, these details have already helped me in ways unimaginable. I enjoy that alongside tracking my professional progress, I can track my personal goals as well. The planner includes weekly and monthly calendars that allow me to look at what I have in store and view what tasks I've completed. So far, this organizer makes me feel on top of my day-to-day life, and I enjoy that it also prioritizes my wellness.
Finding a planner that holds my entire year's schedule and feelings was huge, but it was equally as important to me that it be aesthetically pleasing. Thankfully, this Wit & Delight planner is both. I love its linen cover, ribbon bookmarker, and simplistic design. It's high quality and looks especially great displayed on a desk.
What's Worth Noting About the Wit & Delight Black Linen Planner
This planner has everything except for a place to store your pen. It's a great size and is formatted nicely, but if you're on the go and need to jot down a note quickly, there's no binding or special place to store a writing utensil. This, of course, isn't a big deal, but if you're looking at the $20 price tag hoping that it includes everything, it's worth noting that it contains everything but that.
Who Is the Wit & Delight Black Linen Planner Best For?
This planner is built for both wellness check-ins as well as organizing day-to-day tasks. It's great for the remote worker, the person who commutes to the office every day, or anyone who wants a combination of a journal and planner. However, if you're looking for a more straightforward option, this might not be the planner for you. It includes all the bells and whistles, but for someone who wants a planner for the sole purpose of scheduling out their week and month, there are other agendas better suited for the job.
Additional Details
The Wit & Delight planner is both weekly and monthly.
It contains adhesive tags that allow you to keep track of important dates.
Linen-bound, this planner feels high quality.
Its size is 6.25 x 8.75 inches, making it perfect to rest on a desk.
Rating