Walk-in Closet Investment: 7 Must-Know Benefits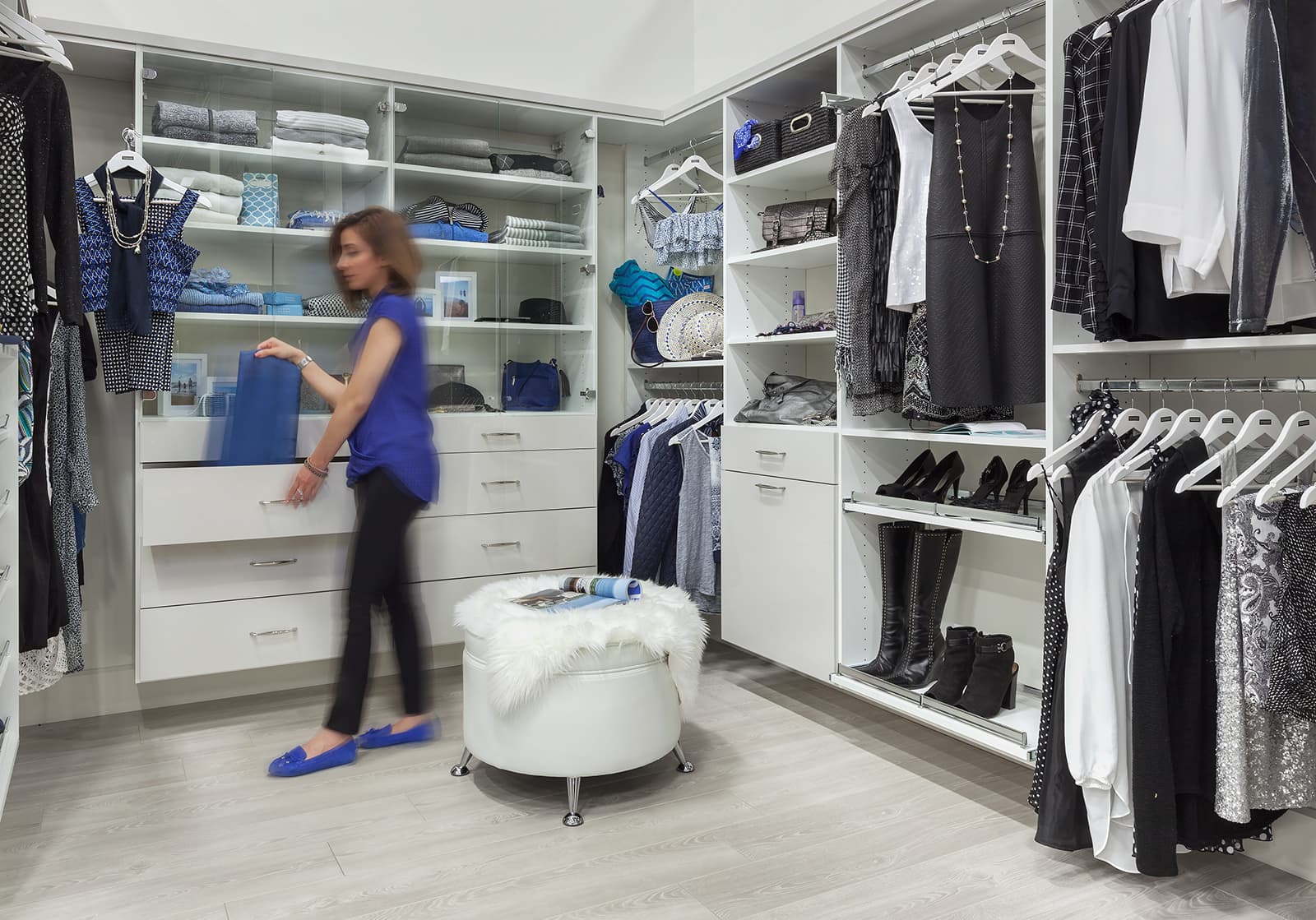 The best home improvement projects improve your quality of living and have a good return on investment. A walk-in closet investment provides both of these benefits.
More homeowners are learning that walk-in closets can significantly enhance our living spaces.
Storing clothes and accessories isn't the only thing walk-in closets are being primarily used for, either. Walk-ins also serve as luxurious, personal home sanctuary spaces that can fundamentally change your daily dressing routine, too.
Walk-in closets have also become an in-demand feature for homebuyers who want more storage room and functionality from their prime bedroom's closets. 
The ideal home for 59% of Canadian homebuyers includes a walk-in closet, according to a recent survey by real estate marketplace Zolo.
7 walk-in closet investment benefits
A survey by House Digest found that the most preferred type of closet for 79% of homeowners is a walk-in closet.
Whereas walk-in closets were once viewed as a niche amenity found almost exclusively in mansions, they're more commonplace nowadays. Homes of all sizes and property values now include walk-ins.
Walk-in closets also have much more mainstream appeal nowadays because we see them so often on TV and streaming makeover shows, social media, and interior design websites.
Let's find out why this home design trend is so popular and what benefits a walk-in closet investment provides.
1. Walk-in closets solve storage issues
We own so many things that it's harder than ever to stay organized. Recent data from Statista shows that the closets of consumers worldwide had an average of 136 apparel items in them.
Untidy closets tend to spill over into the main bedroom area. They're also more frustrating and time-consuming to use because it's harder to locate specific items in the closet. One reason clutter and disorganization cause so much stress is that it makes us feel like we're not in control of our environment.
Has it been years since you last saw the back wall of your master bedroom's overstuffed reach-in closet? If so, here's how a walk-in closet can be a wardrobe organization game-changer:
the ample space comfortably fits your entire wardrobe
walk-ins can be optimized for maximum storage efficiency
custom closet systems allow for superior organization
you can give each clothing item a proper home
everything you own is viewable at a glance
establish organization systems that work best for you and are easy to maintain
sharing a closet with a partner becomes easier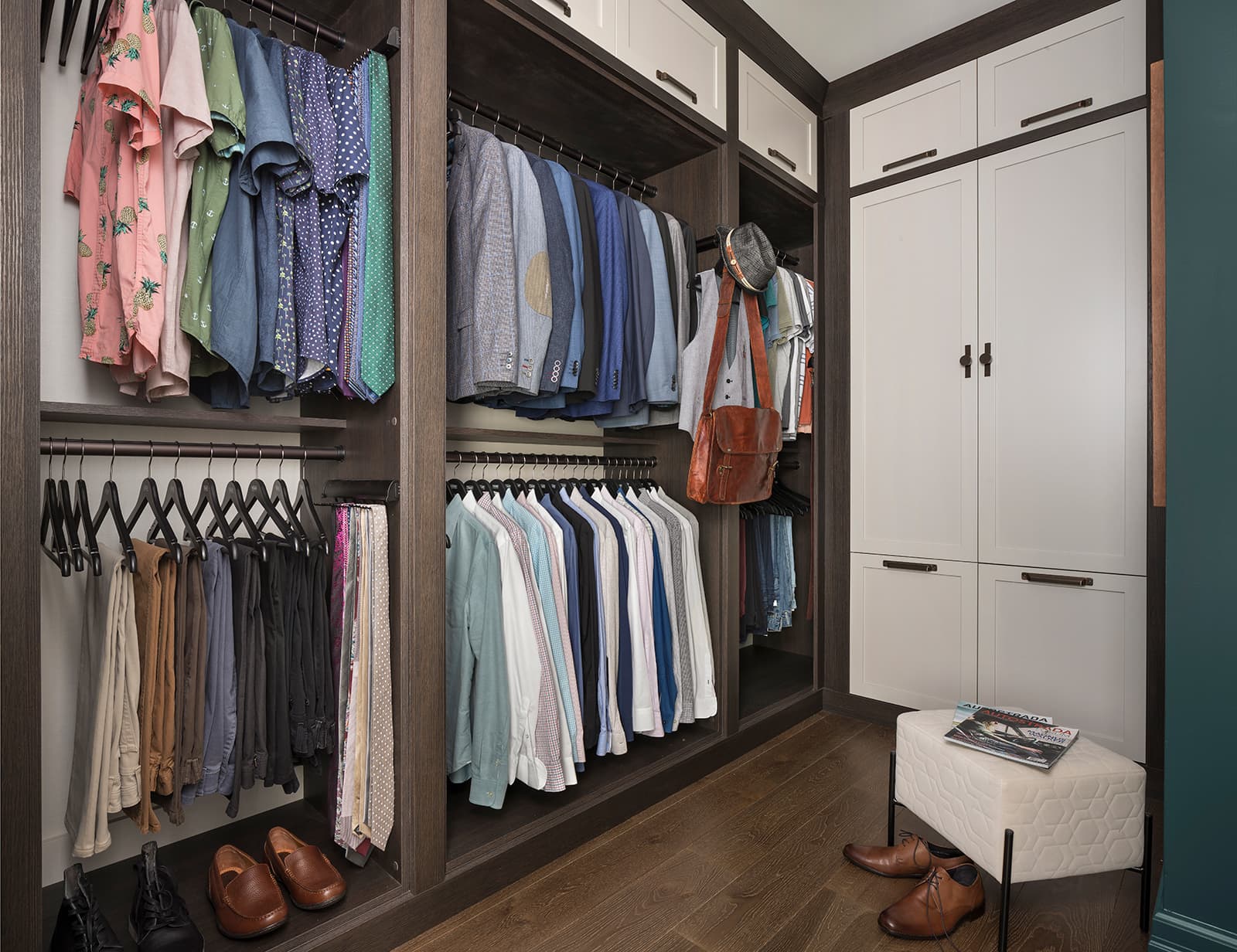 2. A walk-in closet investment boosts your home value
Smart homeowners considering a renovation project cast an eye toward the future and how their investment can pay dividends later on.
Architectural Digest recently analyzed the National Association of Realtors' annual Remodeling Impact Report. Their article lists the best interior remodeling projects for return on investment percentage. Here are the top five results:
Hardwood flooring refinish (147%)
New wood flooring (118%)
Insulation upgrade (100%)
Basement conversion to living area (86%)
Closet renovation (83%)
Remodelled closets have such an impressive return on investment and stand out to homebuyers for a few reasons.
For starters, most homes have fairly basic closets. In a lot of cases, not much has been done to update a master bedroom's builder closet. Some may contain little more than a single rod and shelf. Naturally, a spacious, stylish walk-in closet with premium functionality will look positively heavenly in comparison! 
A homebuyer who sees a tidy closet with plenty of storage capacity and practical functionality will envision how nice the space would be to use for themselves.
And the more luxurious a walk-in closet is, the more its "wow factor" goes up. A well-appointed walk-in tells potential buyers that you have high standards for your living space, which leaves a positive impression.
Walk-in closets with the right upgrades and high-quality materials don't just give your home a competitive edge to help it sell faster, it can boost your selling price, too.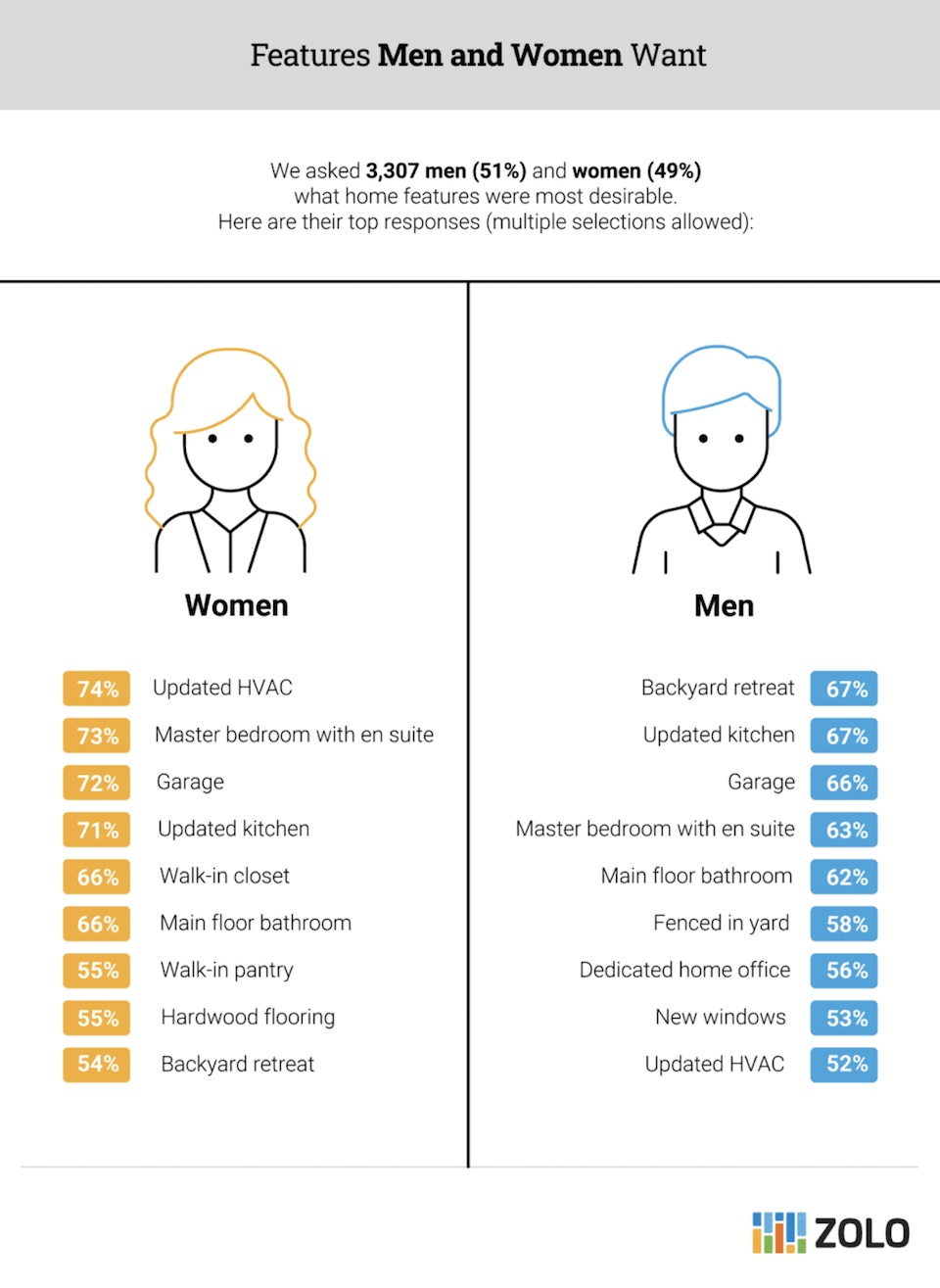 3. Customize your walk-in closet design
The ample space available in a walk-in closet allows you to design to your heart's content. It can be as simple or elaborate as required. 
Here are some popular walk-in closet ideas worth considering for your custom design:
enclosed cabinetry
dresser-style drawer towers
open shelves with dividers
extra hanging rods
a tiered or pullout shoe rack
pullout laundry hampers
closet accessories like valet rods, pullout pant racks, and jewellery drawer inserts
Why custom closets are worth it
The beauty of custom closets is that you have a lot more design options compared to off-the-shelf closet organizing systems. You're not limited by the "one size fits all" philosophy that comes with buying mass-produced closet organizer products.
Organized Interiors' Classic and Monogram closet systems are ideal for walk-in closets. Choose from hundreds of options for cabinetry finishes and decorative hardware. The widths, depths, and heights of everything in your walk-in closet can be tailored to your specifications by our designers.
Yes, custom closets do cost more than DIY closet organizers, but for a good reason. As you can imagine, custom-designing, manufacturing, and installing a walk-in closet takes time.
The higher-quality materials that are used also increase the cost, but the result is a far superior product compared to budget-friendly walk-in closet systems. All of these details factor into how much you'll recoup from a walk-in closet investment.
4. Create a luxurious home space
Walk-in closets are often designed with luxurious aesthetics in mind to produce stylish and upscale spaces to showcase your wardrobe and accessories. 
Professional closet design companies like Organized Interiors can create bespoke walk-in closets with as many luxury features as you need.
Depending on your budget and requirements, it's possible to create a home showpiece that inspires closet envy. If this is your goal, our fully customizable Monogram closet system is exactly what you're looking for.
Lighting upgrades will improve the space's functionality and can significantly impact the luxurious look and feel of a walk-in closet. Touches like adding an elegant chandelier and dynamic accent and ambient lighting features create a chic, boutique-style aesthetic.
Consider some of these other additions to help you style up a luxury walk-in closet:
a centre island
luxurious countertops
a makeup vanity
a comfy chair or bench
décor features such as crown and base moulding
cabinets with glass doors
full-length mirrors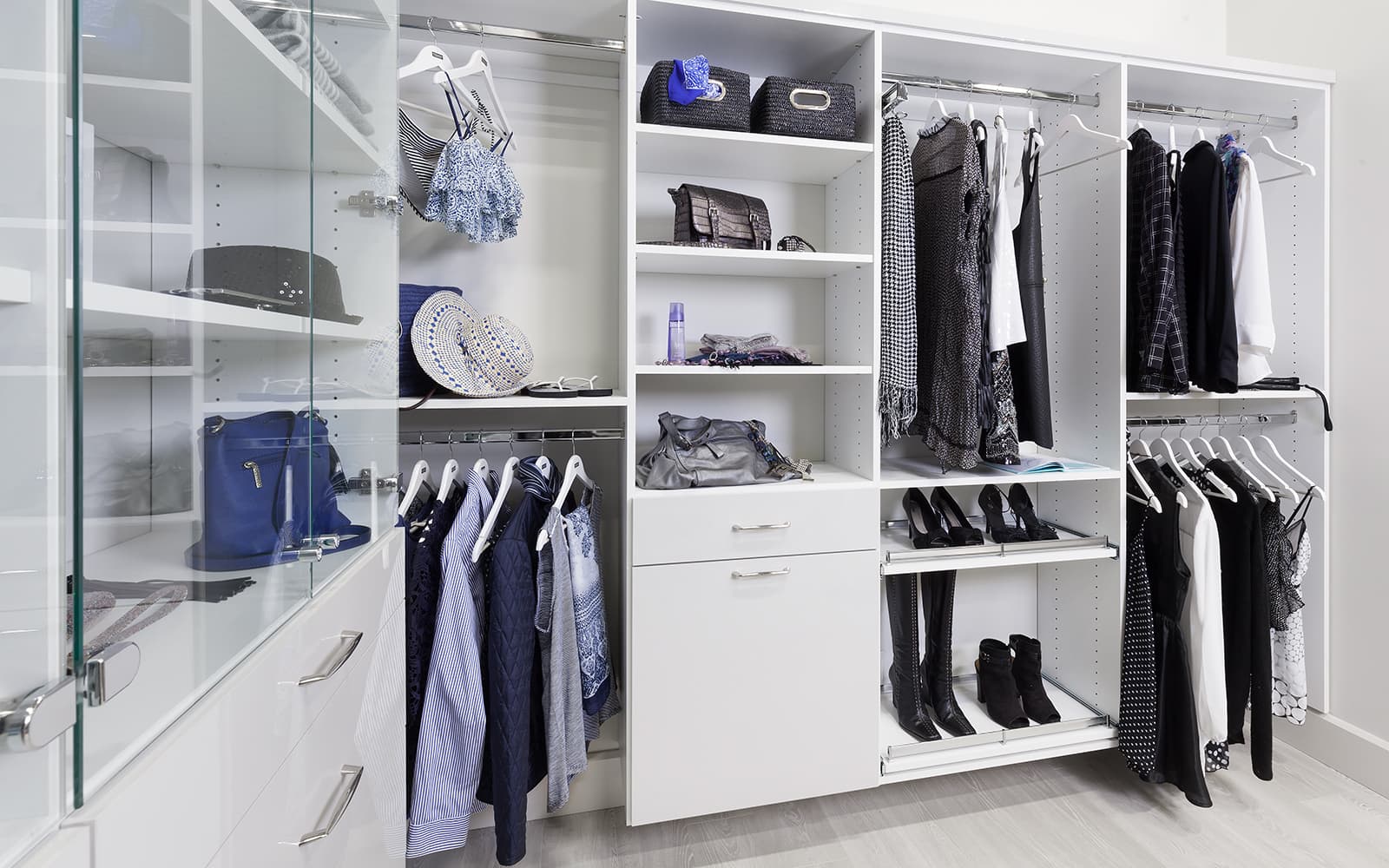 5. Enjoy the comfort of a dressing room
Let's expand on one of the walk-in closet investment benefits we've briefly touched upon: using it as a dressing space.
Having an all-in-one home area where you can store your wardrobe, get dressed and undressed, and do your makeup, hair, and grooming is invaluable.
A dedicated home dressing room becomes a personal sanctuary that provides privacy, comfort, and convenience.
The efficiency of your morning routine will improve and you'll waste less time getting ready for work. This fosters a positive mindset and sets a better tone for the rest of your day.
At the day's end, you'll appreciate having a personalized, cozy, and tranquil space where you can unwind and reflect on your day.
6. Closet renovations "spark joy"
Another reason a walk-in closet investment is worth it is because closet renovations are one of the most satisfying types of remodeling projects homeowners can do.
The Remodeling Impact Report's "Joy Score" measures the enjoyment homeowners get from their remodels on a scale of 1 to 10. Closet renovations, along with a few other types of projects, scored a perfect 10 out of 10 for interior renovations. That's higher than popular home improvement projects like bathroom and kitchen remodels.
A recent Today's Homeowner study found that 39% of people who renovate do it to increase their enjoyment of their home. And 93% of homeowners who did a renovation felt their quality of life was better afterwards.
There are so many benefits of having an orderly walk-in closet with easy grab-and-go functionality, so it's no wonder that homeowners love what a revamped closet space offers.
7. Make better use of a spare room
One more practical benefit of adding a walk-in closet is that it gives a spare room more functionality. Having an empty room in a home is nothing more than wasted space. An underused room doesn't make the most of your home's square footage, either.
The best location for a walk-in closet is in a spare room adjoining the master bedroom (or across the hall from it). Another benefit of using a spare room is that it allows you to take advantage of its natural light.
The room doesn't have to be huge because you can do a lot with a walk-in closet design in a smaller room.
For some people, converting an entire room into a closet may seem extravagant and impractical. Keep in mind, however, that a walk-in closet with built-in storage allows you to get rid of bedroom furniture like a dresser and wardrobe.
A walk-in closet can even be designed to incorporate a home office space. As more people find themselves working from home, the cloffice has become a practical way to get more functionality from our living spaces. Learn more about a cloffice and whether it's right for your home.
Bring your walk-in closet ideas to life!
A walk-in closet investment transforms your master bedroom closet from ordinary to extraordinary.
Organized Interiors has walk-in and reach-in closet solutions to fit your style and meet your organizing needs.
Schedule a free design consultation with one of our design professionals to experience for yourself the enjoyment of owning a beautiful walk-in closet.
Please share this post if you found it useful.
See also: