What to Expect When Working with a Top Shelf Professional Organizer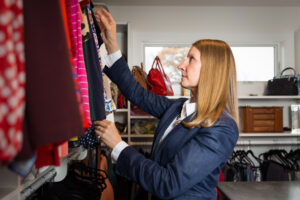 Welcome to Top Shelf Home Organizing. Are you ready to feel the freedom of an organized home and office? You deserve to have a home and office that is as organized and productive as it can be. You are busy, we understand. We are here to help you achieve, what you dream your space can be. It is time to stop sifting through the clutter to find what you need.
We can't wait to work with you!
Professional organizing may be brand new to you. So we are sharing what the journey of hiring a professional organizer looks like. At Top Shelf Home Organizing, we take the time to get to know you, your space, your schedule, your lifestyle, and your personality before coming into your home or office. Our goals are to teach you simple solutions for your home, office, and life.
Here are the six steps to expect during your experience with Top Shelf Home Organizing. 
Intake form
The form will be emailed to you shortly after your initial contact with us. It is designed to give you a chance to think about your true organizing goals and challenges are. The intake form is a preliminary understanding of the extent of your organizing needs and the people involved. Once this form is complete and returned, we will set up a phone call.
Phone Call
A 30-minute casual phone call will further identify your organizing goals and help us to get to know each other. This call will determine the extent of your organizing project, materials that may be needed, the timeframe of the project, and the number of organizers needed to complete. We will go through the intake form in depth.

On-Site Consultation
An on-site consultation will give us the whole picture of your space and allow us to meet one-on-one with each other. On-site we will finetune the project scope and goals while getting familiar with your space. We will take measurements and photographs, and create a list of materials if products are required. The on-site consultation lets us understand what is behind the scenes to better address your goals.
On-Site Organizing Sessions
The on-site organizing sessions are where the physical work takes place. The five basic steps of organizing will happen. Some people like to work side-by-side with us. Others may prefer to direct us on what to do and remain hands-off. Many people choose to be available for questions and occasional decision-making but continue to go about their daily lives and work. Often, once a relationship is established, the organizers work independently in this phase.
The steps to organizing a project of any size include: 

Gather –  All items are removed from current storage.

 

Sort – Items are sorted by category.

 

Purge – Items no longer wanted, needed, and liked are donated, disposed and recycled.

 

Organize – Items are organized into systems that fit and work for you.

Label – All items are clearly labeled for ease of locating and returning to storage.
Homework
There may be tasks you prefer to complete on your own, independent of help from the organizers. Some choose to do this to make the project more economical. Other times, people want to go through items that are more personal on their own or with their family. We create a detailed, but a simple list of items that you can complete on your own, in between sessions with the organizer.
Follow-Up
We love to know how the new organization is working for you. We will touch base within a few days of the on-site session to discuss how the organization is going. This time is designed for you to give feedback and ask any questions you may have. We will also check in on any homework you may be working on. This is a great time to schedule future sessions to keep you meeting your goals and maintain what has been organized.  
Top Shelf Home Organizing Policies
On-site consultations are $50. Reservation fees are $50. Both fees are credited to your service. Payment is due in full at the end of each on-site organizing session. 
A cancellation fee of $50 applies to all cancellations and reschedules with less than 24-hour notice. 
Refer someone to Top Shelf Home Organizing and receive 10% back in organizing services. Credits are earned for the first six months of services after referral. Credits are redeemed at a $75 per hour rate. 
Top Shelf Home Organizing, LLC
Simple. Life. Solutions.
Jayme Radomski, Owner
262-373-9416
Jayme@topshelfhomeorganizing.com
topshelfhomeorganizing.com
facebook.com/topshelfhomeorganizing youtube.com/channel/topshelfhomeorganizing pinterest.com/TopShelfHomeOrg
instagram.com/jaymeradomski
linkedin.com/in/jaymeradomski