Wooden cutlery tray for kitchen, Cutlery holder set for table, Small silverware natural wood organizer, Farmhouse rustic oak cutlery box by PromiDesign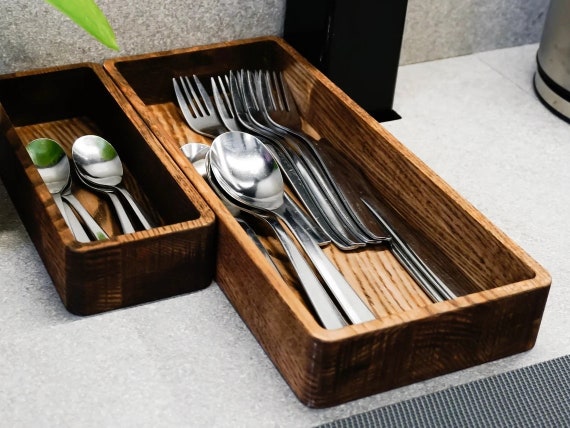 27.97 EUR
Meant for storing cutlery, spoons, knives, and forks. It will also be great for storing and organizing small items in an office or room, and it will also be a great box for children to store everyday things- pencils, pens, and small things like that. The boxes are solid, made of one piece of wood. Glue is not used while making these boxes. Suitable for use with food.

Measurements:
- Small box: 7.8x3.7x1.6 " - 20x9.5x4 cm
- Big box: 11.8x5.11x1.6 " - 30x13x4

Available colors:
- Brown
- Natural (not painted ashwood)

Materials:
- 100% Natural Ashwood
- Protective lacquer
- Brown Paint (Optional)

Weight:
- Small box: 0.3lb - 150 g
- Big box: 0.6 lb - 270 g

𝗪𝗲 𝗣𝗿𝗼𝗺𝗶`𝘀𝗲 𝗬𝗼𝘂 𝘄𝗶𝗹𝗹 𝗹𝗶𝗸𝗲 𝗶𝘁!