Work from Home Gifts for Executive Productivity
If your executive significant other, friend, or relative is still working from home (and plans to continue), you might be stumped on what kind of gifts you can give them to help them be more productive and happier in their home office. We scoured the web to find the best gifts that do both. These are practical items that may not be flashy (some are!), but the recipient will thank you for them every day.  
Work from Home Gift: Noise Canceling Headphones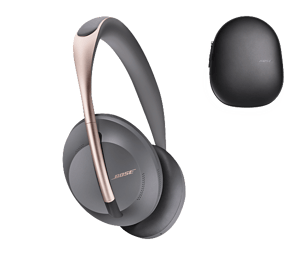 Spending all day in the same place, people start to notice every little sound, inside or outside the house.  
Noise-canceling headphones do what the name implies—block out noise that is not coming from what is connected to the headphones. Noise-canceling helps people stay focused and get more done without distractions, whether listening to music, podcasts, or meetings.  
They will also be the coolest person on the plane on their next flights.  
Who makes the best noise-canceling headphones? According to reviewers at The Wire Cutter (New York Times) and Tech Radar, the Bose 700 and the Sony WH-1000XM4 top the charts and cost between $200-$400. These are over-the-ear models that contain sound better than wireless buds.  
The Bose and Sony models do not feature microphones. The top-rated noise-canceling headphones with a high-resolution mic for those Zoom meetings are the Jabra Evolve 75.  
Work from Home Gift:
White Noise Machine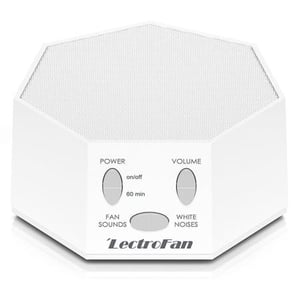 If you cannot afford pricey headphones, give a white noise machine to drown out distracting noises from your executive's office. An Amazon favorite (and recommended by the Wire Cutter review site) is the Lectro Fan Evo. It doubles as a fan and noise machine.  
The Lectro Fan has ten speeds and has options for pink and brown noise too. Did you know noises come in assorted colors? Pink is louder and higher-pitched than static white noise, while brown is deeper and louder.  
Work from Home Gift:
Lumbar Pillow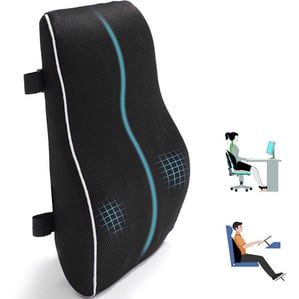 It is hard to be productive when your back hurts. Sitting in a chair all day can wreak havoc on your posture and your lower back. A lumbar support pillow may not be the sexiest gift in the world, but it can be a lifesaver for weary executive desk warriors.  
Qutool makes the top-rated pillow on Amazon, and it doubles as a lower back and upper back pillow, depending on how you place it on your chair. Two for one!  
Work from Home Gift:
Portable Laptop Desk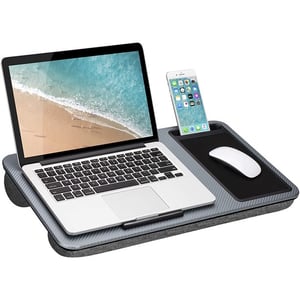 People get tired of sitting at desks. A change of venue can do a world of good for their productivity. A portable laptop desk can help your recipient work efficiently from a sofa, bed, or anywhere else.   
The Lap Gear Home Office Lap Desk with Device Ledge, Mouse Pad, and Phone Holder has, as the name implies, everything you need to work from anywhere in the house, taking your mouse, phone, and other office accessories with you. It is an Amazon bestseller and top-rated by New York Magazine.  
Work from Home Gift:
Raisable Desk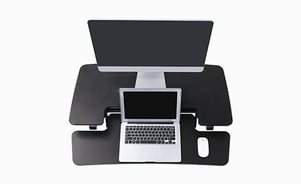 Speaking of desks, standing desks are all the rage. If your giftee is deciding between a traditional or standing desk, we have the answer: give both. The Flexispot standing desk converter does what it says, converts a sitting desk into a standing desk by lifting a lever that triggers hydraulic cylinders to raise the desk.  
The desk has an adjustable keyboard/laptop tray and comes in multiple sizes for those that need room for two monitors and other accessories for the desktop.  
Work from Home Gift:
Snack Subscription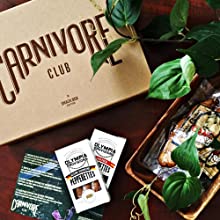 Do snacks enhance or impede productivity? We say enhance! A treat lightens the mood, and a healthy one will provide much-needed afternoon energy. Who said you need to come to the office for free snacks? You can be a snack fairy for your friends and loved ones.  
Picking the "best" snack subscription will depend on your recipient's taste. The options are endless, from Vegan Cuts to the Carnivore Club. You can also go multi-culture and get snacks from various parts of the world. Check out the Amazon bestsellers.  
Work from Home Gift:
Desktop Organizer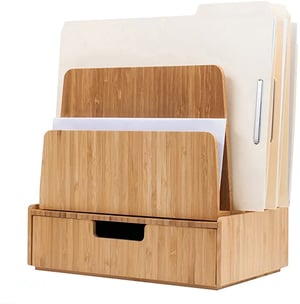 A cluttered desk can be a big productivity sink. We do not use paper much anymore, but where is a document when we need it? Pens, pencils, scissors, staplers are never where you think they are. Searching for documents, notebooks, scribbled envelopes wastes time and causes frustration. You can Marie Kondo your executive's home office, with an organizer that is both cool and practical.  
Amazon shoppers love the Simple Houseware Mesh Desk Organizer with Sliding Drawer, Double Tray, and 5 Upright Sections. Another comprehensive product description! Wire Cutter recommends the equally thorough Mobile Vision Desktop Paper Tray File Folder Holder and Bamboo Drawer Set, also available on Amazon.  
Work from Home Gift:
Insulated Mug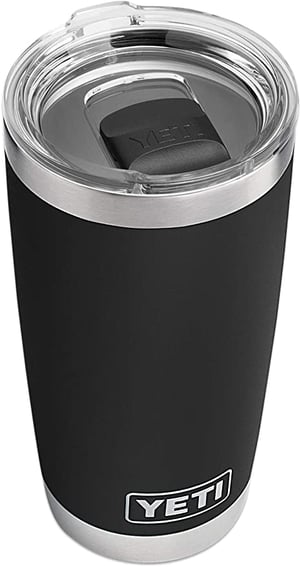 In the morning, hot coffee (or tea, but mostly coffee) is a sacred American productivity ritual. Keeping coffee and tea hot can be a challenge. The top pick here is popular and pricey—the Yeti Rambler. mug. This stainless-steel travel mug has a double-wall vacuum insulated design that keeps hot drinks warm (and cold beverages chilled) for eight hours. The recipient will love it.  
An alternative to keep those home office morning beverages warm—especially for gadget junkies--is the Ember Smart Mug that includes a battery-operated mug warmer. You can control the temperature, customize presets, and receive notifications with your phone via the Ember mobile app!  
Budget Work from Home Gift: Do Not Disturb Sign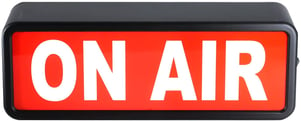 Our budget productivity-boosting gift is so simple; it is genius. If your executive shares a home with other people and is prone to interruptions, a "Do Not Disturb" provides an easy fix. No more shooing away unexpected visitors as they walk into the room.  
It does not even have to cost a thing. Put a sticky note on the door. Well, that is not much of a gift. A set of door hanger signs is $4.99 on Amazon. Or you can get fancy and get your giftee an "On Air" light that they can turn on and off via remote control.  
Splurge Work from Home Gift: Walking Desk

Treadmill desks became a darling perk for Silicon Valley techies. Walking while you work improves productivity in two ways. Exercise boosts productivity, and people do not have to leave their desks to go for a walk. Treadmill desks are spendy—the top-rated one by Tech Rader,  the Lifespan TR1200-DT3, is $1,200, and the "best cheap" option is $400.  
If your executive already has a treadmill at home, you can get a conversion kit that puts a desk platform onto the machine. They can place a tray on the hand bars and walk (and work) all day long.  
 About the Author: Bill is Prialto's senior content marketing manager and writes about the future of work and how businesses can be more productive and successful. His work has appeared in the World Economic Forum Agenda blog and CIO magazine.