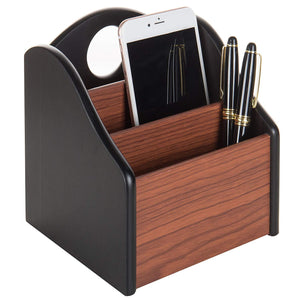 3-Compartment Luxury Wood Remote Control Caddy, Desktop Office Supplies Organizer, Black & Brown
The contrasting and sleek design of rich chestnut brown and classic black allow this luxurious desktop caddy to stand above the rest. A durable wooden construct and three separate compartments are perfect for storing pens, pencils, media remotes or notepads. An open back design let you charge your devices while organizing loose cords. You can easily transport this caddy from place to place with its round top handle. Store it in your kitchen for charging your phone, keeping recipes or easy to reach writing utensils. Display it in your bathroom or vanity for holding makeup brushes, palettes and facial tissues. Create organization and storage anywhere in your home or office, without giving up elegance, with this deluxe desktop office supply holder and charging station.**Official MyGift product**Approximate Dimensions (in inches): 6.0 H X 6.0 W X 5.5 D; Each Slot - 1.25 D.
Product Features
Deluxe desktop office organizer with black and brown sleek gloss finish.
Features 3 separate slots with an open back for multiple charging devices. A round top handle allow you to easily transport this office caddy.
Perfect for organizing and storing all your office supplies, media remotes and electronic devices.
**Official MyGift product**
Approximate Dimensions (in inches): 6.0 H X 6.0 W X 5.5 D; Each Slot - 1.25 D.